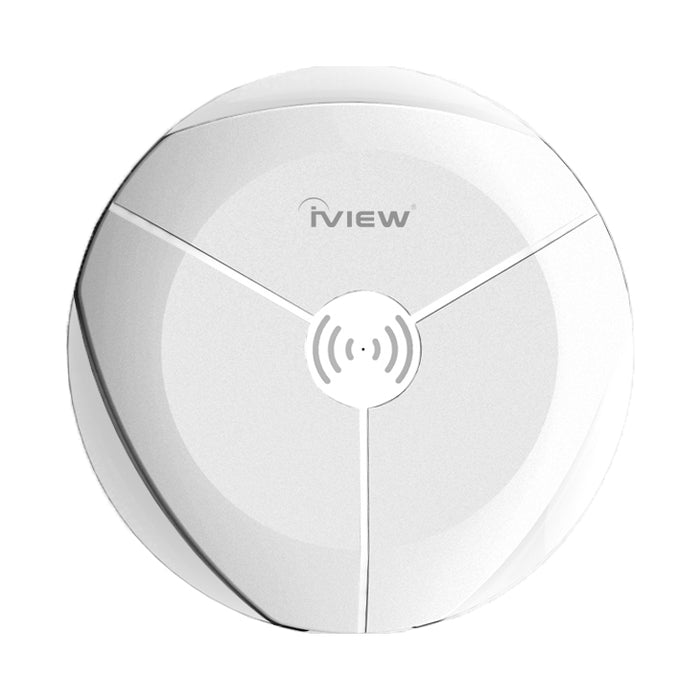 C200 Smart Wireless Phone Charger Pad 5V/2A, 9V/1.67A Input, 10W Output
Smart Wireless Charger

Input : 5V/2A, 9V/1.67A

Output: 10W

Greater than 75% Efficiency – 50% battery in just 30 minutes

Weight: 188g

Product Size: 98 x 11.5mm

Working Frequency: 100 - 205KHz

On-the-Go Convenience

Compatible with iPhone 8, 8+, X and Samsung S6 Edge+, Note 5, S7, S7 Edge, S8, S8+, Note 8 
iView Smart Wireless Charger C200
Iview offers the fastest, easiest, safest, and most convenient and efficient way to charge your phone. A life without wires is totally possible! The Iview Smart Wireless Charger C200 works like magic in maintaining battery levels, all without the hassle of tangled charging cords and worries of damaging your phone battery. Built with a higher than 75% charging efficiency and Qi-standard operating frequency of 110-205KHZ, our wireless smart charger will quickly charge up your iPhone 8/8Plus/X or Samsung Note5/S6 Edge+/S7/S7Edge/S8/S8+/Note 8. Iview offers a future-proof investment with a 10-watt power output that supports fast charging. Enjoy these great features built into a design you like, at a price you can easily afford.
How Does Wireless Charging Work?
Qi systems comprise a power transmission pad and a compatible receiver, either built-in or attached, in a mobile device. The concept of wireless charging revolves around placing a Qi-ready phone over a Qi smart charger, charging stand or charging pad, then it should start working automatically. Also referred to as inductive chargers, smart wireless chargers utilize coils for energy transfer. Given a source of power, the transmitter coil tosses energy onto the receiver coil of the newer smartphone models, phone patch or Qi wireless charging card, through a magnetic field.
The iPhone 7, iPhone 7 Plus, and older iPhone models aren't equipped with wireless charging, but you can add the functionality using a few key accessories such as an iPhone 6 wireless charging case embedded with Qi technology. Your smart charger can then function as a wireless charger for iPhone 7 plus, wireless charging pad for iPhone 6, and wireless charger for iPhone 5.
How about the Samsung wireless charger how does it work? Samsung's QI rapid charging supports their line of devices including Galaxy Note 5, S6 Edge+, S7, S7 Edge, S8, S8 Plus and some QI-enabled devices. Smart wireless charging on Galaxy S7 Edge can be done via the Samsung fast charge wireless charging pad or Samsung Qi wireless charger. However, to enable fast charging, you'd have to come up with strategies on how to turn on wireless charging s7 functionality. Turning on the daydream feature worked for some. Many ran into the problem of the S7 wireless charging not working, wireless charging paused halfway through, and random charging. All of which you wouldn't encounter with an Iview smart charger!
How To Use Wireless Chargers?
Smart chargers are not entirely wireless since they are essentially plugged into a wall outlet, but they do free you from constant plug-ins and swapping of phone chargers. A wire no longer exists between your phone and the charger, and that fact makes a huge difference! It's as easy as finding a single power source and placing your dedicated wireless charger where you want it, like your desk, kitchen countertop, or bedside table. Your smart charging device will always be ready to provide wireless power for any Qi-enabled smartphone right when you need it.
Easy to Set Up and Use
Who's got the time to read an entire booklet of instructions on how to set up a wireless charging pad for iPhone or fast charger for android? Iview wireless chargers are uncomplicated creations that make life a lot easier. You only have to connect the smart charger's cable once to a power source and let the charging surface work its wonders!
Unlike other charging stands that require certain a phone orientation (vertically or horizontally) for a better connection, all you need to do is put your smartphone on top of the Iview smart charger. There's also no need to remove phone casings during every charge since Qi charging works with thin cases (approximately 3mm) made of leather, silicone or other non-metallic material.
Greater than 75% Efficiency
The highly efficient Iview wireless charger distributes energy evenly towards more effective charging sessions without interruption. With an output of 10W, you can expect your smart device to support fast charging once the phone manufacturers roll out updates. Our Iview Smart Charger is the more affordable contender of the Apple's Fast Charge and Android's Quick Charge technology. Fast charging the iPhone X, iPhone 8 and 8 Plus can restore up to a 50 percent charge in merely 30 minutes. Everyone in the family can conveniently swap devices that need charging soon after one device has been fully charged in a very short time.
Secure and Safe To Use
Is wireless charging safe? You bet! A wireless charger is safer than your traditional wired charging cords or octopus desktop and phone cables.
The Iview C200 has enough space to securely hold different phones of different heights. You can rest assured that your expensive smartphone won't be scratched the slightest, and will stay firmly in place on the non-slip charging surface. Wireless charging is kept within ideal temperature parameters for eliminating heat emissions and ensuring maximum phone safety. Your phone remains protected against overcharging and overheating as it enters standby mode once the battery reaches a full charge. The Iview Smart Charger also provides added protection with foreign object detection, under-voltage and short-circuit prevention.
Fashionable Phone Charger
Style is never overlooked at Iview. Our passionate team always finds the right balance between form and function in every Iview smart device. The premium-looking circular C200 wireless charger will instantly add class and blend in with your home interior. It's a lot more portable than the range of wireless charging Ikea incorporated into their furniture. Brighten your place with a splash of color! Choose from brilliant black, cool blue, elegant white and royal purple to match your mood and the distinct rooms of your house.
On-The-Go Convenience
Iview creators packed big technological advancements into a small smart device. Weighing only 188g and measuring 98x11.5mm, the Iview C200 Wireless Charger can be easily stowed in your gym gear, backpack or suitcase. Say goodbye to fumbling for cords inside your bag! Bring your compact and lightweight smart device wherever you go and never run out of charge.
Excellent Compatibility
The problem with most smart wireless chargers, including branded offerings, is compatibility. It's a matter of finding one that will actually work on the exact phone model and other devices you are using. The Iview Smart Charger is built to satisfy the most demanding charging needs of the latest and most powerful smartphones, from the newest iPhones to the freshest Samsung Galaxy lineup.
At the same time, iView accommodates older models that don't have built-in wireless charging. Just swap the back of your phone with a Qi-compatible case or slide a receiver patch onto the back cover of your smartphone and you're all set for the wireless comfort of Qi-powered charging!
The Best Smart Charger At The Right Price
Make sure you get a high-quality wireless charger to make the most of your iPhone 8/8Plus/X or Samsung S6 Edge+, Note5/S7/S7Edge/S8/S8+/Note 8. You already saved up for a high-performance smartphone, but it doesn't mean you'll need to splurge more money into it. Nobody said wireless charging has to be expensive! What you need is a good investment that will serve its purpose of preserving your battery life and protecting your beautiful phone. Our smart device comes with a fairly low charger price that's easily within your reach.
Experience The Freedom of Wireless Charging
All phones aren't capable of wirelessly charging, but there's a single device that can charge up all the powerful iOS or Android phone releases.
Owner of an iPhone 8, 8Plus, X, Samsung S6 Edge+, Note5, S7, S7Edge, S8, S8+, or the Note 8?
You only need one iView C200 Smart Wireless Charger to power them all!