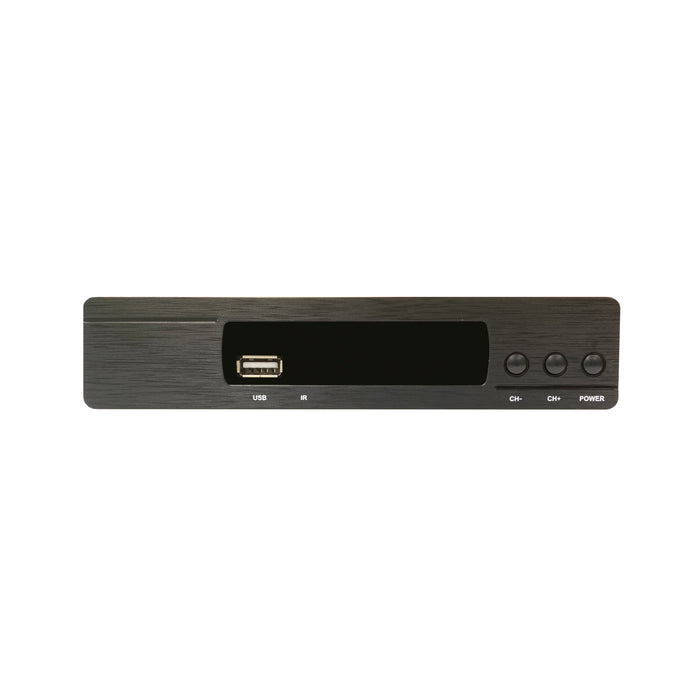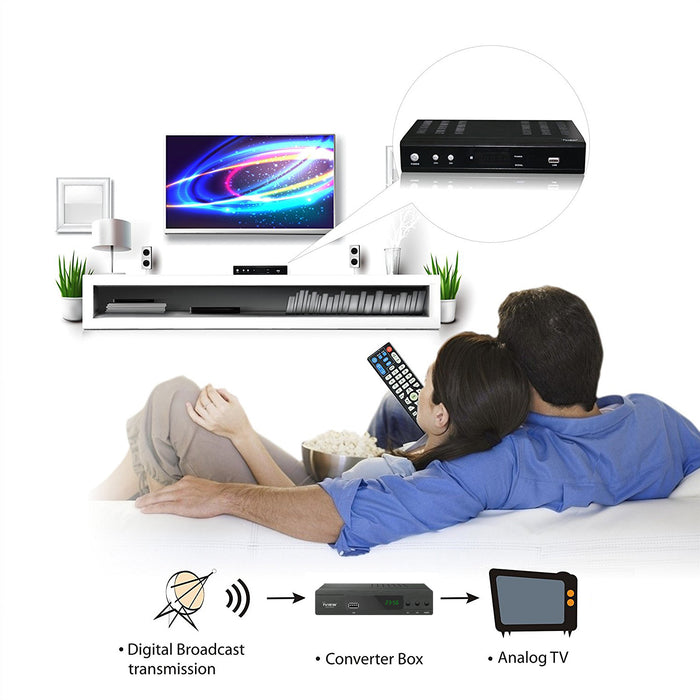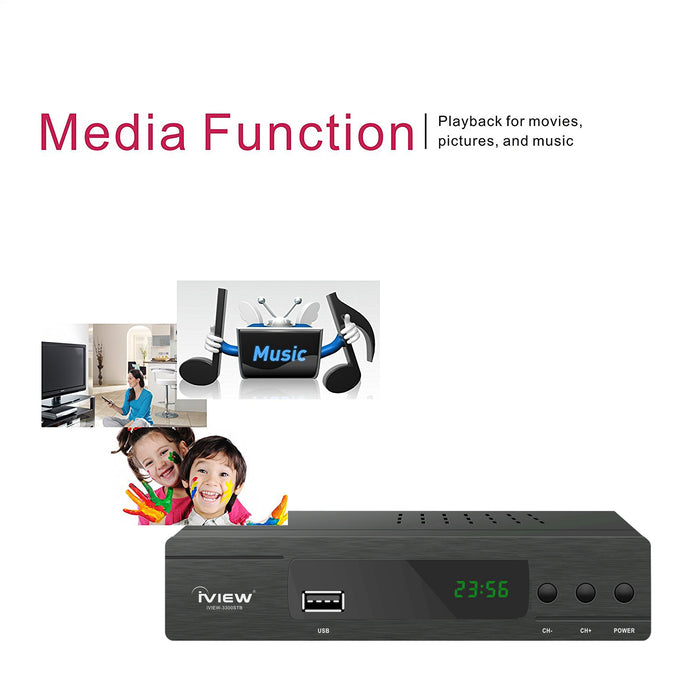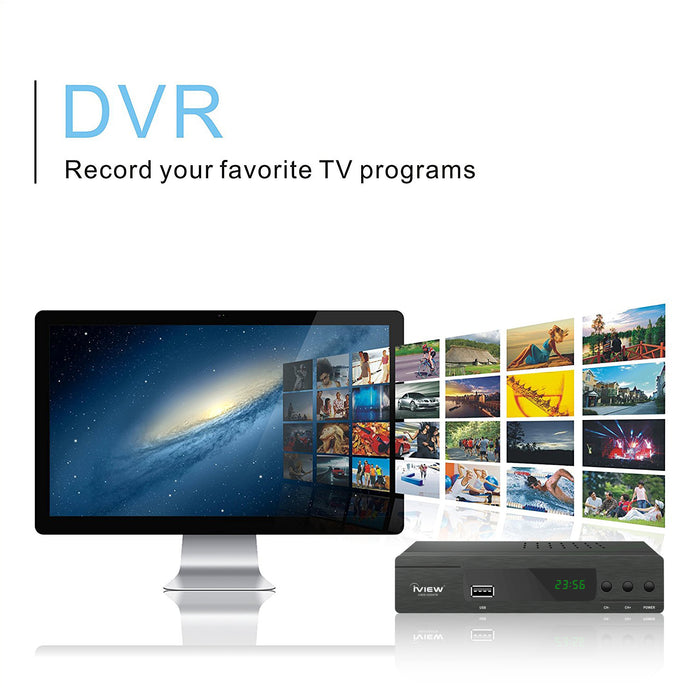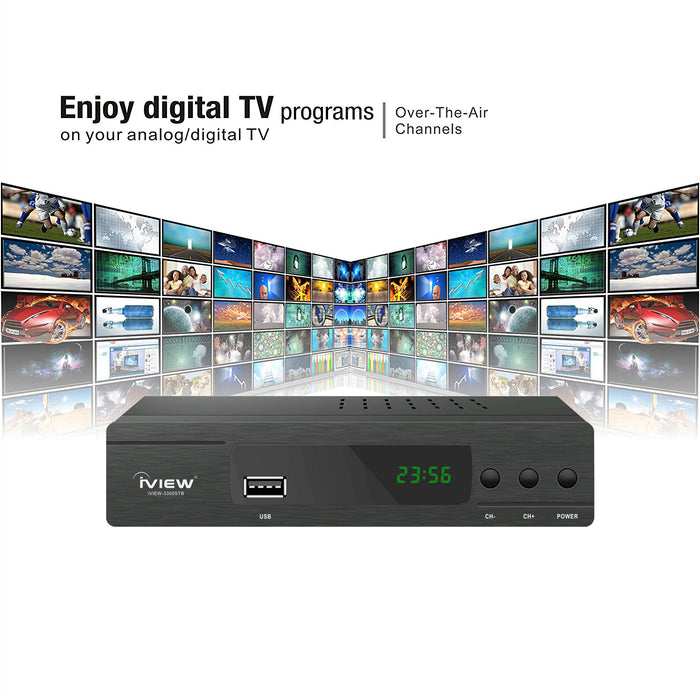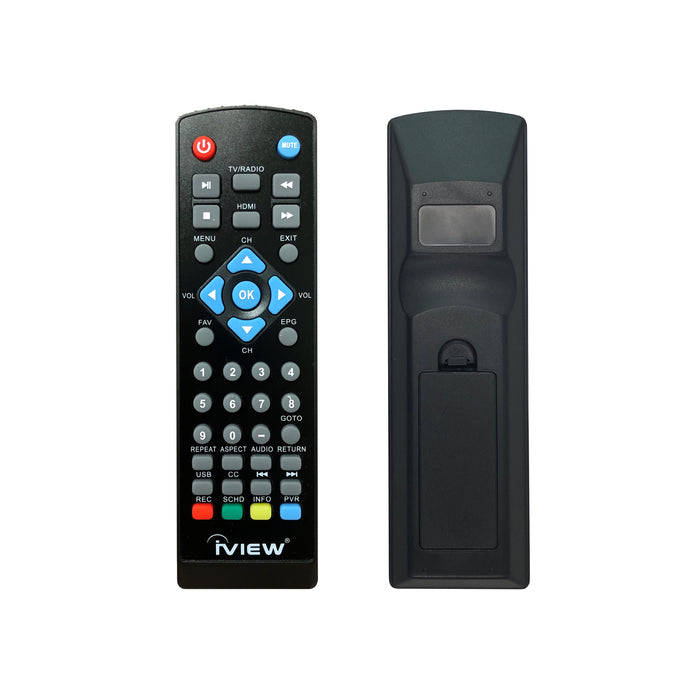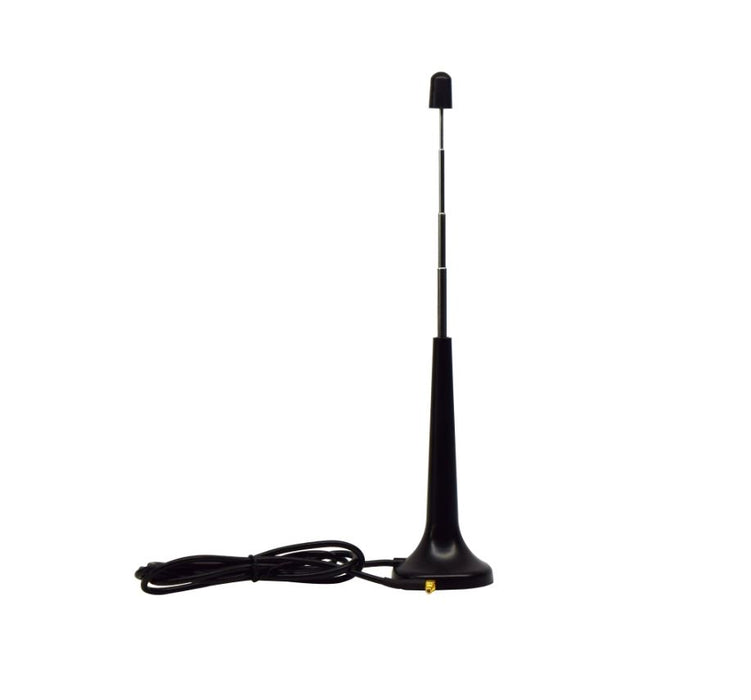 3300STB-A - Digital Converter Box with Antenna, TV Recording, Clear QAM, Media Function, 4TB HDD, and HDMI Connection
Multi-function Digital Converter Box
Recording Function
QAM Capability
Built-in HDMI Output
Support USB port
EPG (Electronic Program Guide)
Favorite Channel List
Parental Control Function
Auto Tuning
Signal Quality Indicator
USB connection over 4TB HDD
Are you still holding on to your old analog TV? It's quite functional and working perfectly fine, so an upgrade isn't called for. Iview offers a practical and economical solution to households that rely on OTA broadcasts. Did you know you can tune in to basic stations for free? No strings attached, and by strings, we mean a set-top box and monthly subscriptions. By getting an iView digital converter box, you won't have to replace your beloved analog TV. You may even get to see the local feeds in glorious HD!
The iView 3300STB is not your ordinary converter box. It's the ultimate entertainment hub! Ease of use, the comfort, and convenience it brings are awesome features that simplify life. Unbridled multi-media experiences, including video recording and playback, high definition luxury, backed by financial savings only make it even better. Cut out your expensive cable bills and upgrade your converter box to the very affordable iView 3300STB.
ADVANTAGES OF THE IVIEW CONVERTER BOX
Enjoy the following benefits when you get the high quality iView 3300STB:
Automatically converts digital signal to analog
Can pull in a lot more channels than other converter boxes
Enables you to record your favorite shows
Better sound quality and picture clarity
Multiple outputs for maximum versatility
Maximize Your Experience!
You can get the crispest, clearest resolution for your TV even if it doesn't have HDMI capabilities. A digital ready TV automatically acquires the best screen quality for maximum enjoyment. The iView cable converter box gets all the available channels in your area without skipping a single one, which even a Comcast cable converter box might miss.
The HDMI output on the box can deliver up to 1080p in screen resolution. Analog users can still get a clear image when they use the RGB composite cables.
Versatile Uses, Big Savings!
Have a second or a third TV box but don't want to pay for extra receiver boxes? You won't need the cables and the extra fees just to enjoy watching TV. What's more, you won't have to call and wait in queue for troubleshooting the boxes when there's no signal or when you're getting a blurry picture. Hooking up is as easy as setting the internal antenna to the rooftop to start getting cable and local channels.
The iView Digital Converter Box is much more affordable than an HDMI modulator with a setup that's easy and takes only a couple of minutes. The various outputs can turn your extra PC monitor into a digital media player or a TV. If your computer has an HDMI port you can plug the iView 3300STB in and watch popular channels such as Fox News, CNN live. This beats paying for streaming content anytime!
HOW IT WORKS
The iView 3300STB is pound for pound better than any current cable converter box out there. The tuner box works by acquiring digital channels coming from ATSC, Over-the-Air or ClearQAM, or unencrypted digital cable transmission. The HD content that comes out allows users to receive digital cable without ever needing a set-top box.
Cable companies are adamant about the fact that you will need a set-top receiver in order to pick up digital channels, which is false. The truth is, you can access all digital cable channels that are running through QAM frequencies with a converter like the iView 3300STB, with the exception of NTSC frequencies.
PRODUCT FEATURES
From Analog to Digital
The iView Digital Converter box automatically converts the signal to be compatible with your analog unit. Analog TV owners won't need to get themselves a new TV if they don't want to. The tuner box comes in with input holes for both analog and newer-type TVs.
The iView 3300STB has a built-in QAM tuner and supports Over-the-Air (OTA), which allows the user to receive some unencrypted digital cable channels, also known as "in-the-clear" channels. You can finally watch TV without needing additional set-top boxes or a monthly cable subscription.
Our iView 3300STB has passthrough capabilities via firmware to access analog channels in countries and areas where analog signals are still present. You can rely on the iView 3300STB to acquire the transmission and play it directly to your television set. Analog channels will still be accessible due to our converter boxes' pass-through capability. Broadcasting is still alive and well, even in your old TV.
OTA (Over-the-Air)
The iView Digital Box works great in OTA. Once plugged in, the 3300STB gives you a wider range of channels you can view, with noticeably higher picture clarity. Just take the converter out of the box, connect to your antenna line, and you're ready to go.
Connect your TV via the RCA, YPbPr or HDMI port. The TV set is then programmed to receive the local ATSC signal. Do a quick search to immediately display the channels that are available.
QAM Capability
By default, the device is set to scan for ATSC channels over the air, using a standard antenna. But did you know that our converter boxes are also able to pick up Clear QAM channels as well? This can be done by going into going into the settings of your IView converter box and simply changing a setting. Once you've done that, you'll be ready to watch cable TV in no time!
QAM tuners come built in on some TVs in order to receive cable channels, but analog TVs typically don't have them. The iView 3300STB comes with QAM, or Quadrature Amplitude Modulation, capability, a format that most cable TV companies use to transmit and encode their signals.
QAM works similarly with ATSC tuners in that they transmit and encode Over-the-Air signals, but that's where the similarity ends. Local TV stations use only ATSC while cable providers use QAM. The iView 3300STB is compatible with both ATSC and QAM signals. Getting both means you'll have access to cable channels as well, even those that are in HD, and perhaps a few extra channels.
Bottom line is that you get unscrambled digital programming and bonus channels (depending on your location). HD and SD channels become unlocked the moment you plug and successfully setup the iView 3300STB in. Picture quality will entirely depend on the converter unit's ability to acquire signal, and this is where iView's offering shines.
High Definition
You can get free high definition channels with the iView 3300STB unit. You now can choose to view TV content in your preferred format- whether it be 576p, 720p, 1080i or 1080p. Simply connect an HDMI cable from the 3300STB to your TV and voila! Crystal-clear viewing at its finest. The maximum definition that the iView converter box puts out is 1080p, which should be more than adequate for watching movies and your favorite TV series.
Electronic Program Guide
The EPG is a programme listing that's similar to paper TV guides. Access this to see a screen list of channels and shows to choose from.
Digital TV technology lets local guides transmit their channel and program information for your convenience. You'll need a set-top converter unit or a digital TV to see this feature. Program System Information Protocol, or PSIP, stands as the regular format for stations with a PSIP generator. The data coming from the PSIP is sent to the DTV, or digital TV signal which displays programming and station information, which users can see via the Electronic Programming Guide.
With the iView Digital Converter device, you can access the EPG and see the upcoming shows in grid form, just like in cable DVR. You can use this feature to choose which shows to record.
Auto Tuning
Auto Tuning scans for all available channels and finds available digital broadcasts for one-click programming. You won't have to do extra channel up or channel down presses just to see the next channel.
Favorite Channel List
Once you've done a scan of all the available channels, you can record your favorite channels into the Favorites menu. This way you can jump in-between two great shows without having to go through the shows in the middle. A customized list of channels make for better entertainment.
Parental Control
Access this function to limit what your children can watch with a few button presses. You can disable specific channels or TV stations and set a child-safe programming via a password.
With iView, you get the best quality product at the most affordable price. The iView Digital Converter Box is an all-in-one device that acquires both ClearQAM signals and OTA signals to give you the best of both worlds. The wide array of channels you can get will be more than any single converter box of a single type. What's more, you can use the iView 3300STB as a DVR for recording and playing back your favorite shows anytime.
Need a quality multimedia device that can do a bit of everything? The iView Digital Converter Box is what you're looking for. Order your 3300STB today!
Universal Media Player
The iView 3300STB can act as a universal media player to churn out any video in AVI, MKV, MPG or MKV formats and any audio files in WMA, MP3, or AAC formats. You will no longer need a video player or get tangled up in the wiring when setting up a digital converter box and a DVD player at the same time.
The 3300STB sports the following video decoding capabilities- MPEG-2 MP in NS, MPEG-4 ASP, SP, In DivX 3.11, 4.x, 6.x, VC-1, FLV and H.264 HP format.
To use both the media player and DVR functions, it is required to connect a USB Flash Drive or External Hard Drive to the box. The drive needs to be no bigger than 4TB HDD in size and formatted to Fat32 or NTFS.
If the storage device has any media already saved on it, those media files can be played on the Iview Box. Selecting "Pictures" will display a slide show of any pictures in JPG, BMP, or PNG format. Selecting "Music" will turn the device into a music player. This music player can play any music files in WMA, MP3, or AAC format. The final option, "Video" will allow playback of any videos in AVI, MKV, MPG, and MKV formats. During video playback, you can press the green SCHD button, on the remote, to cycle between preview and full-screen modes.
DVR Capabilities Without The Extra Cost
QAM isn't just for acquiring cable signals. The technology can also be used to record digital content while you're away from the TV. You can play music, movies, and videos in a wide variety of formats using a USB drive connected to your converter box. Choose the preferred show, then hit the Record button and the iView 3300STB will start recording the show, just like a DVR equipment. You can do a weekly or a monthly recording without any limits or extra fees. Recording works really well here- you won't be able to tell the difference between live and recorded content.
Connect your External HD For DVR recording. Plug your external disk drive in to record movies and shows straight to your device. You can also use the HDD to play content such as movies, music, and videos without any noticeable lag or loss of quality.
The DVR function can be done two ways: A recording can start and stop using the red REC and STOP buttons on the remote, respectively, allowing for impromptu recordings at any time. The device can also schedule recordings by pressing the green SCHD button on the remote. From there, the channel, start time, and end time can be set and the box will automatically record and end at the scheduled times. This can also be set to record daily (every day, including weekends), weekly (once a week), or just once. However, the box's recording functions are limited to one at a time and can only have no more than 30 scheduled recording jobs saved onto the box's memory.
Record Live Programming In One Button Click
The One Button allows users to access Favorite CH, Aspect Ratio, CC, Mute, Info, Record and get to the EPG. You can also use the remote to check Signal Quality via the Signal Strength Indicator.