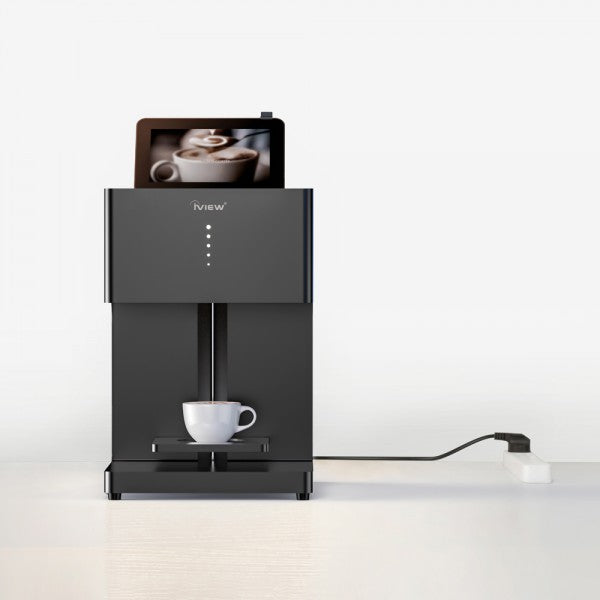 iView Proudly Presents The IView Picasso Smart Art Printer For Drinks And Desserts.
The iView Picasso is among our latest products that showcase innovation, smart technology and art. The industrial-grade, food-safe printer works to print 3D images on a variety of food and drinks. Fancy a customized print on your espresso foam, or maybe a company logo on your cookies, baked pastries and cupcakes? Our digital food grade ink printer can do that, and more. It's the perfect equipment for boutique coffee shops, bars and restaurants, event planners and others.
You can find it here.
iView Picasso Smart Art Printer Features
Standalone Printer
The iView Picasso operates without needing to be connected to other devices. Simply lift up the product from the box, plug it in and you're ready to go. It comes with an edible food-grade ink cartridge that can print up to a thousand cups, cookies, cupcakes or edible material.
Food Safety Certified
The food art printer and ink are 100% food-safe that fully meets consumption requirements. The printing technology and ink used will not create food hazards for you or your customers.
Underneath the hood is an R&D spray head that does precise printing each and everytime. The iView brand proprietary box fully meets the required food security standards. The ink cartridge is edible and exclusively made by a multi-national company called Intertek. Certification, product testing and inspection are all carried out to ensure top food safety aspects are met.
Business owners can focus on providing strikingly detailed art and photo prints on their products to their customer's delight. Sleek Design, Durable Build
Sleek Design, Durable Build
The Picasso food and latte art Printer is designed with sophistication, function and durability in mind. It looks great on any counter top surface, whether in a confectionery shop, a coffee house or anywhere else for that matter. The full metal exterior and frame offers a sturdy build within a compact footprint.
The iView Picasso at Work
For incredibly detailed printing, the amount of milk and froth will have to be just right. Latte art can be tricky, but with practice and persistence baristas can create masterpieces.
Technically, the design and pattern is made via Macrofoam processing, where milk is dry-frothed, and large bubbles are manipulated to create 3D prints. The crema serves as the canvas for which the art breaks through it.
Our foodsafe 3D printer can print any artwork, design or message you like, whether it be a replica of the world's most famous paintings, a brand logo or an inspiring message. You can print a meme, a selfie, a URL and anything you can imagine. Simply input the digital image you wish to render, and the iView Picasso 3D Printer can do it.
Making the iView Picasso work is so simple that anyone can do it. First, choose your image, then scan the Picasso's QR code to get it uploaded. You can use Bluetooth or Wi-Fi, or directly enter the photo URL to start the printing process. Fine-tune the details on the large touchscreen display and the iView Picasso does the rest.
The iView Picasso printing process is as simple as one, two, three.
Making the iView Picasso work is so simple that anyone can do it. First, choose your image, then scan the Picasso's QR code to get it uploaded. You can use Bluetooth or Wi-Fi, or directly enter the photo URL to start the printing process. Fine-tune the details on the large touchscreen display and the iView Picasso does the rest.
Our iView Picasso printing process is:
Easy.
No need to download an app. Scan the QR code or set the URL and wait for the Picasso 3D to work its magic.
Fast.
From photo upload to print, it only takes the machine 30 seconds. Simple images and brand text can take less, while complicated images can be completed within 40 seconds.
Amazingly Detailed.
Imagination is your only limit. Print consumer-safe, high resolution images in a few seconds.
Where Can You Use The iView Picasso food and latte art Printer?
The consumer-safe 3D printer can produce virtually any kind of art, branding, logo or message atop any drink or flat food product. It's important to have the surface be as flat as possible for the best results.
The iView machine can print stunningly detailed images on the following surfaces:
Coffee. Cappuccinos, flat whites and lattes.
Milkshakes or Beer. Anything that has a layer of froth on top, i.e., Amber ales, Guinnesses and cold milkshakes.
Cookies and Cupcakes. It can print 3D messages on traditional cakes and pastries as well.
Toast. You can offer customers their selfie pics on their breakfast toast, along with 3D-printed coffee, milk tea or yogurt.
A Wise Investment For Your Business
Being able to print images on the food you sell can give your business that novel aspect. Not only will you gain more customers, but you'll also have a marketing edge over the competition.
The iView Picasso 3D Printer is best for Coffee Shops, Bar or Restaurant owners, Food Service Managers, Hotels or for events such as Weddings, Corporate and others.
Boutique Coffee Houses
Turn your customer's coffee into an enjoyable, personal experience. They can snap photos of it and share them within their social network. Using the Picasso 3D to print a high-resolution image only takes half a minute.
Bars
Bar owners can have their patrons print a message they like, including "buy you another drink?" or "congratulations on your promotion" on the beer froth. The fast printing speed makes adding personal text almost instantaneous and provides immense value at the same time.
Restaurants
Customers can have designs added on their order of pastries or cakes. You can generate brand awareness in a novel way, i.e., putting in your logo on top, a URL they can visit for special codes or just delight them and make their day better with an uplifting message.
Hotels
Hotel managers can enhance their customer's stay with a coffee message or an image on their ice cream.
Events service
Whenever you need brand promotion, for birthdays and weddings, opt for the iView Picasso digital food grade ink printer to give it a huge boost. Quickly generate brand awareness without having to spend on extra advertising materials. Celebrate corporate events with an added touch, such as having your logo on various foods, beverages and dessert.
We bring you a standalone 3D printing machine that can make your next event a resounding success. Those in the food and drink business, including coffee shops, ice cream shops, hotels and restaurants can provide an immediate impact and branding distinction when they use our innovative product.
Food-grade certification, high-quality materials including edible ink cartridges, and world-class creations that make quite an impression make the Picasso 3D art printer a wise investment.