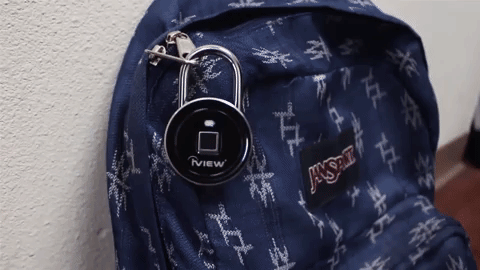 iView Simplifies Security with a Fingerprint Reading Lock, FL200
Let's take the following scenario – it's 3am, you're at home, lazing on the couch, and trying to catch up on the latest episodes of Game of Thrones. While you contemplate about your life's choices, suddenly you're broken away from your thoughts when you hear glass break in the back of the house. Someone's breaking in.
You scramble up and run to your gun safe – but in a sweaty frenzy of fear and anxiety, you can't remember your padlock code.
What do you do in this situation? Cry? Scream? Probably not, that'll get you murdered. iView USA has devised a clever way to avoid the hassle of padlocks.
The Future of Locks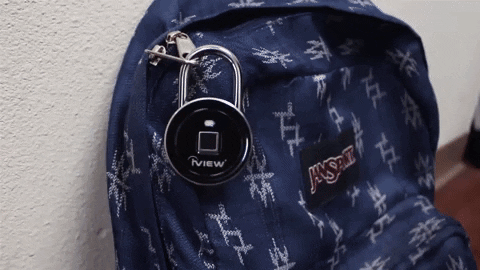 iView, an electronics manufacturer based in Southern California, is proud to present the FL200 Smart Fingerprint Lock, the latest innovative hardware in smart biometric padlock technology. You can purchase one today on their shop.
It features a one-action fingerprint recognition system that lets you unlock your door, gate, safe or valuable possessions with just one touch. With the FL200 Smart Lock, you and only trusted members will have access to personal items, properties and offices 24/7.
Fingerprint Access and Reader Technology
The iView FL200 model has the latest fingerprint reading and scanning technology. It utilizes the fact that no two fingerprint are alike, which adds to security and utmost safety.
How Does The iView FL200 Fingerprint Padlock Work?
Users can take the smart padlock out of the packaging and activate the security device. The first time you put your prints on the reading surface, the iView FL200 converts it to an encrypted numerical data and saves a template for future use. You will need to register all ten of your fingerprints, or share the ten spots with a trusted individual. The next person who tries to open the smart lock won't be able to do so because the values set by your fingerprint will not match.
The iView FL200 Finger Print Lock System has a unique algorithm that's defined by a minutia-matching process. The smart scanner looks at the base fingerprint and finds any distinctive characteristics, or also known as minutiae. For example, one's fingerprint may have different lines or ridges and where they meet or split, while another may have other representations. The system takes in consideration general fingerprint patterns such as whorls, loops and arches for a true, one-of-a-kind matching system.
The iView scanning technology takes all of the data and creates a template for that particular print. More importantly, the thumb scanner takes smudges, dirt and various other obstructions to eliminate false negatives and false positives. On a true match, the lock opens and you'll be able to get inside your house, office, locker or safe. For intruders, the iView FL200's security system prevents access and the lock remains shut. The processing speed of the FL200 Smart Padlock is fast, and recognition only takes less than a second.
Keyless Lock
The iView Smart Fingerprint Lock is for those who are constantly forgetting the combination to their locks or keys. You won't have to think about what the number combination is and can quickly unlock the device with just a tap of your finger.
Its cutting edge technology allows users access while keeping their precious possessions safe with maximum security. The iView biometric padlock takes a fraction of a second to work and saves you invaluable time and unnecessary stress.
No App Needed
The FL200 Lock can be opened with just your finger- there's no app needed and no additional steps required to get the smart device working. You won't need to register, give away personal information or grant unnecessary permissions for the smart lock to work. It's quick, non-intrusive and protects without additional hassles.
All-Around Lock For Optimal Security
The iView FL200 is perfect for any application you can think of. Securely lock your:
-backpack, handbag, luggage, or suitcase
-front door, fence, gate, garage or shed
-bicycle, gym/fitness club locker, and sports equipment
-office file cabinets, warehouse, storage, goods
It can keep your items secured at all times by preventing unauthorized access and entry. More importantly, you won't have to replace it every time you lose your keys or destroy it when you've forgotten the combination.
Stores Up To 10 Fingerprints
The small fingerprint lock by iView can store up to ten different unique fingerprints allowing you to register all ten of your fingers or give access to your immediate family, relatives or employees. You can assign each unique print and set access to the front door, office, and garage or storage room according to your needs.
Rechargeable, Long Lasting Battery
The iView Smart Padlock can last for a long time on a single charge. When the battery runs out, the lock remains secure, and all you need is to connect it to a power bank and it will resume operation. It's rechargeable via micro USB at the bottom port, which is protected to keep dust and water away.
Tough and Durable
iView's fingerprint lock system is suitable for both indoor and outdoor use. The shell is made of thick, reinforced metal that makes it difficult to vandalize, cut or deform. The alloy steel bar is impervious to shearing tools and breaks; steel and brass are better than aluminum as it can't be destroyed with a crowbar. The iView FL200 Smart Fingerprint Padlock is a long-lasting solution for keeping your personal items and property safe from unauthorized individuals.