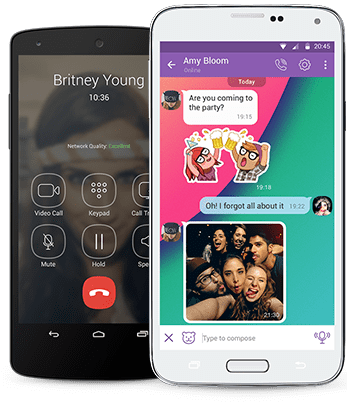 Messaging Made Better in the 21st Century
Pick the best instant messaging app that fits your needs
With the technology today, connecting with friends and family is so much easier. Aside from messaging them via social media networks, you can send messages on various chat apps too.
App stores are loaded with so many free messaging apps. They may all look similar but they each have their own perks. We have listed what we think are the best chat apps out there and why you should get them.
Photo source: Viber.com
The Viber app is a Rakuten Group Company app which connects people via individual messaging, audio calls, video calls, and group chats. Users can also follow brands and celebrities on Public Chats. Both domestic and international calls are free. It makes messaging fun by allowing users to add emoticons and stickers, as well as send and save multimedia files. Calls are of good quality and work just as well on a 3G connection.
Why you should download it:
Viber is perfect for young couples in long-distance relationships who love exchanging photos and stickers. It's also great for sending files in case your email is not working. Viber's interface is clean and is user-friendly so it's great for the fewer techie users. It's also great for users who have weak internet connections as it remains working even on 4G.
Photo source: Line.me
LINE is a social app made by NAVER Japan Corporation. It allows the user to call or message your contacts. As with Viber, its interface is clean and well-designed. It has a comprehensive set of features but still looks neat. You can play games as well but these are downloaded separately from the app store. It also comes with stickers which make messaging more fun. LINE also allows you to post status updates and hide Timelines of contacts you don't want to see in your feed.
Why you should download it:
If you prefer a more "social" messaging app, LINE is perfect for you. You can post texts, photos, videos, and even stickers on your Timeline. Users can also "like" posts as you would on Facebook. You can add new friends easily by using the "Shake It!" function so it is also perfect for users who love talking to a lot of people.
Photo source: Whatsapp.com
WhatsApp Messenger is a mobile messaging app based in California which was acquired by Facebook in 2014. It allows users to exchange unlimited text and audio messages, and multimedia files for free across continents. It's the most popular messaging app to date, with a user base of one billion users.
Why you should download it:
It is a no frills messaging app. No stickers and no video chat so it is perfect for those who dislike cheesy stickers and just want to send messages. WhatsApp is an excellent choice for sending free texts across platforms.
Photo source: Kakao.com
KakaoTalk is a South Korean messaging app launched in 2010. As with the other instant messaging apps, users can share text messages, photos, videos, voice messages, and location. It recently added game features as well which can be downloaded separately. Aside from stickers and animated emoticons, users can also customize themes where they can change the wallpaper, chat bubbles, and font. The "Plus Friend" feature allows users to follow famous celebrities and brands, as you would on Twitter.
Why you should download it:
Users can video chat with their friends using the Talking Tom and Ben voice filters (among many other video filters), making it perfect to kill boredom with friends. The "Gifting" platform allows users to purchase stuff online, making the app perfect for avid online shoppers. It also works well even on a 3G connection.
Skype is an app providing text and video chat, and voice call services. Users can also exchange multimedia files. Skype-to-skype calls are free, but calls to landlines aren't. Business meetings with people on the other side of the globe is not a problem with video conference calls and group videos.
Why you should download it:
Skype is perfect for business people who need to constantly contact people overseas or in other parts of the country. Voice quality by far is the best out there and if both sides have a good internet connection, you will get HD video quality. If you are having problems with the video or audio calls, you can still send messages.
What's your favorite instant messaging app? Do share your answers below and let us know why!