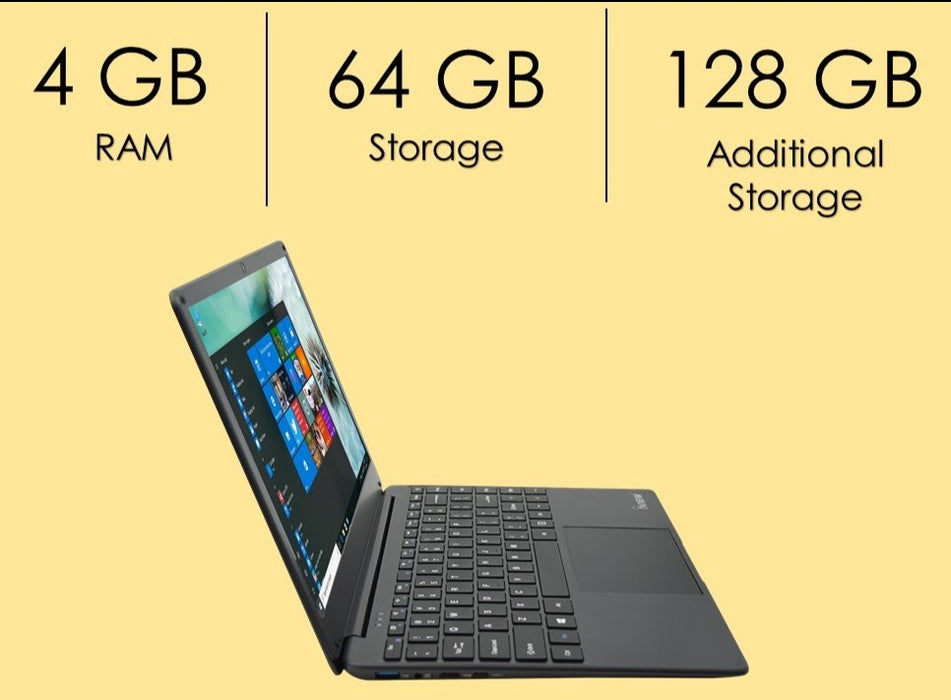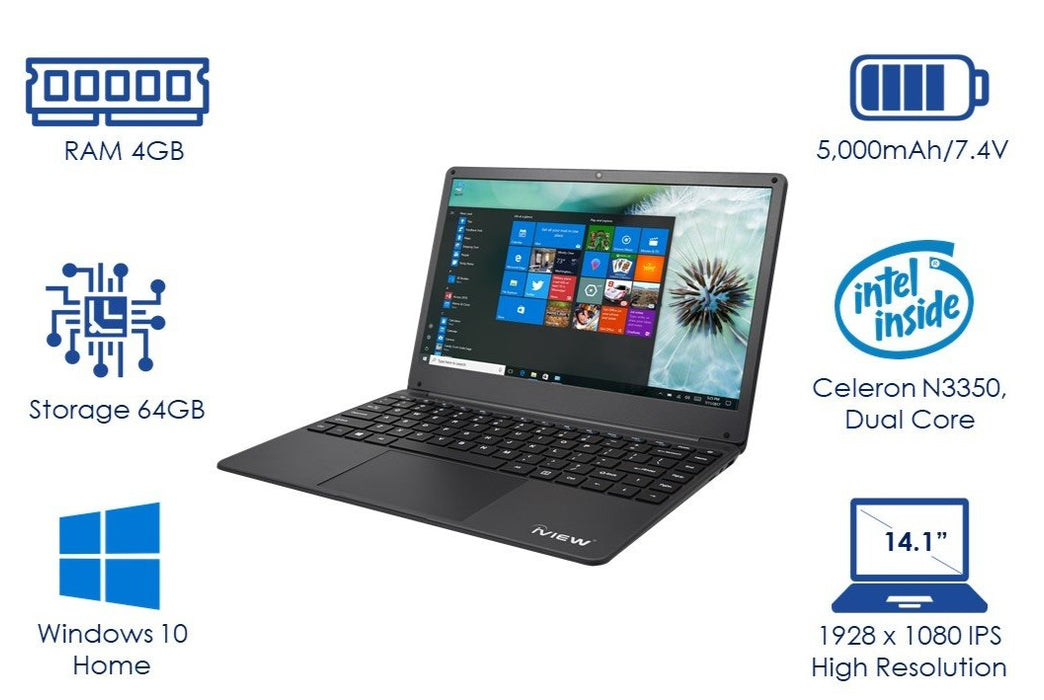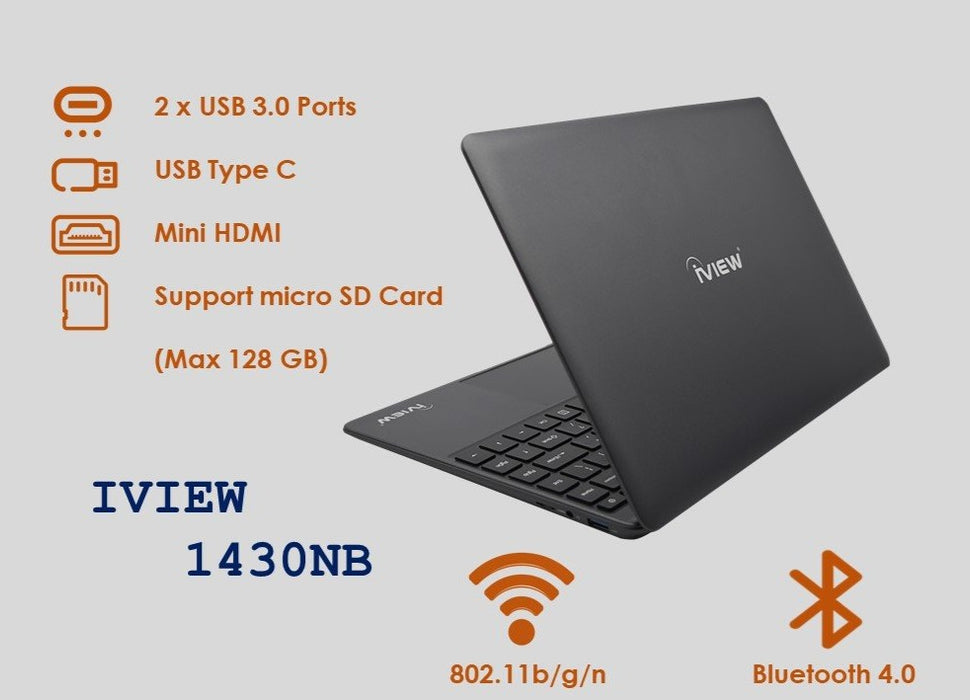 1430NB – 14.1" 1920x 1080 IPS High Resolution, Intel Celeron N3350, 4GB/64GB Windows Laptop
UPC: 880010017669
Screen: 14.1" 1920 x 1080 IPS High Resolution
Processor: Intel Celeron Processor N3350, Dual Core
Operating System: Windows 10 Home
Memory: 4GB
Storage: 64GB, Microsoft OneDrive Cloud Storage 5GB
Wireless Connection: Wi-Fi 802.11 b/g/n
Built-in Bluetooth 4.0
Camera: 0.3MP (Front)
Extension: USB Type C / USB 3.0 x 2 / Micro HDMI / Micro SD Card (Max: 128GB)
Audio Output: Stereo Speaker (8 Ω 1.2W), 3.5MM Stereo Headphone Jack
Features: Windows Store, Internet Browser, Office Work, Calendar, E-mail, Picture Viewing, Music, Video Playback, Games
Battery: Built-in 5,000mAh, 7.4V up to 10 hours
Power Source: 12-3A
14.1" Windows Laptop
Powered by an Intel Celeron processor that can go up to speeds of 2.4GHz and 4GB of RAM, 1430NB delivers a lightning-fast performance that handles multi-tasking seamlessly. The stunning 14.1" 1920 x 1080 IPS high-resolution screen, brings superb clarity, rich colors and perfect viewing angles for a one-of-a-kind entertainment experience. It includes a 64GB hard drive that allows you the freedom to download multiple apps, movies, music, photos and so much more. You can also maximize storage up to 128GB with a Micro SD Card (not included) to save all your important media. Connect to other devices using the Micro HDMI port. The 1430NB also comes with built-in wireless connection at 802.11b/g/n and includes features such as the Windows Store, Office Work, Internet Browser, Calendar, Calculator, Email, Picture Viewing, Music/Video Playback, Games and so much more!
Package contents includes: iView 1430NB, adapter, and user manual.
1080p IPS High-Resolution Display
The 1430NB is a portable laptop computer that you can conveniently carry around anywhere. It features a 14.1" high-resolution screen, compact enough to conveniently bring wherever you go. The 1430NB also offers full, crystal-clear 1920 × 1080 IPS high resolution. You'll be treated to vibrant, rich colors that can be seen at any viewing angle. The 1920 × 1080 IPS high-resolution screen brings vivid colors and clarity when it comes to viewing content on your laptop.
Front-Facing Camera
The 1430NB 14.1" has equipped with 0.3-Megapixel front-facing webcam for crystal-clear video conferencing, supported by stereo speakers, stereo headphone jack and Skype Video Call capabilities.
Expansion Opportunities
With a USB Type C, two convenient USB 3.0 port, and a MicroSD card slot, you'll be able to connect USB flash drives, USB media card readers and even an external hard drive to the 1430NB for extra storage. The USB 3.0 transfers data 10 times faster than a USB 2.0 port while maintaining the same connectivity option. Take advantage of up to 128GB of additional storage with a Micro SD card, you'll be able to download all your important media, without worrying about running out of space.