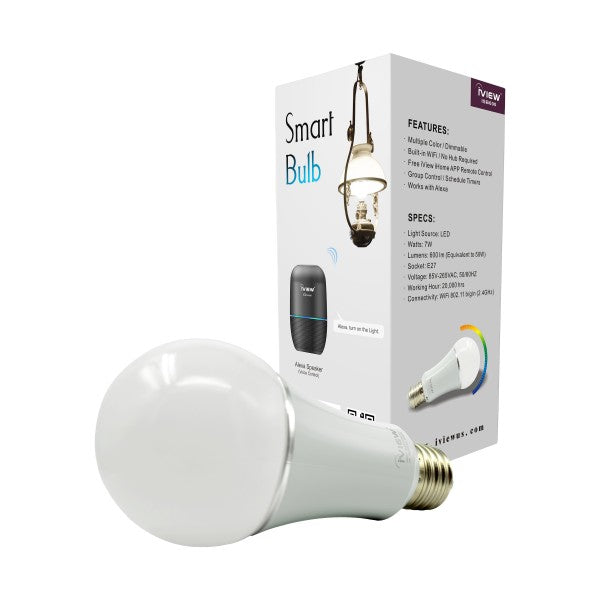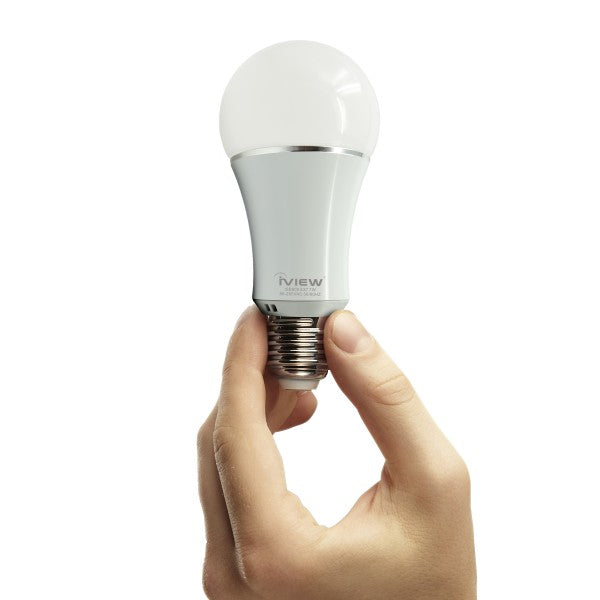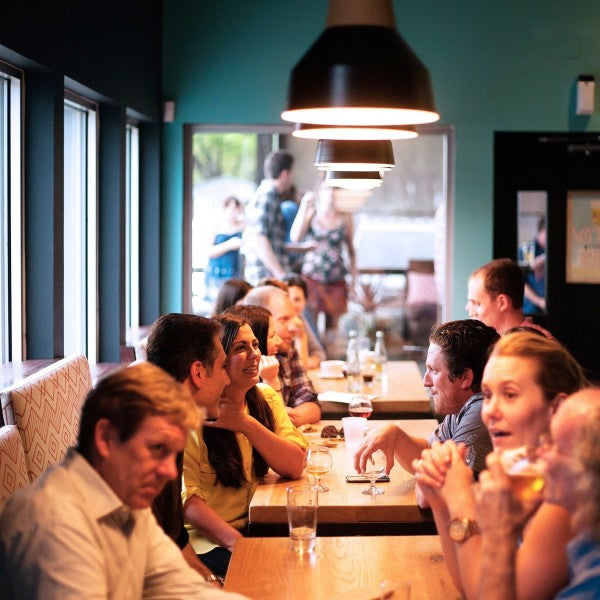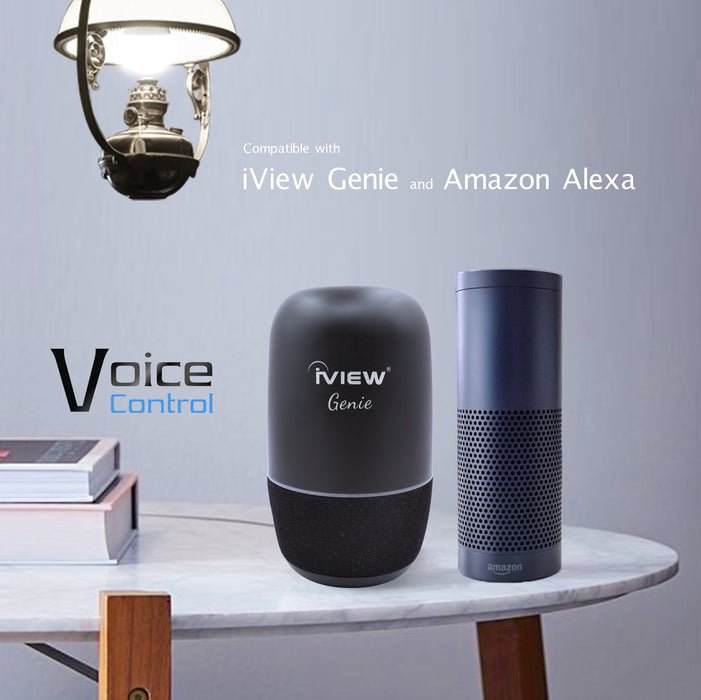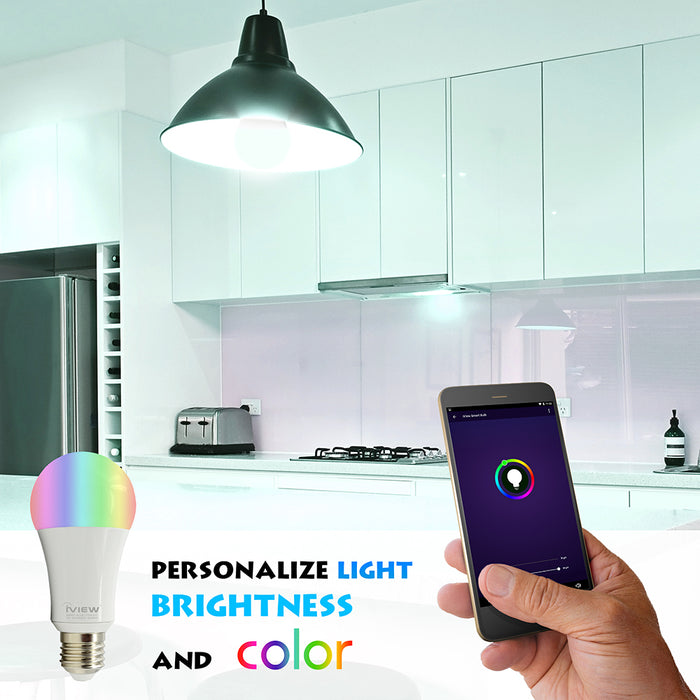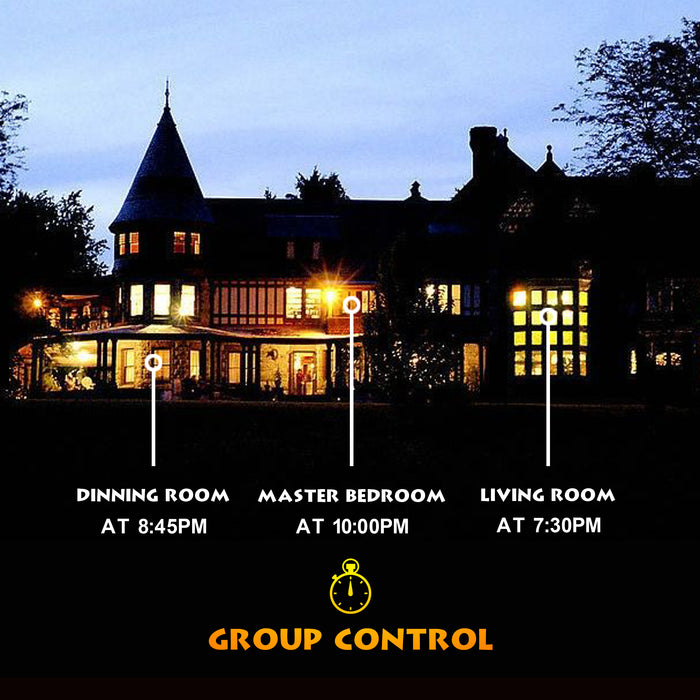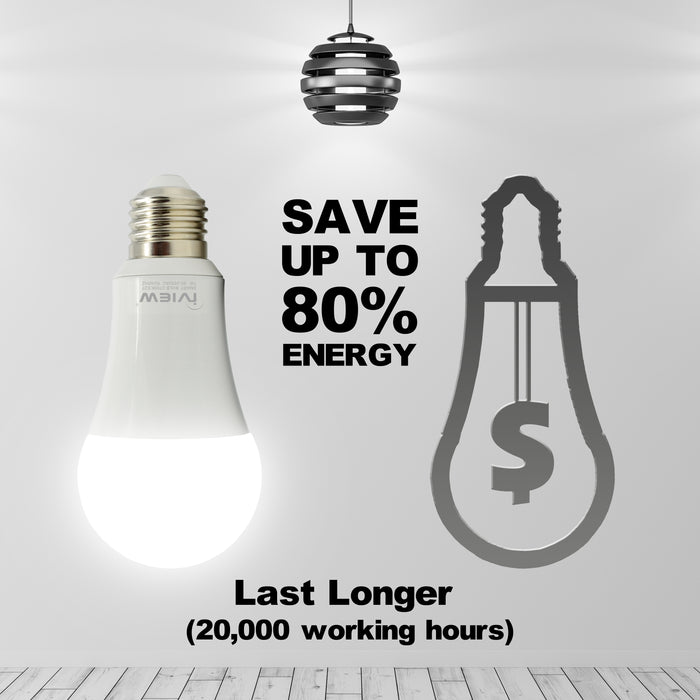 ISB600 7W, 600lm, E27/E26 Smart Multi-Color LED WiFi Light Bulb, Works with Alexa & Google Assistant
View our even brighter 9W bulb, the ISB800
Multiple Color / DImmable
Built-in WiFi / No Hub Required
Free Smart Life and Tuya Smart App Remote Control
Group Control / Schedule Timers
Works with Alexa and Google Home
Light Source: LED
Watts: 7W
Lumens: 600lm (Equivalent to 50W)
Socket: E27
Voltage: 85V-265VAC, 50/60Hz
Working Hour: Up to 17,000 hours
Connectivity: WiFi 802.11b/g/n (2.4GHz)
This device only works with 2.4 GHz wireless connection.


iView ISB600 Highlights
Group multiple smart bulbs in the same room to control together
Schedule bulbs to turn on/off at a specific time
Eco-friendly and energy efficient saving up to 80% more energy than traditional incandescent bulbs
iView ISB600 WiFi Smart LED Bulb
The iView Smart Bulb offers a robust suite of features, including app control, voice command, multicolor lighting, scheduling and energy efficiency. Control lighting in any part of your house with ease using your smart phone. Whether individually or in groups, IVIEW Smart Bulbs can be turned on/off, timed, and personalized via the Smart Life and Tuya Smart app. The iView-ISB600 WiFi Smart Bulb is compatible with Amazon Alexa and Google Assistant. Just speak up to dim or brighten the lights, and do other smart bulb adjustments absolutely hands-free! Our energy efficient Smart LED Bulb can save up to 80% more energy than incandescents and will last a long, long time with an extended life of approximately 20,000 hours. IVIEW Smart Bulbs will illuminate your home without the sticker shock of LEDs. The only real difference is the cost, because less is more when it comes to Iview pricing.
| | | | | | | | |
| --- | --- | --- | --- | --- | --- | --- | --- |
| | iView ISB600 Smart Light Bulb | iView ISB600 Smart Light Bulb (Twin Pack) | iView ISB800 Smart Light Bulb | Sylvania SMART+ ZigBEE Full Color | Sylvania Osram Lightify Two Pack | MiPow Playbulb Rainbow | LIFX Color 1000 |
| Lowest Price | $16.99 Amazon | $34.99 Amazon | $24.99 Amazon | $28.69 Home Depot | $52.99 Amazon | $39.99 Amazon | $53.99 Amazon |
| Connectivity | Wi-Fi | Wi-Fi | Wi-Fi | Wi-Fi, ZigBee | Wi-Fi, ZigBee | Bluetooth | Wi-Fi |
| Integration | Amazon Alexa, Google Assistant | Amazon Alexa, Google Assistant | Amazon Alexa, Google Assistant | Amazon Alexa, Google Assistant | Amazon Alexa, Google Assistant | N/A | Amazon Alexa, IFTTT, Nest |
| Base Type | E26 | E26 | E26 | E26 | | E26 | E26 |
| Size | 4.9" x 2.3" | 4.9" x 2.3" | 5.25" x 2.8" | 4.6" x 2.8" | 4.0" x 2.4" | 4.6" x 2.8" | 4.53" x 2.48" |
| Light Color | Color/White | Color/White | Color/White | Color/White | Color/White | Color/White | Color/White |
| Color Temperature | 5600K | 5600K | 5600K | 2700K | 6500K | 3000K | 2500K - 9000K |
| Output | 600 lumens | 600 lumens | 800 - 850 lumens | 800 lumens | | 700 lumens | 1055 lumens |
| Wattage | 7 watts | 7 watts | 9 watts | 9 watts | 10 watts | 5 watts | 11 watts |
| Watt Equivalence | 50 watts | 50 watts | 90 watts | 60 watts | 60 watts | 40 watts | 75 watts |
| Estimated Lifespan | 20,000 hours | 20,000 hours | 20,000 hours | 20,000 hours | 20,000 hours | 50,000 hours | 50,000 hours |
| Requires Hub | | | | | | | |
| Dimmable | | | | | | | |
| Geofencing | | | | | | | |
| Scheduling | | | | | | | |


How Do Smart Bulbs Work at iView?
With support for WiFi 802.11 b/g/n, the iView Smart Bulb works with any home router. Setting up your IView Smart Bulb is as easy as 1-2-3.
Install the app. Download the Smart Life and Tuya Smart:FREE APP on your iOS/Android phone or tablet.
Connect over Wi-Fi. Secure the smart bulb connection to your home wifi router.
Get total control. Get ready to play and see light differently!
iView-ISB600 Smart Wi-Fi LED Bulb Features
Control from Anywhere
Change colors, set your preferred brightness, create timers, and do a whole lot more. Unlike bluetooth-connected bulbs, coverage range doesn't matter at all when you have an Iview smart bulb. The best part? You don't even have to be at home. Connect and control youriView-ISB600 from anywhere in the world, wherever internet access is available.
Enjoy the added security, convenience, and savings the Iview Smart Bulb app control feature brings. Manage your smart light bulbs from any room of your house, when at work or while on vacation. You can always be certain your lighting is switched off when not in use, and switched back on in an instant right when you need it. Most importantly, you gain much-needed peace of mind whenever you're away from home with a bright home that doesn't appear vacant.


Voice Control: Alexa and Google Compatible
The Iview Smart Bulb supports both Alexa and Google home. Control your home lighting system absolutely hands-free! Enable the Smart Life and Tuya Smart skill in your Alexa/Google APP to have commands fulfilled through your wifi smart light bulbs Amazon Echo smart speaker or by talking to your Google Assistant. Tired and half-asleep in bed, you can say "Google, dim the light!" or have it totally switched off for a good night's sleep. How do smart bulbs work with Alexa? Simple. Just tell her what to do. Say "Alexa, turn on the living room lights!"
Adjustable Light Levels
Iview brings state-of-the-art LED technology to places where there's little sunlight. You won't have to live gloomy days at home nor work for hours in a poorly-lit home office. Our Iview Smart Bulb will brighten areas of your home with natural-looking light. Brightness and color temperature levels can be adjusted according to your lighting requirements when reading, cooking meals, or unwinding after a hectic day at work.
Personalize Your Color!
You'll never know how big an impact lighting hues can make until you experience it firsthand. Just think of how easy it would be to add color to your home! Set to yellow to make your home interior warm and inviting, and make food appear even more mouthwatering for guests. Give your kitchen a makeover with a new color theme. Set to blue for a cooler and more relaxing effect.
The Iview Smart Bulb can liven up a party and keep guests entertained with bright, colorful lights. Beautiful lighting can make a statement on its own without the need for extravagant decorations. It can transform any room into a fabulous entertainment space in an instant. Change colors to suit any occasion, match your mood and lift up your spirits. Talk to Alexa, Google, or your Iview Genie to make children's bedtime an enjoyable experience, and mornings something to look forward to everyday!
Schedule / Group Control
Lighting can be controlled one smart bulb at a time or in smart Wi-Fi LED bulb groups. Program preset times or countdowns on your Iview Smart Bulb within the Smart Life and Tuya Smart app. Set lights to turn on while you're away to serve as a deterrent upon giving the impression that someone's home. Get your typical 'lights off' time programmed to conserve energy. Share your custom setting with family members to instill the same energy-saving habits and make life easier for everyone! Just set and forget. 
Eco-Friendly and Energy-Efficient
Today's smart devices can spare you the headache of a ridiculous electricity bill! But being smart is not just about saving your hard-earned money, but saving valuable resources. Protecting what we have now is the key to a better future.
Equipped with a 7W LED light source with 600 lumens, you gain massive energy savings with the Iview smart bulb. Our LED lighting contributes up to 80% more energy savings compared to traditional incandescent bulbs, and 40% more savings than when using fluorescent lights. That accounts for each smart LED bulb used. Energy bills drop along with the demand from power plants. That's why every home that makes the switch to a smart bulb makes a huge difference!
What's more remarkable is that you get the same level of lighting a 60W incandescent or 14W CFL yields when you opt for the Iview 7W 600lm LED. Light is focused where you want it, so no energy is wasted on unnecesarily illuminating areas such as ceilings.
Did you know that Fluorescent lights mostly contain mercury? LED lights aren't classified as toxic and definitely safer to have at home. LEDs also emit the lowest heat at 3 btu's/hr, where CFLs are at 15 btu's/hr and incandescents at 85 btu's/hr. There's no danger of getting burnt when accidentally touching the smart bulb.
Long-Lasting Smart Bulb
A quick look at lighting options shows astounding differences in bulb life:
| | |
| --- | --- |
| 60W Incandescent | 1,200 hours |
| 14W CFL | 8,000 hours |
| 7W LED | 20,000 hours |
By choosing the newer smart bulb lighting system, you've just saved yourself 3 (CFL) replacements and over 20 (Incandescent) bulb replacements! Less frequent replacements mean less maintenance, less hassle, and more time for what's truly important.
The iView-ISB600 Smart LED Bulb puts the future right at your fingertips. Estimated to last for more than 20,000 working hours, it's the clear-cut winner in terms of energy consumption, maintenance and costs.
One exceptional Iview Smart Bulb has the power to simplify and beautify your life. Our high-performance, reliable, durable, cutting-edge, stylish yet affordable smart devices make us the top choice. It's exactly what Iview is all about. It's basically everything you'd need and want in a smart bulb. So don't miss out! Plan your smart home now.