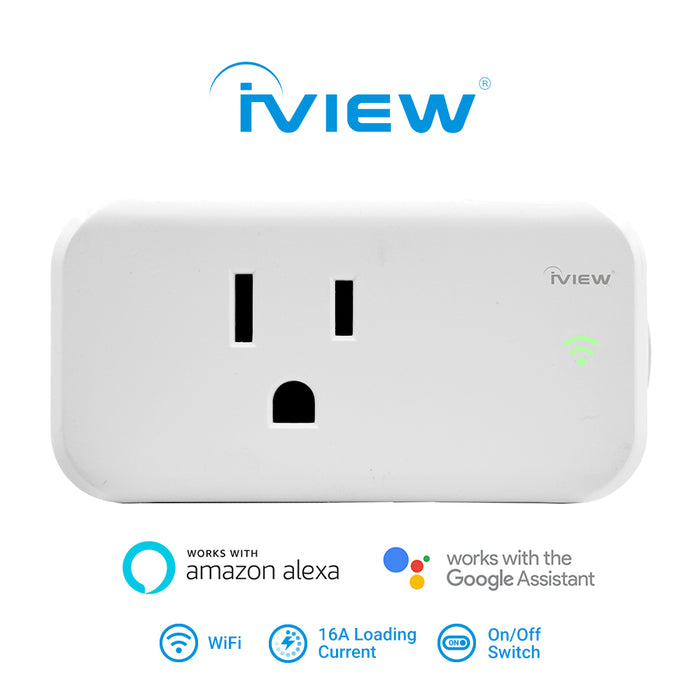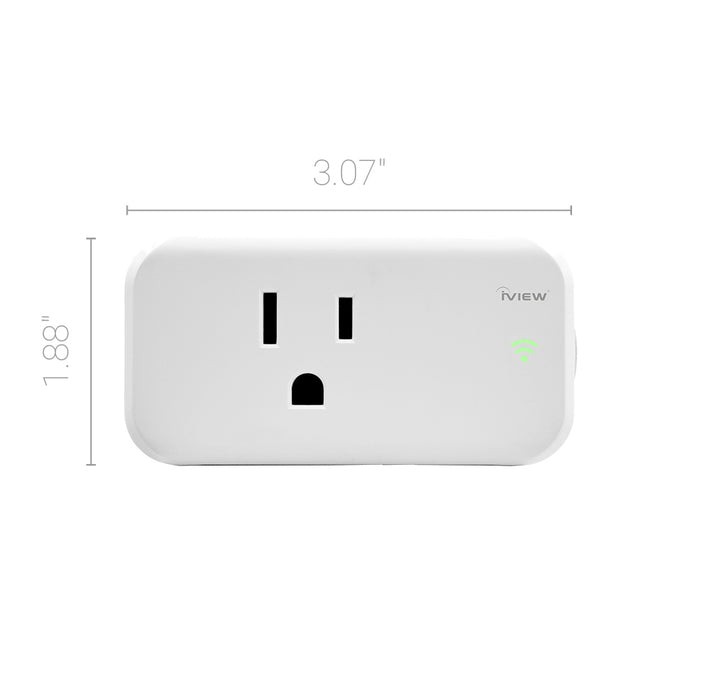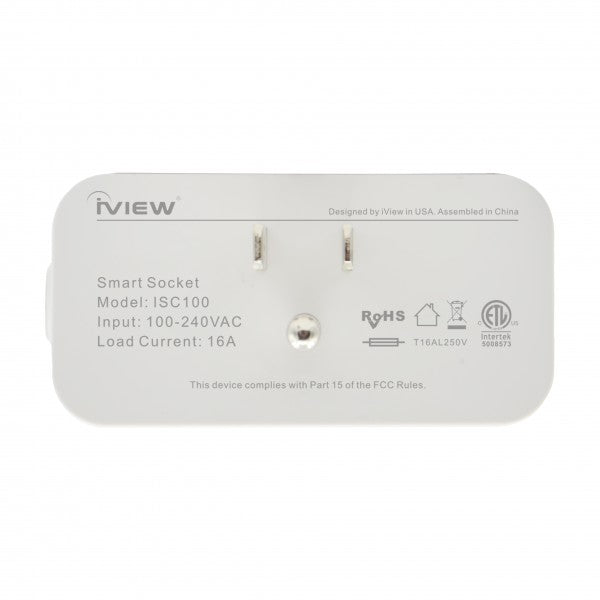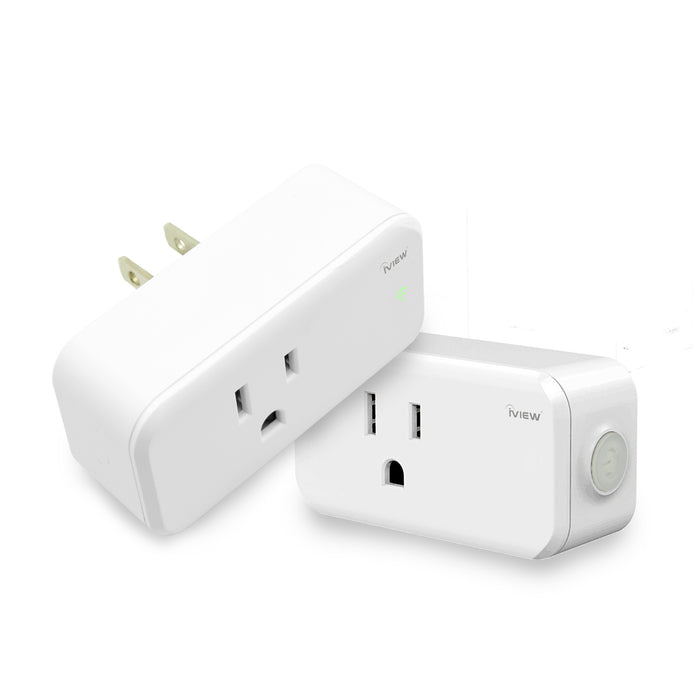 ISC100 1760W Load Max, 16A Smart WiFi Socket and Plug, Works Amazon Alexa and Google Assistant
Built-In WiFi
This device only works with 2.4 GHz wireless connection.
Works with Amazon Alexa
Control Switch On/Off via APP
No hub Installation Needed
iView ISC100 Highlights
Smart 16A WiFi Socket
Remote control from anywhere via

Smart Life and Tuya Smart

App
Voice control with Amazon Alexa and Google Assistant
Built-in WiFi – No hub required
Group multiple smart sockets in the same room to turn off/on together
Schedule bulbs to turn on/off at a specific time
Energy savings and usage tracker
Includes ISC100 Smart Socket and user manual
Looking for the best way to save energy and lower your electricity bills? Invest in an Iview Smart Socket! Convert your wall outlets to keep costs down and stay in charge of your home even when you're away.
Iview-ISC100 Smart WiFi Socket
Introducing the ultimate wifi plug that will make life easy and more enjoyable. Feel the power of the Iview Smart Socket. Imagine being able to control your household appliances by simply talking to Alexa, your Google Assistant, or our very own Genie! Download the Smart Life and Tuya Smart free app on your smartphone or tablet to gain full control over average, non-smart devices. Power up, command, and get them to perform from anywhere! Iview Smart Sockets are compatible with iPhones and iPads, Android Phones and Android tablets.
Stack compact-sized Iview Smart Sockets in a dual wall outlet to control multiple devices at once. With the built-in WiFi, there's no complicated hub installation nor paid subscription to worry about. Turn each socket on and off as needed. Program your smart sockets in groups and set the timer for a smart home that works according to your schedule. Equipped with a max 16A or 1760W load current, you can safely plug in and operate powerful appliances. Track your energy usage for efficient use of resources and enjoy big savings on utilities!
Iview Smart Socket Features
Count the number of appliances you have at home, along with all their cords and occupied outlets. How many times do you turn them on and off in a day? How often do you forget switching them off? You then spend the day worrying about the safety of your house and the continuously running electricity. Your time, money, and efforts can be spent on more important things!
Make wise use of valuable resources by opting to use smart plugs at home. The IVIEW ISC100 Wireless Socket supports APP control and Voice control on a WiFi network. Once connected, all appliances you've paired with it can be remotely controlled, timed, grouped and talked to. It's remarkable what such a small smart device is capable of!
Hands-Free Control via Voice Command
Power your home appliances, lamps, computers and gadgets and without lifting a finger. The Iview ISC100 Wi-Fi Socket is compatible with Amazon Alexa database. Take advantage of their voice control feature by simply enabling the Smart Life and Tuya Smart skill in the Alexa app. Our Iview Smart Wi-Fi Plug works with Alexa and Echo as well as other widely used voice assistants like Google Home. Just speak up to control your smart socket! Say "Alexa, turn my living room fan off" as you move out of the living room. Say "Alexa, turn the bedroom lamp off" upon saying goodnight to your kids.
Google Assistant grants the same hands-free convenience of the voice command feature. Just say "Google, it's time to wake up!" to get your coffee maker brewing the perfect morning coffee. Iview offers a more personalized experience with our highly intuitive Genie. Give your voice assistant any name you like. You'll be pleased on how quickly and tirelessly the Iview Genie responds on demand. Gain full control of all rooms and areas of your house where you've got an Iview smart socket plugged, including the garage, your office, and your outdoor space!
Control From Anywhere Via The Free Iview App
Control the Iview Smart Socket from anywhere using any WiFi-enabled device. It doesn't matter if you're just in the next room, out in the garden, at work, or thousands of miles away when traveling for business or on a weekend vacation. Simply launch the Smart Life and Tuya Smart FREE app on your smartphone or tablet. Login to access your home network to remotely control your household devices anytime. As long as the appliance is on the smart plug and your cellphone is connected to the internet, you're empowered to do anything!
Built-in WiFi/No Hub Required
Transform any basic household appliance from boring to interesting! Your regular coffee maker, floor lamp and bedroom fan will instantly turn into a smart gadget by simply pairing it with the Iview smart socket. Built with a 802.11 b/g/n (2.4GHz) WiFi, our smart plug eliminates the need for a hub and all the unnecessary confusion of setting it up. Not only does it skip the complicated steps, but saves you the added cost of purchasing a specialized central hub. The Iview-ISC100 directly connects to your router. Just enter the Wi-Fi password of your home network and you're totally in charge!
Schedule and Timer Function
Create customized settings for each appliance and every family member across the different rooms of your house. Set up timers for more efficient use of appliances and energy resources. Sync your devices with your morning and bedtime regimen. Program your Iview smart plug to repeat the same function as many times in a day and as needed.
Wake up with warm coffee.
Coffee lovers will be delighted with what the Iview WiFi plug can do. Program your kettle or coffee maker to boil water minutes before your alarm sounds. One sip of effortless coffee and you'll be happy with your Iview smart socket purchase!
Prepare for a nice, hot bath.
Not happy with your bath heater or water pump's built-in timer? Get it to automatically heat up and time the process instead using the Iview WiFi Plug. You'll be able to relax more in the shower under the right temperature, knowing at the back of your mind that no water, electricity, or gas will be wasted with the smart socket at work.
Get more joy out of cooking.
Turn the crockpot off halfway through your workday to keep vegetables from becoming soggy and your entire meal from getting overcooked. Preheat the oven as you pull into the driveway. Whip up a healthy and delicious dish right in time for dinner.
Single Operation or Group Control
The Iview ISC100 Wi-Fi Socket is fully integrated with Amazon Alexa, Echo, Dot and Google Home. Control connected appliances, lighting systems and gadgets from anywhere. Manage them individually or in groups for smarter use of your home devices. Share control over home appliances and devices with family members for a personalized, more comfortable experience. Have them download the FREE APP: Smart Life and Tuya Smart on their smartphone or tablet. Establish the wireless connection between the Iview smart plug and their iOS/Android device. Grant your husband control over the console. Make cooking easier for your wife. Give your teen freedom over music speakers and your grade schooler the joy of tinkering with colorful lamp lights!
Slim and Compact Design
Smart plugs, even those from well-known manufacturers, commonly arrive in big sizes. They tend to cover an entire wall socket no matter how you turn upside down and on which socket you plug it in. Some cannot be possibly rotated and can be plugged only one way. Unlike the typical rounded and bulky rectangular WiFi plugs, the Iview mini smart socket does not block outlets. You can easily fit two of our space saving smart plugs into a double socket wall outlet. Though smaller and slimmer, Iview smart sockets can similarly take on a 16A load current as with popular brands. Stack em up, one at the top and one at the bottom, and make the most out of each room's power source.
Streamline Home Security
Iview gives unparalleled peace of mind to every homeowner. Our smart socket is equipped with high-quality components that meet safety standards. On top of worry-free use, you can use the Wi-Fi plug to improve your home's security whenever you're out and traveling. Schedule the lights to turn on once it gets dark to deter burglars. Turn devices on and off at different times of the day to make it appear like someone is home. Timers also make a safer home for people who live alone like the elderly, where you can monitor household appliances for their security. Provide comfortable living by synchronizing home devices with grandpa or grandma's personal routine.
Energy Saver and Usage Tracker
Forget to turn on/off the washer, slow cooker, balcony light? Not sure if you unplugged your curling iron? Check the status of all devices connected to your Iview Smart Sockets and view real-time feedback on energy usage in the iHome App. If you did overlook switching off an appliance due to the morning rush, you can easily do it from your office. Tap your phone to power off the lights when done reading before bed rather than get up again to reach the switch.
Track energy usage around your home and find out which devices eat up the most energy. Cut power on power-hungry devices when not in use to avoid wasting energy on standby. You're certain to see results on your next energy bill. Iview is committed to helping more households adapt to smart living. Our Iview Wi-Fi plug offers a practical solution. Conserve energy, save on your electrical consumption, and extend the lifespan of your household appliances.