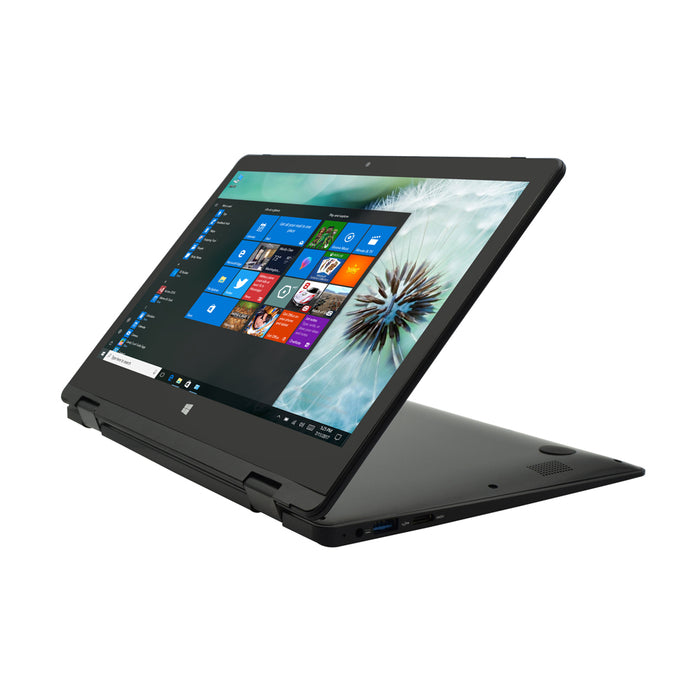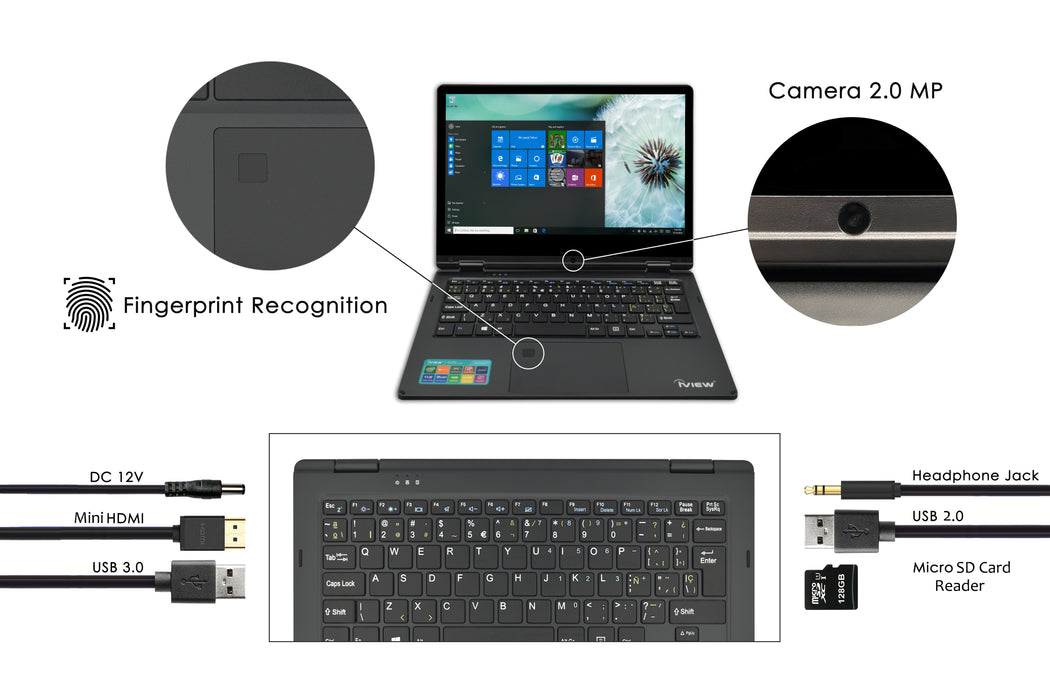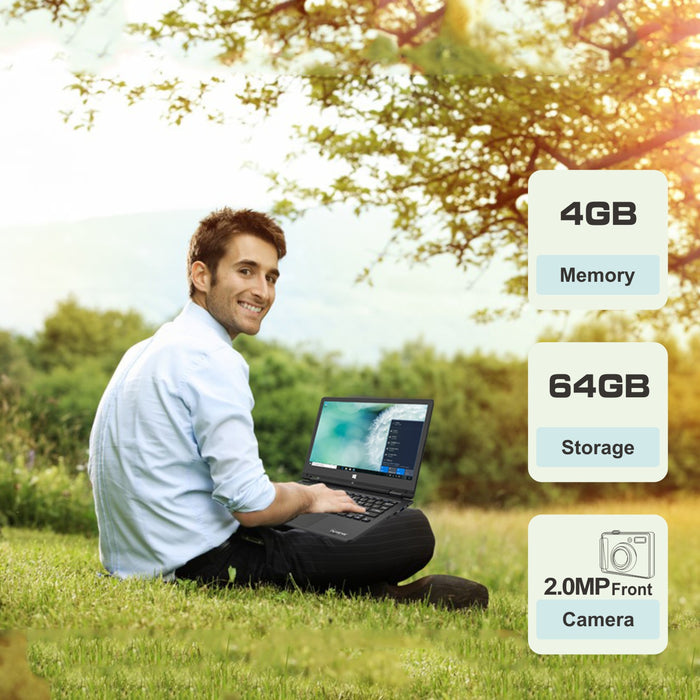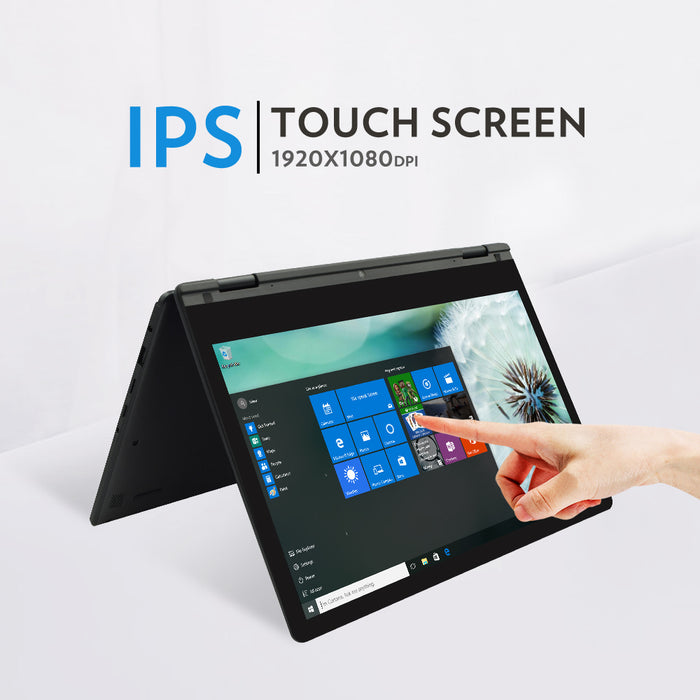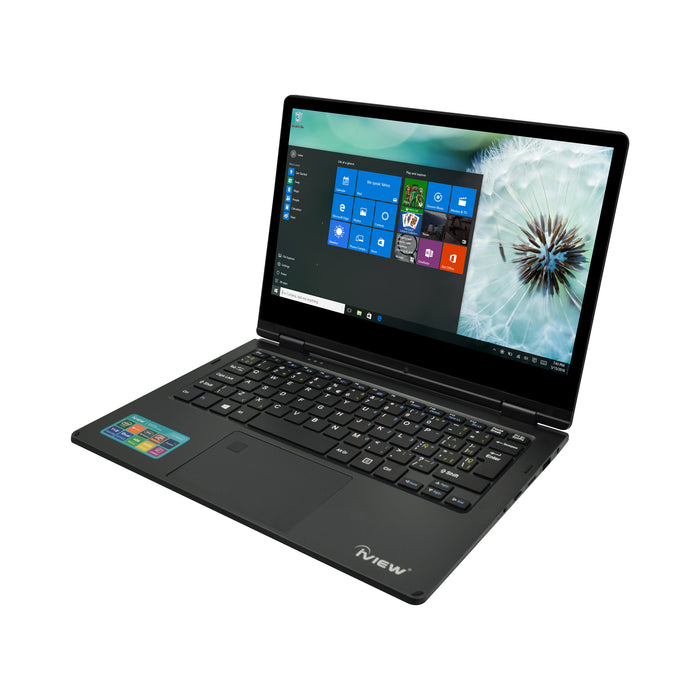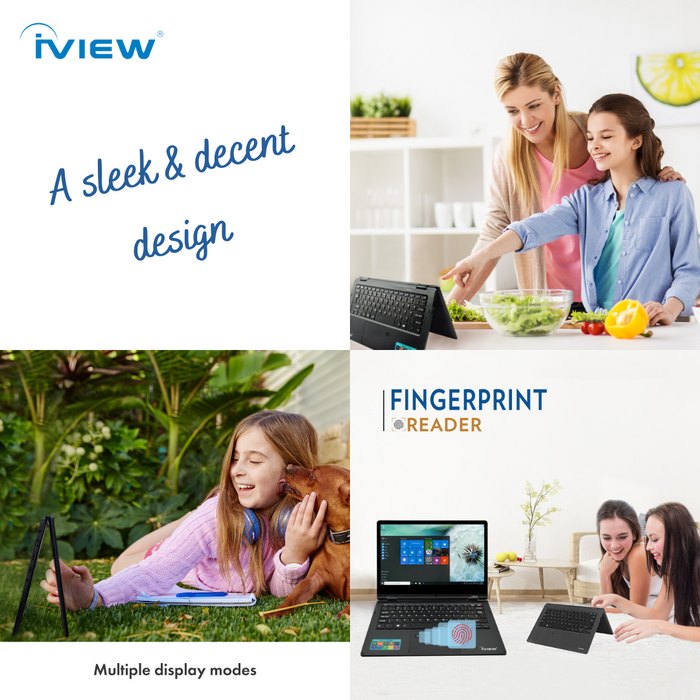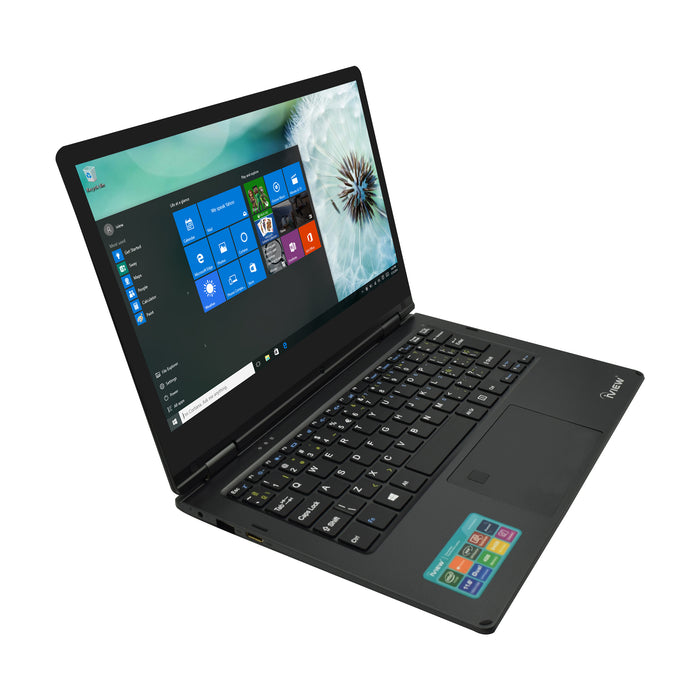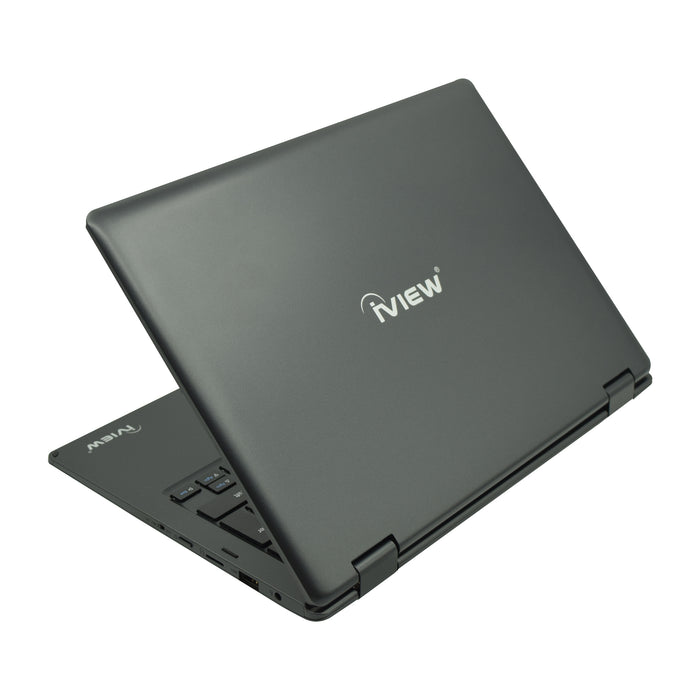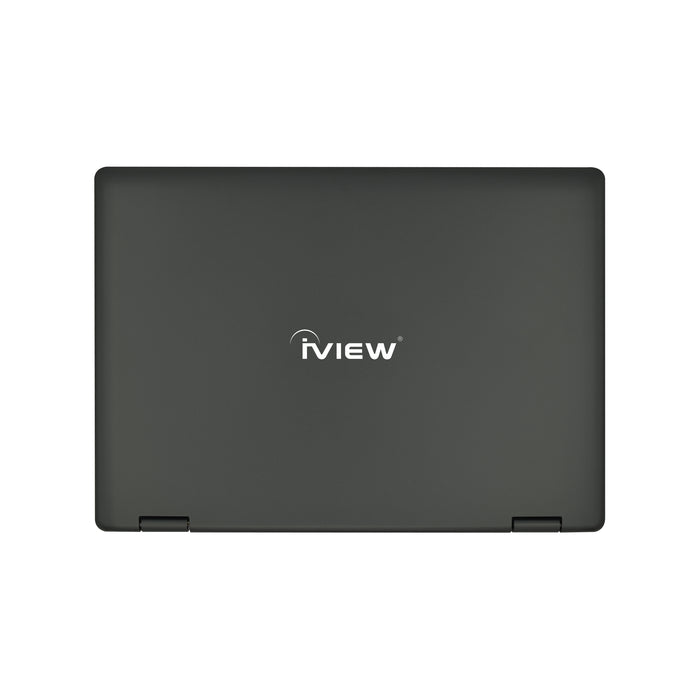 Maximus IV Ultra-Slim 11.6" Intel Celeron 4GB 64GB 360° Touch Screen Laptop with Fingerprint Reader
Screen: 11.6" 360° Touch Screen, 1920 × 1080 IPS High Resolution
Processor: Intel Celeron Processor, Apollo Lake J3355, Dual Core, 2.0GHz, up to 2.5GHz
OS: Windows 10 Home
RAM: 4GB
Memory: 64GB (Supports SSD)
Camera: 2.0MP (Front)
Wireless Connection: Wi-Fi 802.11b/g/n
Built-in Bluetooth 4.0
Supports Fingerprint Recognition
USB 3.0 × 2 / Mini HDMI / Micro SD Card (Max: 128GB)
Audio Output: Stereo Speaker (8 Ω 1.0w × 2) / 3.5mm Stereo Headphone Jack
Windows Store, Internet Browser, Calendar, Calculator, E-mail, etc.
Picture Viewing, Music/ Video Playback, E-book, Games, etc.
Battery: Built-in 4,000mAh / 7.6V
Expandable solid state drive (requires M.2-2280 SSD, not included)

Package contents include: iView Maximus IV, adapter, earphones, and user manual.
Ultra-Slim Laptop with 360° Hinge
The stunning Maximus IV convertible laptop offers 360 degrees of versatility for one affordable price. With a unique and durable 360° hinge that transitions effortlessly into four modes, there's no limit to what this PC can do. Place it in either stand mode to watch shows, tent mode to play your favorite video games, notebook mode to work, or tablet mode to connect on the go. With access to advanced features on Windows 10, Maximus is the ideal PC to keep you up-to-date on social networks, gaming, e-books, movies, and music as well as work documents and emails. Gain a productive edge over the competition with high performance up to 2.5 GHz Intel Celeron processor and 4GB of RAM. The built-in Dual Core processor delivers a lightning-fast performance that handles multi-tasking seamlessly. Maximus provides superb clarity and vivid display for a one-of-a-kind entertainment viewing experience. It's equipped with a spacious 64GB hard drive, but with the USB port/Micro card reader, you can maximize storage up to 128GB to save all your important media. This versatile PC comes with built-in wireless connection at 802.11b/g/n and includes features such as the Windows Store, Office Work, Internet Browser, Calendar, Calculator, Email, Picture Viewing, Music/Video Playback, Games and so much more!
Package contents include: iView Maximus IV, adapter, earphone and user manual.
Four Modes
With four versatile modes to choose from, Maximus is the PC you can't live without. The "Stand Mode" is perfect for watching movies and video conferencing. The "Tent Mode" puts apps and games right at your fingertips. For school and office work, use the traditional "Notebook Mode." Then, simply switch it to "Tablet Mode" to enjoy all day portability and stay connected on the go.
Fingerprint Recognition
Our latest models of iView laptops now feature fingerprint recognition, allowing you to log in via your fingerprint. The iView Maximus IV is included in this latest release with its built-in fingerprint sensor. Now you don't have to type in a password every time you log into your laptop. The iView Maximus IV makes it as easy as a touch of your hand.
Front-Facing Camera
The Maximus 11.6" Convertible Laptop has equipped with 2.0-Megapixel front-facing webcam for crystal-clear video conferencing, supported by stereo speakers, stereo headphone jack and Skype Video Call capabilities.
Expansion Opportunities
With the convenient USB 3.0 port and Micro card slot, you'll be able to connect USB flash drives, USB media card readers and even an external hard drive to the Maximus Convertible PC for extra storage. The USB 3.0 transfers data 10 times faster than a USB 2.0 port while maintaining the same connectivity option. Take advantage of up to 128GB of additional storage with a Micro SD card, you'll be able to download all your important media, without worrying about running out of space.
Affordability and Design
The affordable price of the revolutionary Maximus IV convertible laptop is an unbeatable value compared to many PCs who lack the same versatility and performance. With an ultra-slim and sleek profile, Maximus brings the PC to the next level.