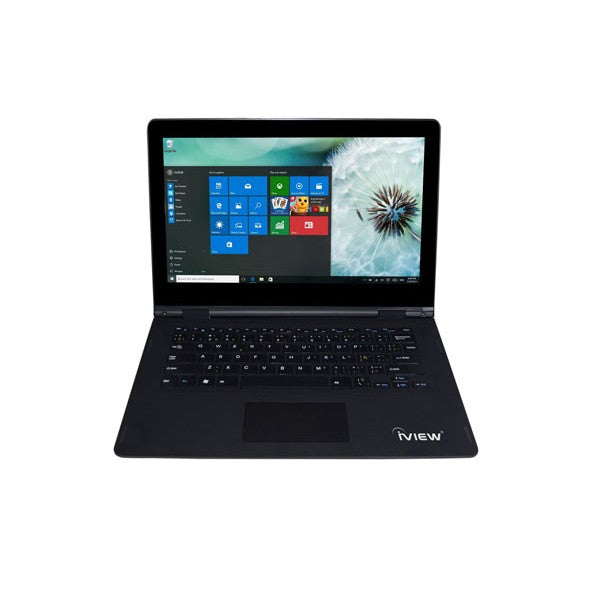 Ultima 13.3" Intel Atom Quad Core Z8350 2GB/32GB 360° Convertible Touch Screen Windows Laptop
Windows 10
Intel Atom Processor
Cherry Trail Z8300, 1.6 GHz up to 1.8 GHz
13.3" 360 degrees Touch Screen
1366 x 768 High Resolution
RAM: 2GB DDR3
Memory: 32GB
Dual Camera
Wifi 802.11b/g/n
USB Port 3.0 Port, USB 2.0 Port/Micro SD Card (Max: 128GB), Mini HDMI
Windows Store, Office Work, Internet Browser, Calendar, Calculator, Email, Picture Viewing, Music/Video Playback, E book, Games
The Ultima Laptop can easily win the award of being one of the best laptops 2018. Unlike the best budget laptops 2017 had to offer, the new iView Ultima Convertible PC sports an efficient 1.6 GHZ Intel processor packed into a portable 13.3" shell. The stylish yet highly functional flip book design makes the Ultima stand out amongst the best laptops under 600. You can adjust the angle anywhere from 0 to 360 degrees whenever you need it in an instant. Take a look at the IPS HD Screen and you'll be amazed at how bright it could be at a crystal-clear resolution of 1366 x 768. The iView Ultima is the most practical choice from the best laptop under 1000 when it comes to listening to music, watching videos and browsing on the web. You can do video calls and conferences, thanks to the front-facing camera.
iView Ultima 13.3" Convertible Touchscreen PC
The sleek form factor will inspire you to do more things at school, at work or at play. The ease of use puts it on the best laptop under 700 range. What's more, it's ultra portable and gives the user great performance whenever it's needed. You simply can't miss out on one of the best Windows 10 2 in 1 convertible laptops ever made. Get the iView Ultima 13.3" laptop today.
Product Features
Innovative Design
Top rated laptops are expensive and they can't turn to tablet or stand mode when you don't need an input device such as a keyboard or mouse. The "Stand" mode in the iView Ultima can be employed for comfortably watching movies, the latest TV series or for video calling business clients or friends from halfway around the world. The 13.3" dimensions are larger than your typical laptops under 300 best buy. You'll enjoy viewing content on the vibrantly-coloured screen at any angle, thanks to iView's wide viewing screen technology.
The "Tent" mode is absent in most of the best budget laptop 2016 but here it's in full force. What this mode does is make it easier for you to play games and navigate through apps in an in-your-face setting. Gamers won't have to spend big on best gaming laptops under 600 to really enjoy playing video games, as the iView offers an immersive experience using great video and enhanced audio. The colors and the Ultima's screen stays sharp on any lighting condition; you can spend hours getting lost in your game while operating the laptop easily with just your fingers.
Then there's the "Notebook" mode, a default for people who want to study, read emails or do something productive. The best budget laptops under 500 all have this feature, but iView has outdone the competition and allows you to multitask with very little problem. Simply prop up the Ultima and within minutes you'll be working just as hard on a normal desktop.
Last but not the least, the "Tablet" mode is used for consuming content. You get to enjoy the luxury of having a solid tablet form and its portability while being connected to the web. When you just need to sort out your music collection, read an ebook or share pictures with your friends, the iView Ultima does all of that easily and within seconds.
Sleek Profile
The best laptops in the world are modern, sleek and have a futuristic shape, and the iView Ultima Laptop is no exception. It combines the best of both worlds, having a thin, portable profile while being stylish in its own right. The elegant black case sports a smooth finish and will be the envy of your friends and colleagues. The non-bulky profile is great for students who want the best laptop brand without it occupying too much space. If you're looking for a capable machine that could play a wide range of games while saving space for your books and all your stuff, then the Ultima is the go-to choice. Bring it anywhere with you on the go. When you need a powerful 13.3" laptop for notes, for projects and for presentations, the Ultima will not let you down.
Lightning-Fast Performance
The best laptops under 500 consumer reports need to be powerful enough for any task you can throw at it. The iView Ultima Laptop is powered by a capable Intel Atom Cherry Trail Z8300 processor that's blazing fast. The 1.6 GHz processing muscle can be cranked up to 1.80 GHz for playing graphic-intensive games. The included 2GB of RAM should be adequate enough to handle a few apps, games and programs. What's more, you won't have to worry about your laptop running out of juice as it can be used for up to 8 hours before needing a charge. The potent combination of a quad core CPU, 2GB of memory and 32GB of storage easily handles everything you can throw at it. The iView Ultima shines in every situation, whether you need it for documents, email, presentations, games or for entertainment. It won't let you down.
Built-in Wireless Connection
Cheap laptops won't have the necessary connections you need to be mobile and productive, but the Ultima comes with all the wireless bells and whistles included. Get connected online via Wi-Fi to watch YouTube videos, chat with friends on social media or to browse the internet. You can listen to music or stream live videos in a snap. Like the best laptops 2017 the Ultima allows you to download, stream and browse to your heart's content. A peek under the hood reveals a capable 802.11 b/g/n wireless adapter and a plethora of useful apps such as the Windows Store, Internet Browser, Email, Music and Video Playback, Games, Calendar, Calculator, Office Work and much, much more.
Superb Clarity
The best laptops under 300 don't have screen as beautiful or as crisp as the iView Ultima Laptop. You can expect a crystal clear resolution of 1366 x 768 for all screen modes, whether for Tablet, Notebook or Stand. You'll be treated to vibrant, rich colors that can be seen at any viewing angle. As an entertainment device the Ultima stands well above the competition. What's more, the Precision Touchpad is better than any of the best budget laptops in India. Movement will be interpreted quickly and without delay. The HD screen offers crisp viewing on all lighting conditions.
Windows 10 OS
A feature that any best budget laptop 2018 should have is a top-notch operating system. The iView Ultima comes with Windows 10, a popular and reliable operating software that's a good match with the machine's hardware. The long-running Windows system is known for its ease of use and for providing optimum system performance across a wide variety of application. You get the familiar Start menu and all the things you've come to love about Windows.
The iView Ultima is one of the best laptops for college students. It can run the latest Windows 10 software without any lag or slowdown. What's more, you'll be able to use newer smart features such as the multi-touch and voice assistant for maximum efficiency. For example, the Microsoft Edge Browser is a definite improvement over its predecessor and has been given a facelift. You'll be able to write, highlight and doodle on web pages and save it for later. You can easily share notes with officemates or schoolmates with just one click. The Edge also has an integrated ebook reader capability so you can view school notes in PDF, epub or any other format. Find the latest restaurants or products using Cortana. All of these can be done without ever leaving your browser window.
Dual Camera
Not all the best laptops under 400 have what iView Ultima does, and that's dual cameras. The Ultima Convertible boasts a 2MP front facing camera for webcam use such as video conferences, video game streaming, etc. Couple that with Skype Video Call capabilities, standard stereo headphone jack and built-in speakers and you'll have a capable 2-in-1 for all your communication needs. The 5MP rear camera is an absolute godsend for when you need to capture one-of-a-kind moments via photo or video.
Expansion Opportunities
Few of the best laptops for students come with storage expansion options, but the iView Ultima is one of them. Super cheap laptops have static storage that could only hold a few apps and programs, but more storage could mean a bulkier device. The iView Ultima Convertible gets the best 2-in-1 laptop under 600 award as it gives you the freedom to have as many photos, music, videos, apps and games as you can download. You won't be running out of precious space anytime soon! Plus, you can take advantage of the additional 128GB of space via the microSD card slot for media files and whatnot. You can also attach an external storage drive via the USB ports running along the Ultima Convertible's side.
Long Battery Life
Battery is a huge factor especially if you're on the market for the best laptop 2017 UK. The iView Ultima frees you up for a considerable amount of time without needing to locate a wall outlet for power. The device weighs only 4 lbs. so it's the perfect 2-in-1 to bring around wherever you go. Less charging means you can get more work done and your productivity rate shoots up. Believe it or not, the best laptop under 600 reddit should be prepared for long game sessions, for working with multiple windows and for consuming video content for hours on end. In the same manner the iView Ultima handles all the tasks without needing to be charged for a long time.