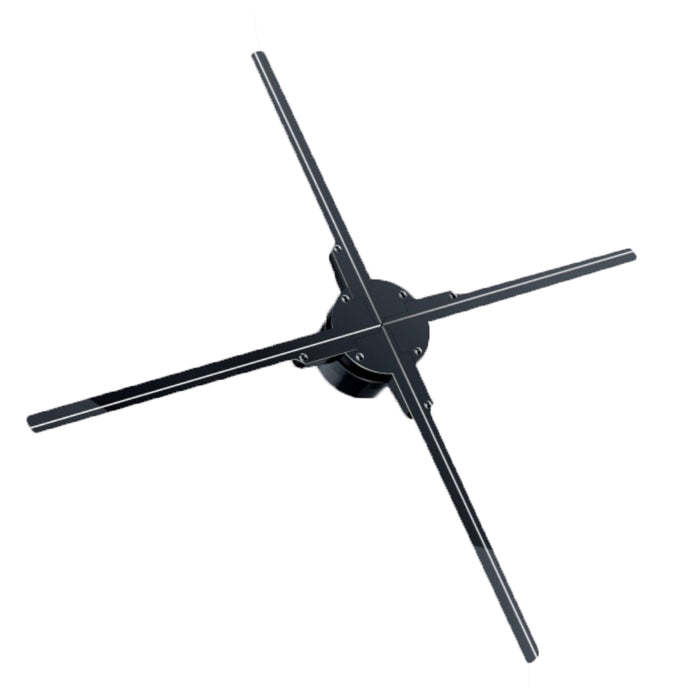 3D Hologram Fan - Four-Blade 3D Fan with 720pcs LED Beads for Business Advertisement
Product returns not available. For products repairs and product maintenance please contact iView Customer Service.
Product Size: 650 × 650 × 86mm / 25.5 × 25.5 × 3.4 inches
Screen Size: 650mm / 25.5 inches
Resolution: 1600 × 720
Angle: 160°
LED: 720pcs
Voltage: AC100 – 240v, 50/60Hz
Power: 36W
Remote: On/Off
ROM: 8GB
Support Format: MP4, AVI, RMVB, GIF, JPG, PNG
Data Transmission: MicroSD Card and Wi-Fi
Render 3D characters and images to life with the iView 3D fan, a 3D holographic fan display with a four-axial design that can be used to display any 3D image. iView continues to innovate with the latest tech gadgets with the iView 3D Fan.
Four-Blade Design with 720pcs LED Beads
The fan works by using the 720pcs LED beads, densely arranged on the blades of the fan to produce the light. When turned on, the fan rapidly propels its blade to produce a unique 3D holographic illusion that will draw attention with its striking colors and 3D image display.
The 3D Fan's four-blade design minimizes vibrations caused by propelling fan blades, making iView's fan more durable, producing better image quality than similar 3D fan displays containing built two-blades. The four-blade fan also reduces the ghosting effect on the image created by the fan's blades.
Invaluable Advertising Tool
The iView 3D Fan has a diameter of 25.5 inches and can display a 3D image of that length with a 1600 × 720 resolution hologram. The approximately 2 feet display is large enough to be eye-catching but small enough not to occupy the limited valuable space within your business.
The 3D effect produced by the ultra high-density rotating LED blades is perfect for advertising, whether for a mall, small store, restaurant, museum or any other business that can use a 3D hologram. The iView 3D Fan produces an unparalleled, visually stunning experience that will capture the attention of many.
Stunning 3D Graphics
Create and see stunning 3D holograms with the iView 3D Fan. For every place of business, the 3D Fan can be used to attract plenty of onlookers fascinated with the unique 3D display. For museums, provide a one-of-a-kind experience with 360° diagrams on history, animals, art, and more. Restaurants can attract attention with rotating 3D signage promoting their house specials. The possibilities are endless with this unique marketing tool.
Easy Installation with Mounting Bracket
The 3D Fan makes it easy to install with its built-in mounting bracket attached to the base of the fan. To install, simply mount the 3D Fan, whether on a wall or TV stand or whenever you desire, plug it in and turn it on! Once installed, play stunning 3D graphics in seconds!
Data Transmission via Wi-Fi and MicroSD Card
iView's 3D Fan is compatible with Wi-Fi to transfer and load the 3D display. You don't have to worry about location limiting the access you have to your files. By using Wi-Fi, the fan allows for quick data transmission. If you have access to a 3D image database, the unit can pull files via Wi-Fi and play them immediately. The 3D Fan also allows you to save the image onto a MicroSD Card, insert the card into the reader at the base of the fan, and play the 3D animation.
The iView 3D Fan supports mp4, AVI, RMVB, GIF, JPG, and PNG formats.
ODM / OEM Product
iView also offers ODM / OEM services for businesses interested in customized 3D designs. These designs are personalized based on your image specifications. Prices vary depending on the complexity and specifications required. Please contact our team to get a quote today.