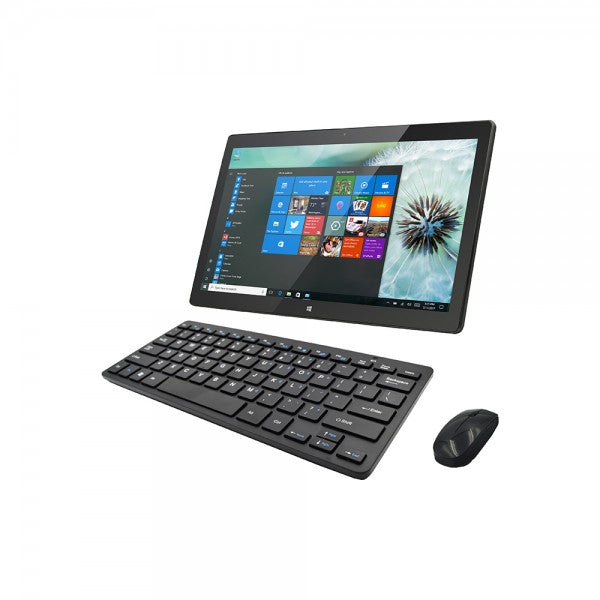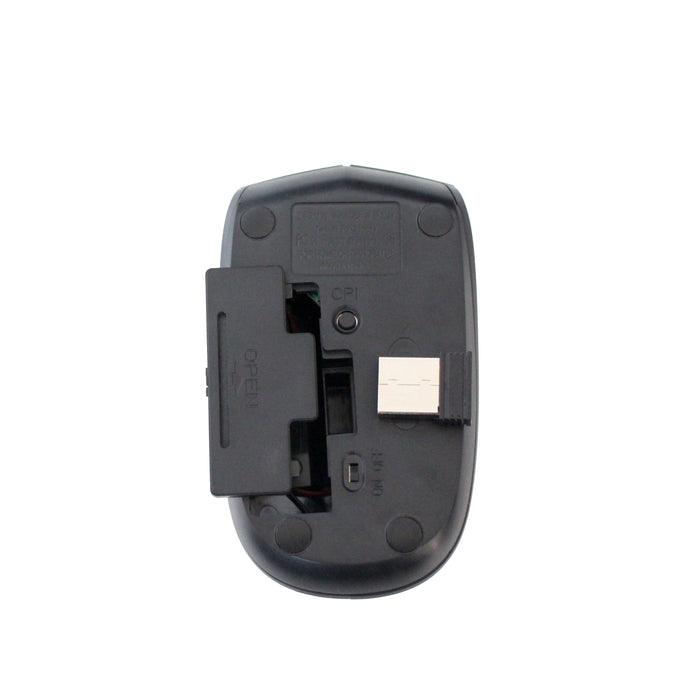 1760AIO 17.3" All-in-One Windows PC HighRes Intel Celeron N3350 4GB/64GB Upgradable Dual Band
Screen: 17.3" Capacitive Touch Screen, 1920 × 1080 IPS High Resolution
Processor: Intel Celeron Processor, Apollo Lake N3350, Dual Core, 1.1GHz up to 2.4GHz
OS: Windows 10 Home
RAM: 4 GB
Memory: 64GB (Optional expanded storage with external hard drive)
Camera: 2.0MP (Front)
Wireless Connection: WiFi 802.11 b/g/n, 2.4 and 5GHz
Built-in Bluetooth 4.0
Support 1080p Output
USB Port x 3 / HDMI Port x 1 / RJ45 Port x 1 / Micro SD Card (Max: 128GB)
Audio Output: Stereo Speaker (8 Ω 1.0w) / 3.5MM Stereo Headphone Jack
Windows Store, Internet Browser, Calendar, Calculator, E-mail, Picture Viewing, Music / Video Playback, Games, etc.
Battery: Built-in 2,600 mAh / 7.4V
Optional Hard Drive connection
Includes adapter, wireless keyboard, wireless mouse, handbag and user manual
iView 1760AIO Highlights
Intel Celeron Dual-Core Processor with Apollo Lake N3350 (1.1GHz, up to 2.4GHz)
17.3" 1920 x 1080 IPS Touchscreen
4GB Ram + 64GB Expandable Storage (with use of drive)
Windows 10 Home OS
Bluetooth 4.0
Wi-Fi 802.11 b/g/n
2600 mAh built-in battery
16.46 × 10.49 × 0.87 inches
Includes 1760AIO, wireless keyboard, wireless mouse, power adapter, handbag, and user manual
iView 1760AIO All-In-One
Great design is one of the first impressions you'd get out of today's best all-in-one pc. The 1760AIO All-In-One PC is a sophisticated device built with high-quality, high-performance components. It features a 17.3-inch high-resolution screen (1920x1080 DPI) with IPS technology, delivering crisp and clear resolution across all angles. iView 1760AIO runs on an Intel Celeron Dual-Core Processor, Apollo Lake N3350 (1.1GHz, up to 2.4GHz) and a Windows 10 operating system. Touch screen capability, Bluetooth 4.0, plus the wireless keyboard and mouse makes navigating an effortless task as expected from the best all-in-one pc. The 1760AIO All-In-One PC adds in video calling functionality using the front-facing camera, making it a total workhorse. The feature-packed pc all-in-one creates a stellar user experience wherever you go, right when you need it most.
Product Features
Bluetooth 4.0
iView 1760AIO Bluetooth 4.0 can be easily connected to any Bluetooth accessory. Once connected to a hard drive, mobile phone, speaker or headphones, you can totally forget about wires! Share personal files like photos, music, videos, and more without getting disconnected. Pairing compatible wireless peripherals are useful for freeing up USB ports for other devices you may need to attach to your pc all-in-one. Pair your 1760AIO with loudspeakers to increase your audio volume, connect with your headphones to cut out any distractions, or sync with any other devices embedded with Bluetooth technology to make the most of your 1760AIO. 
Wi-Fi 2.4GHz and 5GHz
Utilize both 2.4G and 5GHz frequencies using your iView 1760AIO. Connect to 2.4GHz network band when trying to connect to a modem far from your workspace, or use the 5G band to achieve higher network speeds at a shorter distance.
USB, HDMI and RJ45 Ports
iView 1760AIO All-In-One PC comes with ports that accommodate more storage and peripherals while ensuring great connectivity Two USB2.0 ports function quite well, but the USB 3.0 port works best for transferring data. It does the job up to 10 times faster than a USB 2.0 port while maintaining the same connectivity option.
The HDMI, or High-Definition Multimedia Interface, port is ideal when transferring uncompressed video data from two HDMI-compliant devices, such as from a computer monitor or laptop to a TV screen.
The RJ45 port, also known as the network port or Ethernet port, when computers are concerned, is mainly used when connecting devices to Ethernet, which is ideal for optimum connect speeds and security when it come to transferring data files.
Built-In Camera
The 2.0MP front camera offers clarity when capturing photos and during video chat sessions over the web using your favorite calling or messaging application. Together with the built-in microphone, the iView 1760AIO camera has both parties heard and viewed smoothly throughout its duration.
17.3" (1920x1080 DPI) Screen
iView 1760AIO screens have a 16:9 aspect ratio and a high 1920 x 1080 resolution, meaning it will play back a 1080p Full HD content without any upscaling or letterboxing. The big-screen high-resolution iView 1760AIO screen makes it easy to share your favorite content like treasured childhood videos. watch movies with the entire family over the weekend and give them something to get excited about. Connect your device via Bluetooth 4.0, attach to the ports or insert in the Micro SD card reader, then let everyone in on the fun!
High-Resolution Touch Screen
The high-resolution IPS (1920x1080 DPI) on the 1760AIO All-In-One serves as a touchscreen. Organizing files and media, whether at home or at the office, becomes way easier. You can sort pictures and music endlessly in tablet mode while relaxing at the couch. The best all-in-one desktop computers can help you make the most of Microsoft's offerings. IPS technology in iView offers more with the added mobility. Put the multi-touch commands and other Windows 10 features to good use while you're at work for optimal efficiency.
Battery Life
iView 1760AIO really packs it all with a long-lasting battery to back you up when working for long hours. The 1760AIO is equipped with a high-quality 2600 mAh battery. You can rely on it no matter how often you switch, navigate, and do tasks between applications. Less frequent charging further promotes productivity.
Ultimate Versatility
Small office/home office (SOHO) users and medium to large organizations alike will benefit from the iView 1760AIO All-In-One Computer. Multi-functionality makes it a good addition to a home office as a traditional computer for accomplishing various tasks. The wireless keyboard and mouse offers more versatility. Workload will be much lighter with the fast and reliable, and powerful performance of your 1760AIO.
You can easily switch your iView 1760AIO to a large-format tablet and quickly setup anywhere around the house. Browsing the Internet, composing documents, streaming tv shows and movies online has never been more convenient.
What's In the Box?
The All-In-One iView 1760AIO Package includes the device, a power adapter, user manual, and a carry bag. Included is a wireless keyboard and a wireless mouse to connect to your tablet/portable PC at your convenience. Brand new unit and accessories provided for, you can get started right out of the box!
This Package includes 1 device, 1 power adapter (2600 mAh battery), 1wireless keyboard, 1 wireless mouse, 1 user manual, and 1 handbag.
Impressive Speed
When you need to get something done at work, you want it done fast. It's essential to get one of the best all-in-one computers if you want a computer that can keep up with your multitasking needs. With the iView 1760AIO All-In-One PC, you'll spend less time waiting and see a lot more results. iView 1760AIO boasts accessibility, efficiency, and speed which can be attributed to three important components. The Apollo Lake N3350 Dual-Core CPU + 4GB RAM + 64GB Storage altogether deliver a powerful performance.
Intel Celeron Processor - Dual-core processing with a speed of 1.1GHz and up to 2.4GHz supports high-efficiency power that lets you open applications quickly and efficiently. You can bring the multifunctional iView AIO PC anywhere without worrying about your device dying out. Users of the best all-in-one computer gains lightning fast access to files, documents, multimedia, presentations, games, and experience better picture quality.
High-bandwidth 4GB RAM - Demanding tasks won't be so demanding once you get ahold of the iView 1760AIO All-In-One. Substantial memory enables smooth gaming experiences without the frustration of a sluggish system. Multiple programs and open browser tabs, as well as photo and video-editing applications can be seamlessly managed on the 1760AIO. Booting and loading applications takes only seconds.
64GB Internal Storage - Wouldn't you agree that there's never enough room to store priceless photographs, videos and your favorite music? Storing and safekeeping content won't be a problem with 64GB of Internal Storage that can be expanded up to 128GB using the Micro SD card reader, or through attaching external storage solutions via the USB ports.
Windows 10 OS
iView 1760AIO All-In-One PC is quickly becoming the AIO of choice. The best all-in-one pc comes with none other than the Windows 10 home operating system. Windows creators are known for presenting consumers with innovative features for optimum system performance and a user-friendly interface. iView 1760AIO presents the familiar Start Menu and all that users have come to love about the operating system.
iView 1760AIO Connectivity
The built-in features of the iView 1760AIO include Bluetooth 4.0, Wi-Fi (802.11 b/g/n), and USB ports.