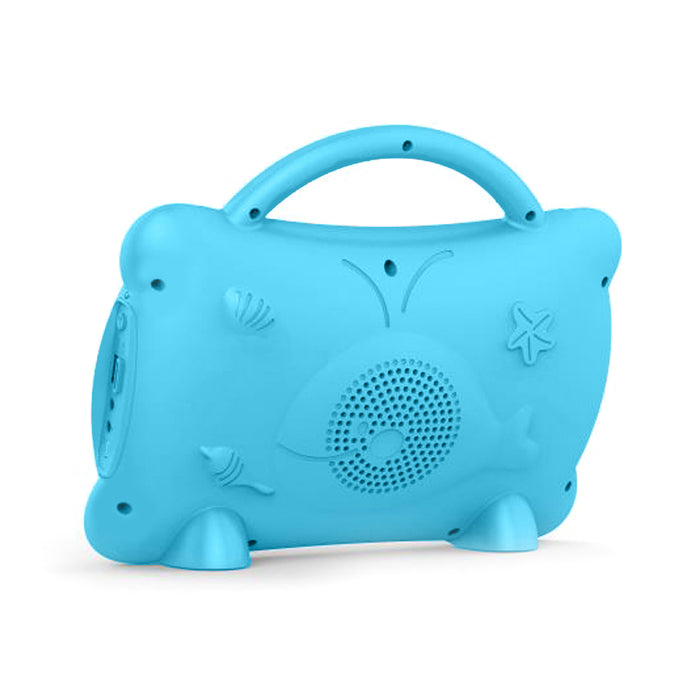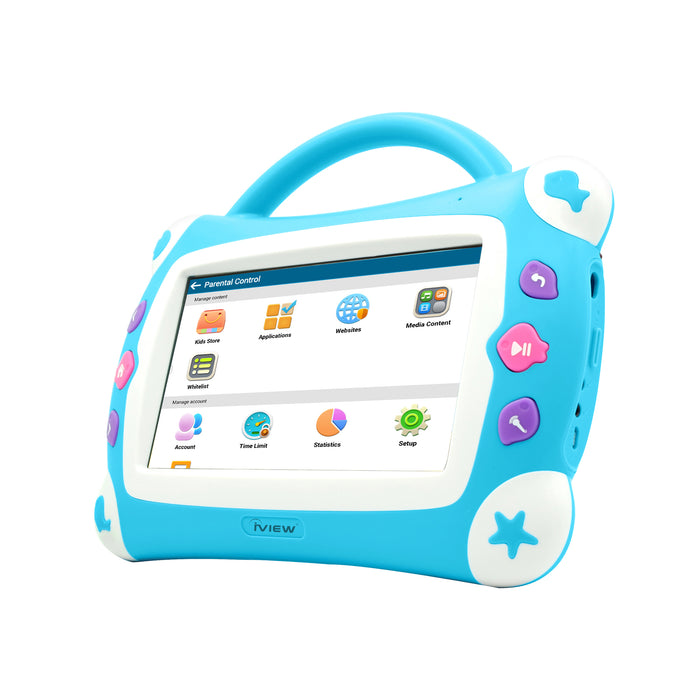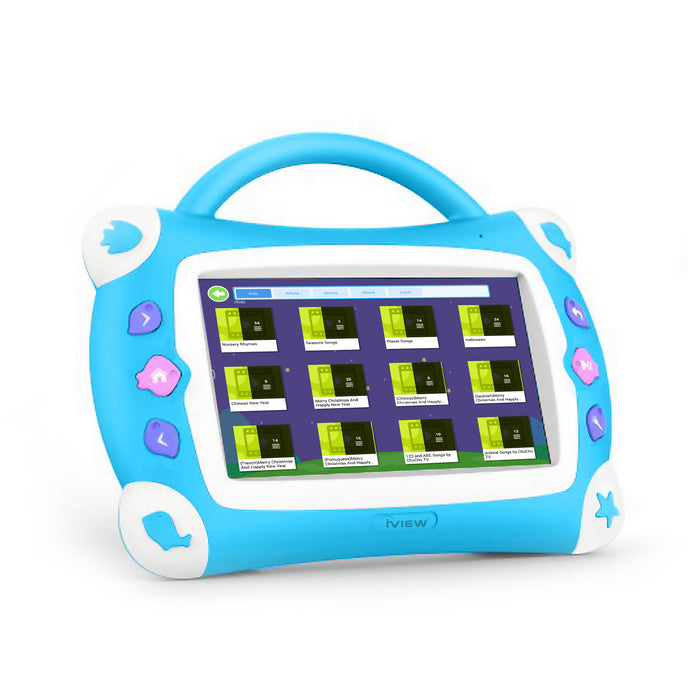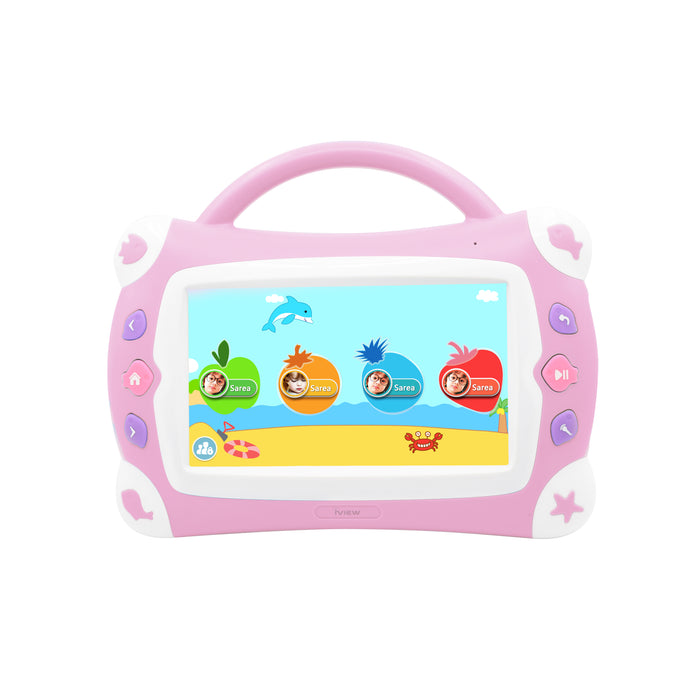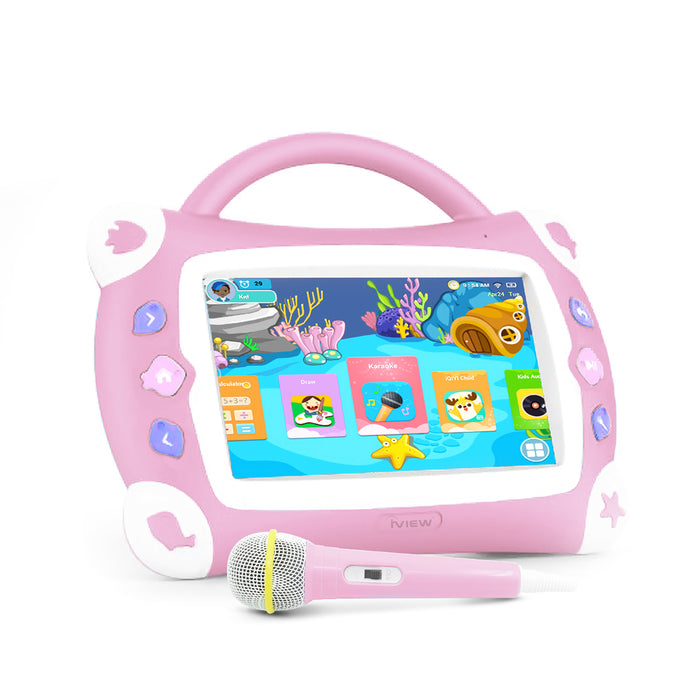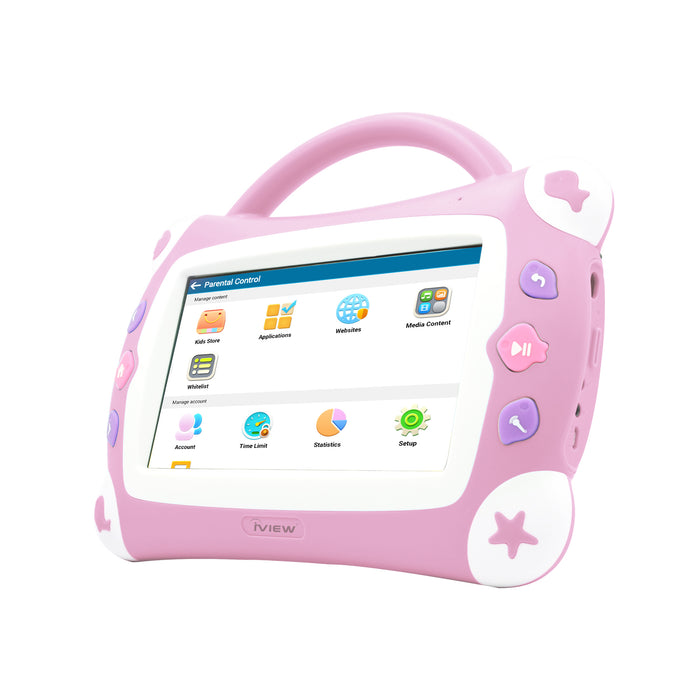 711TPC Kids Sing Pad - 7" Android Tablet with Microphone + 200 free apps
iView 711TPC Highlights
Quad-Core processor with Cortex A7 (1.33GHz)
7" 1024 × 600 High-Resolution Touchscreen
1GB RAM + 16GB Storage
Android 4.4 KitKat
Built-in Bluetooth 2.0
WiFi 802.11 b/g/n
3500 mAh Built-in Battery
9.65 × 7.8 × 2.64 inches
Includes Adapter, OTG Cable, USB2.0 Cable, User Manual and Microphone
Iview presents parents and young minds a high-performance kid-friendly Android tablet device at an affordable price. The iView Kids Sing Pad is a great affordable toddler tablet. It offers the best experience for children and the best value for money in one package.
Modern tablet computers of today aren't just for playing games. They can be invaluable educational tools that enhances your kid's ability to learn, promotes hand-to-eye coordination, and encourages family time. Tablets can also be a bonding device for spending precious moments between you and your child.
Screen Size - 7-inch capacitative touch screen at 1024 x 600 resolution
The iView Kids Sing Pad beats out the Leapfrog LeapPad Platinum in terms of quality of screen display and touch screen responsiveness. The rich, vibrant colors that pops out of the 7" LCD screen makes playing games and learning more fun than ever! Your kid can use the tablet to listen to music, watch kid's videos, play interactive games or listen to audiovisual story books. What's more, they can draw or write on the high resolution display that's optimized to respond to a child's light touch.
The 1024 x 600 resolution gives you crystal-clear images, sharpness and excellent viewing angles. Unlike the LeapPad Platinum, the iView is designed to be used without a stylus, therefore minimizing the chances of screen breakage. There's less fumbling around and more play time. The Kids Sing Pad can be used to download kid-friendly apps and videos within the age-appropriate range.
The Processor - Cortex A7 Quad Core at 1.33 GHz
Don't be fooled by the kid-friendly design of the iView Kids Sing Pad. Underneath the colorful pink or blue shell lies a powerful processor that can easily accomplish the most demanding tasks!
Four 1.33 GHz processors mean the Sing Pad is lightning-quick and powerful. Each processing core can be called upon to do run games, open apps, play music or stream online TV shows. You'll never lack the CPU to handle even the latest apps and games. If you have an impatient child who constantly taps at the screen to make it load faster, then the iView Kids Sing Pad is made especially for them.
The Memory - 1GB of RAM
The kids of today want everything faster, including their tablets. The iView Kids Sing Pad is the perfect device as it provides speedy performance for the most-used apps or games in your kid's tablet. Your child may be frustrated when he or she opens up multiple apps and find that their device is slowing down because of it. This only happens in Leapfrog Ultra but not with the Sing Pad.
There's no need to settle for clunky, low resolution Leapfrog tablets that make your child restless and cause you endless headaches. Get the iView tablet, which is faster, has more RAM and is easier to handle. There's no imperceptible lag time between launching apps and returning to the Android home screen. Best of all, the Sing Pad is totally responsive and never sluggish.
Iview Sing Pad Connectivity
The iView Kids Sing Pad offers a wealth of modern connectivity features, from expandable memory to Bluetooth and Wi-Fi features.
Wireless Connections - Bluetooth 4.0 and Wi-Fi 802.11 b/g/n
Everyone is connected nowadays, which means that no device should be without the 802.11 b/g/n feature. The iView Kids Sing Pad can connect to the internet and open up a slew of entertainment possibilies for you and your child. The high-speed wireless function enables you to watch educational shows and streaming kiddie content quickly and without unnecessary buffering times.
The Bluetooth 4.0 function lets you connect the iView tablet to any compatible Bluetooth device for an enhanced entertainment experience. You will have the option to connect to a wireless hard drive, to another Bluetooth-enabled device, a headphone or a Bluetooth speaker. With this technology you can forget about the hassles of wired equipment. Send files such as music, video or images without worrying about cables. The Android platform adds to the overall usefulness of the iView Kids Sing Pad. Your child can control their favorite toys such as the Sphero and other connected toys using the same tablet, without you having to hand over yours.
Expandable Storage
The iView Kids Sing Pad offers hours of entertainment for your child even without being connected to the internet. The iView tablet single-handedly beats out the LeapPad 2 and the LeapPad Ultra when it comes to onboard memory, featuring a spacious 8 GB worth of storage for apps, files and games. What's more, the iView tablet has expansion opportunities in the form of a TF card slot that you can use to store precious files and game saves. Your child won't ever have to think about uninstalling an app or a game just to free up space on his or her tablet. Unlike the Leapfrog Epic that can only get up to 32 GB of additional storage, the iView Kids Sing Pad can hold an extra 128 GB of TF card storage inside its 7-inch shell.
Audio Output
Sound is just as important as visuals when your child is learning or playing educational apps. Thankfully, the iView Kids Sing Pad has a 3.5mm standard headphone stereo jack and stereo speakers for maximum sound enjoyment.
The audio that comes out of the external speaker can be heard clearly and without any noise. Any educational app that teaches ABCs, for example can be heard articulately without having to max out the volume. Every bleep and tone is distinct and replicates well on your child's headphones.
Battery Life
The iView Kids Sing Pad provides hours of entertainment on a single full charge. The battery is powerful enough to last a day trip in the car. Even when your child turns up the volume or plays demanding games, the iView tablet can keep on working and accompany your kid until you reach your destination.
The battery life of the iView tablet device is remarkably long with non-stop entertainment, i.e., playing kid's games, watching streaming video or listening to music. What's more, the 3,500 mAh battery is built inside the tablet, which means you won't have to worry whether you've brought enough AA batteries or having a rechargeable battery pack handy. This gives the iView Kids Sing Pad the edge over the LeapPad GLO, which needs compatible batteries and a portable battery charger.
What's In The Box?
As mentioned, the iView Kids Sing Pad is playable right out of the box and parental setup only takes a few minutes.
The package includes a microphone, a user manual, a USB 2.0 cable, an OTG cable, and adapter. The adapter goes with the USB 2.0 cable for charging purposes. The OTG cable may be used to connect two compatible devices. The inclusion of a USB cable means you can plug it in your car adapter as a charger as well.
Personalized Tablet
Choose from various color options for your child's iView Kids Sing Pad. From there, you can get into the Home screen and begin customizing your child's unique tablet experience. You and your child can get to choose the Sing Pad's background picture, wallpaper, pick among lovely themes and game titles available for download. It's easy to expand content on demand by attaching storage solutions.
The iView Kids Sing Pad comes in with app staples such as Calendar, Calculator, Music and Video Playback, Picture Viewing, Email and Local Weather, alongside popular kid's games, educational apps, learning tools and art packages. You as the parent can add or remove applications, games and other content in real time. You can also set up tablet limits like what app or games your child can download.
Game Accessibility
The iView Kids Sing Pad allows you or your child to download games on the internet via the Android Google Play store. This unlocks plenty of educational and learning opportunities to cultivate learning and improve hand-eye coordination.
The iView tablet keeps things open and interesting. Similar products, such as the Leapfrog tablets are restrictive as they have their own proprietary OS and apps. It's only a matter of time before your child has tried out all the Leapfrog games and want some more. Why limit yourself to apps and games that one company provides when you can get an Android-based kid's tablet and unlock a world of possibilities?
Iview Sing Pad Pre-Installed Games
The iView Kids Sing Pad comes pre-loaded with a wealth of popular learning apps and games for maximum enjoyment right out of the box. Your kid will enjoy learning in subjects such as math, reading and science, become more creative and improve their critical thinking and problem-solving skills. You can have them play with color and experiment using drawing apps and with different brushes.
The iView tablet features its own entertainment hub that promotes the growth and development of your child. Check out these awesome apps and games that allow your child to learn, play, and sing his or her heart out!