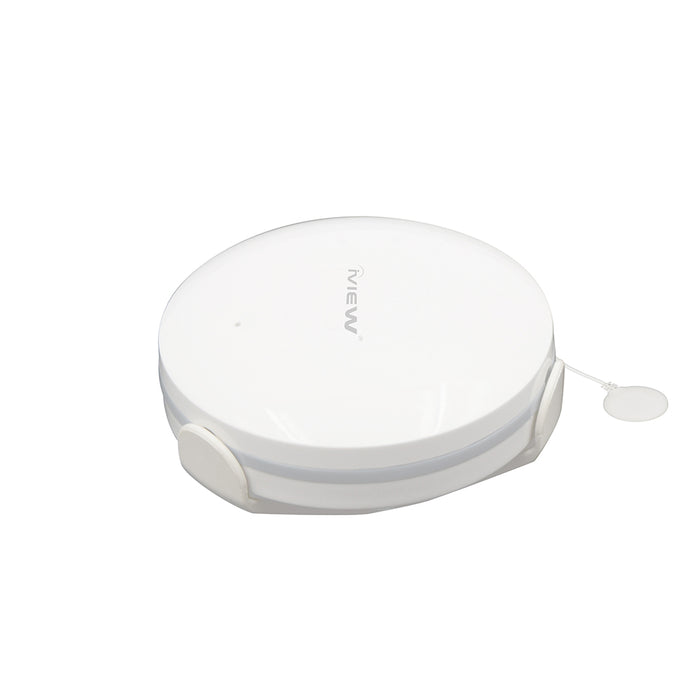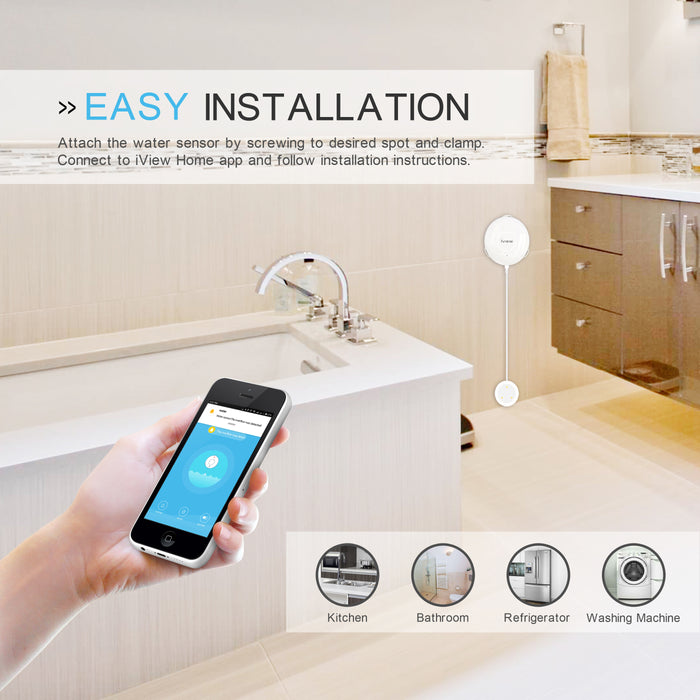 S300 Water Sensor - Water Leakage Detection, Water Damage Prevention & Realtime Push Alerts
Detect Water Leakage
App Remote Control
Push Alarm to Smartphone
Battery: CR2x1
Standby Current: 10uA
Standby Time: 5 years
Use Time: 4 years (2 times/month)
Wireless Type: 2.4 GHz
This device only works with 2.4 GHz wireless connection.
Protocol: IEEE 802.11 b/g/n
Wireless Range: 45m
Operating Temperature: 0 - 40°C (32 - 104°F)
Operating Humidity: 20 - 85%
Storage Temperatur: 0 - 60°C (32 - 140°F)
Storage Humidity: 0 - 90%
Protection Grade: IP67
Size: 2.64 × 2.64 × 0.94 inches
iView S300 Water Sensor Highlights
Early water detection
Perfect for water damage prevention
Easy Installation
Simple app with real-time alerts for water detection

2.64 × 2.64 × 0.94 inches

0.17 lbs

Includes water sensor with 3-pin detection head
Protect your house from extensive water damage with the iView Smart Water Sensor. Designed to detect water from leaky faucets or flooding basements, the iView Smart Water Sensor is perfect for notifying you of leaks to prevent costly bills from extensive water damage.
Sleek and Compact Design
The iView Smart Water Sensor is designed to fit in the smallest of spaces. The water sensor's compact detection head is small enough to fit in confined spaces, making it easier to detect leaks without delay.
Prevent Water Damage
You never know when a leaky sink pipe, toilet or basement will occur. iView's water sensor will notify you when those leaks occur to minimize water damage done to your home, saving you money from expensive repairs.
Easy Installation
Install the iView Smart Water Sensor by by screwing to desired spot and securing it into the clamp. Connect your sensor to iView Home app via WiFi. Once your device is paired, receive notifications every time your water sensor detects any leaks.
Simple App with Real-time Alerts
Download the Smart Life and Tuya Smart app to connect with your smart sensor device. Own more than one smart home device from iView? Conveniently control them all in one app. Customize your settings, receive security notification and updates all in one place.