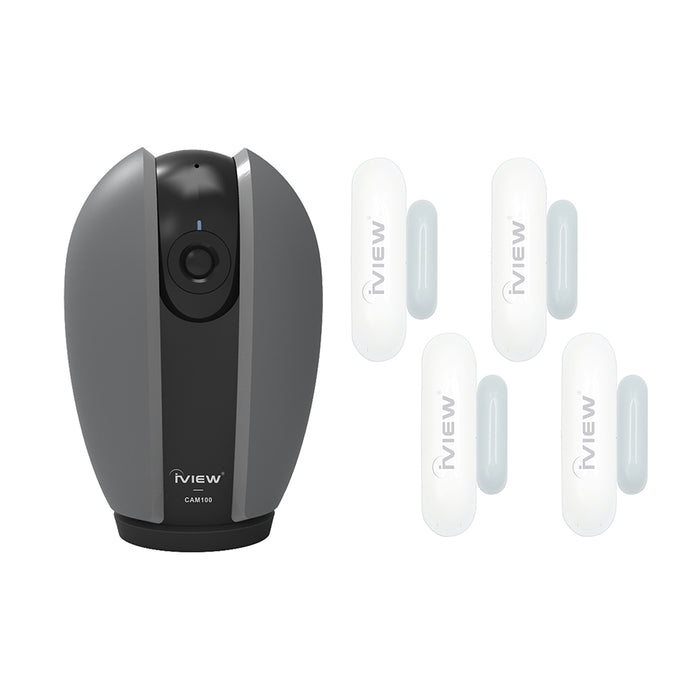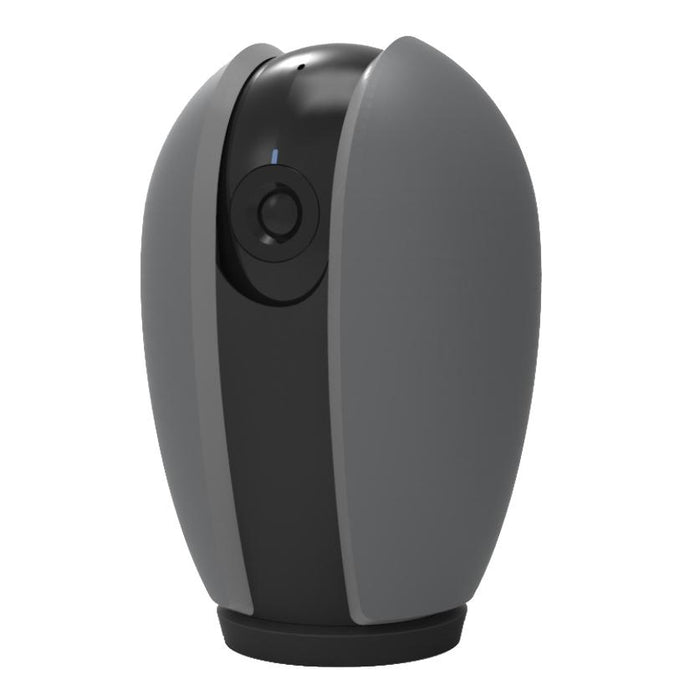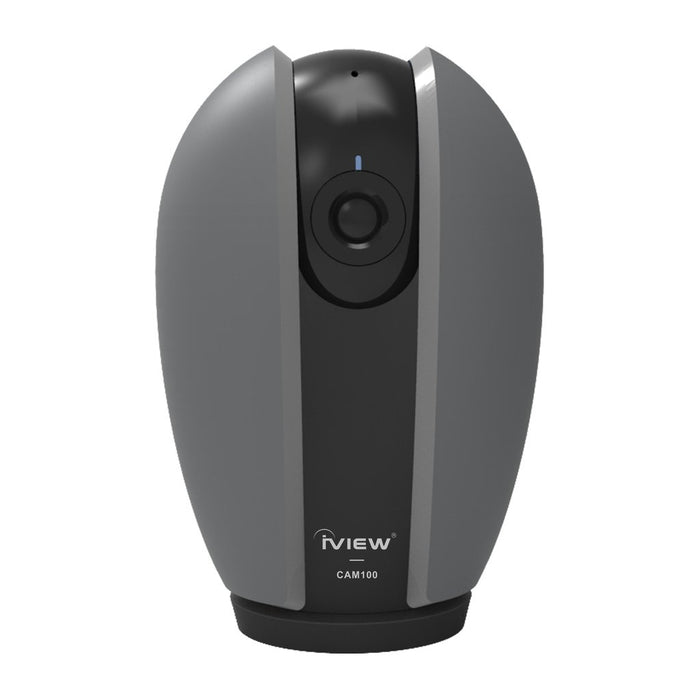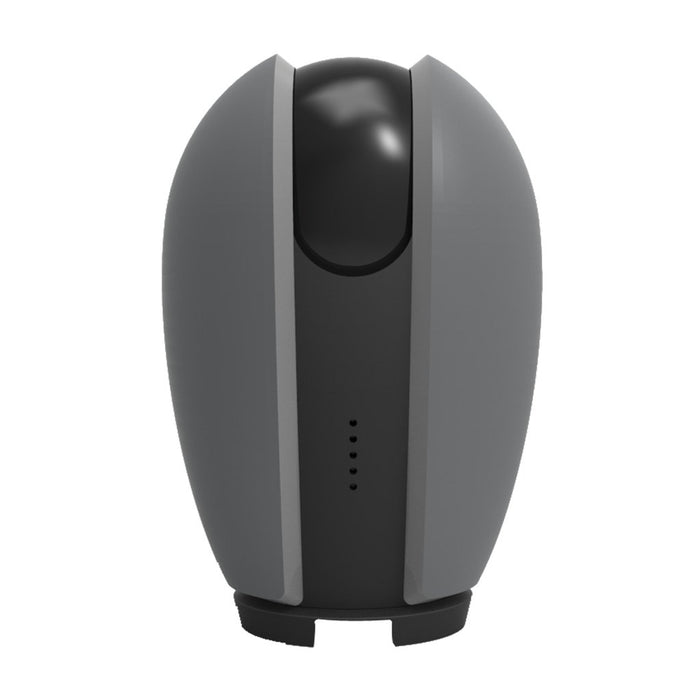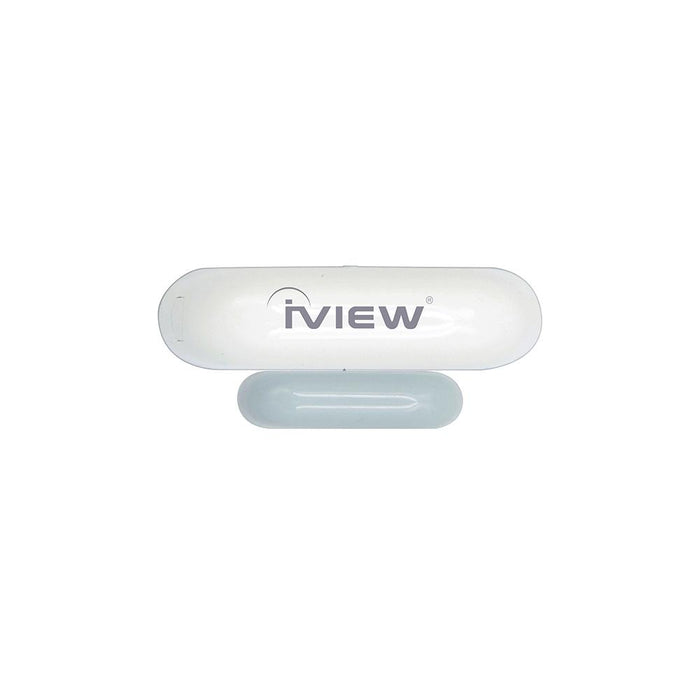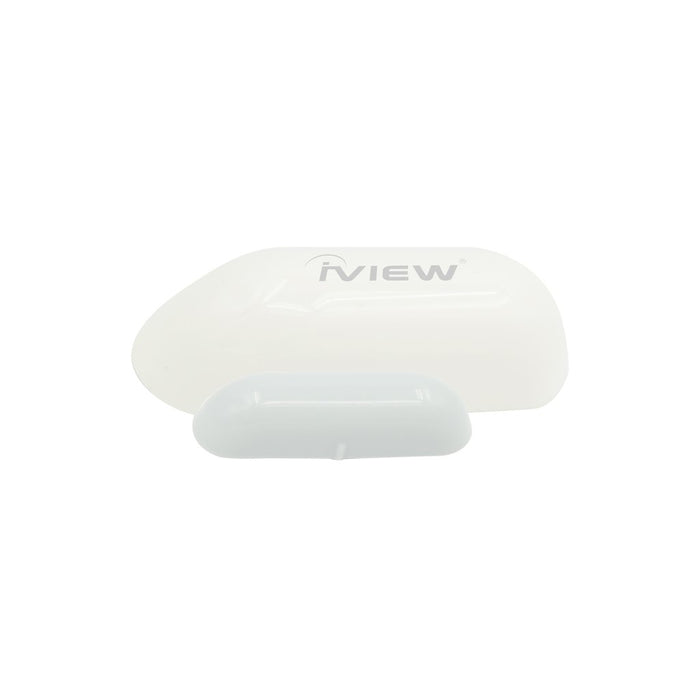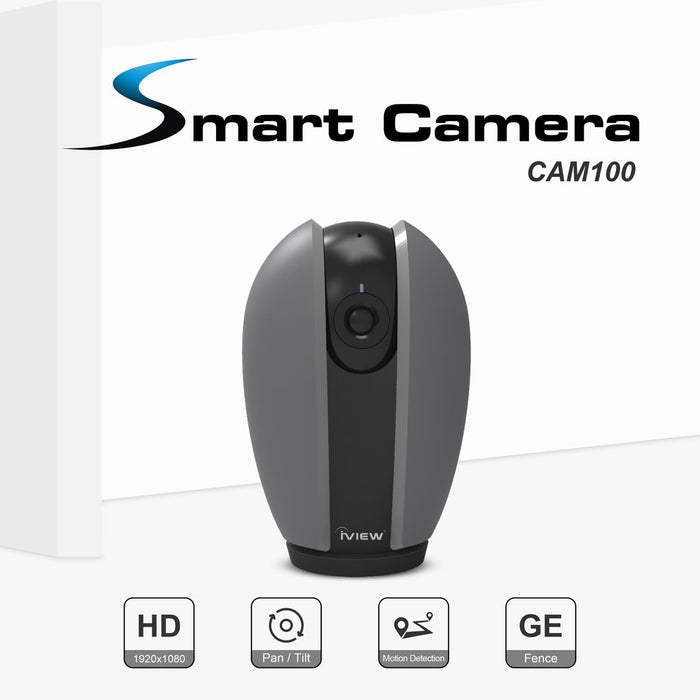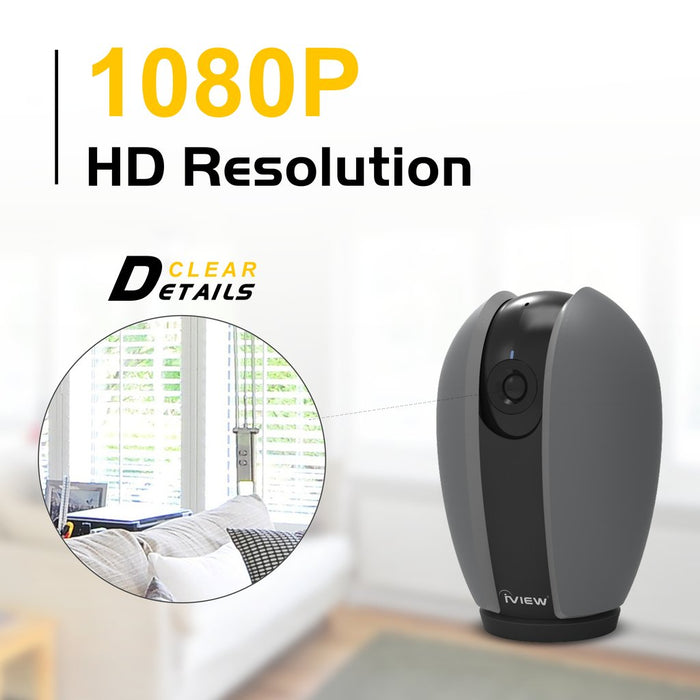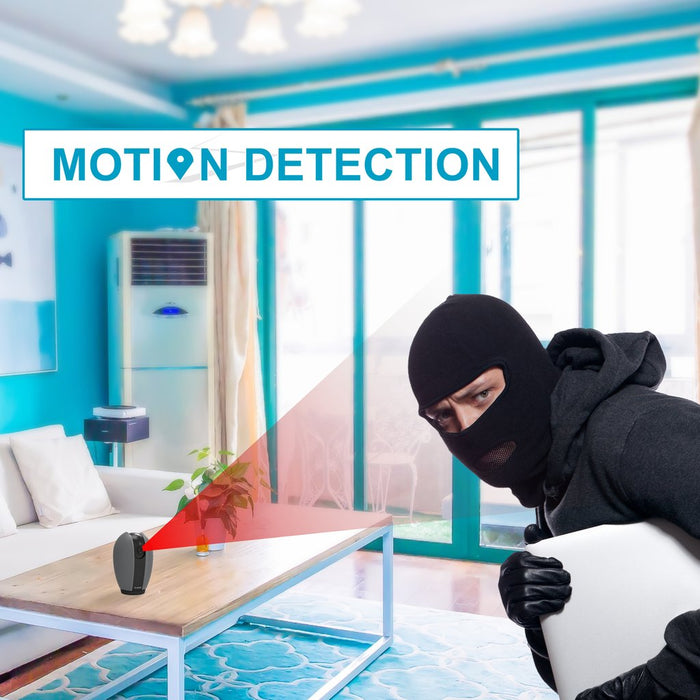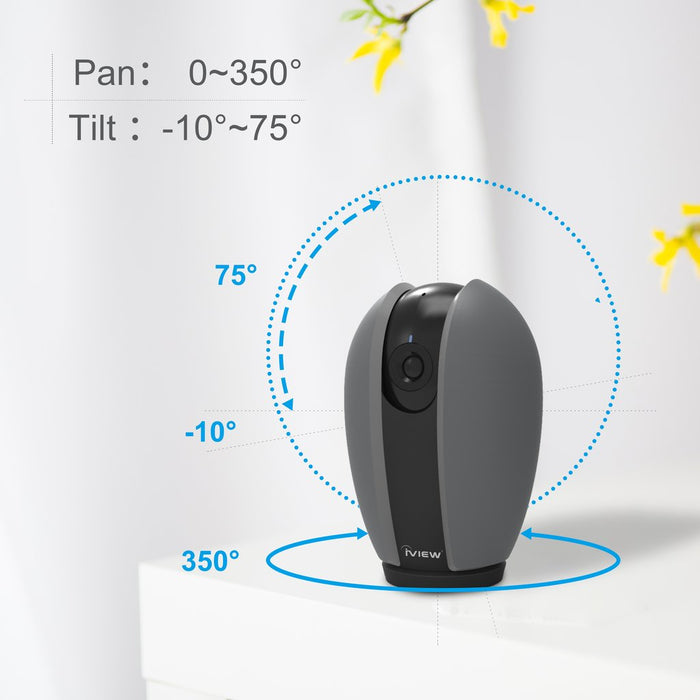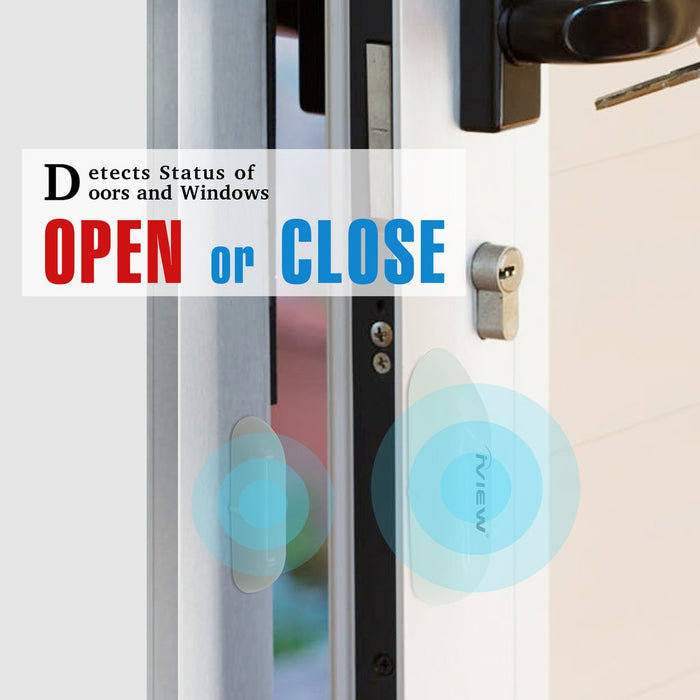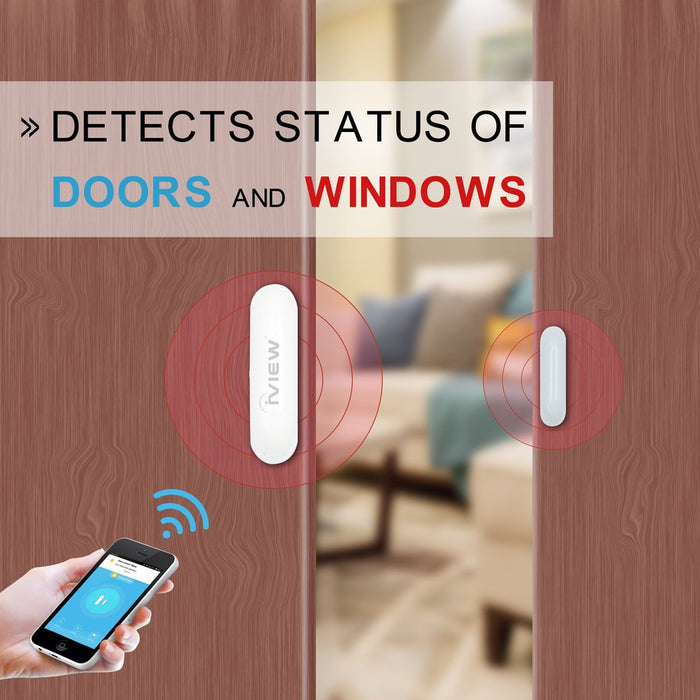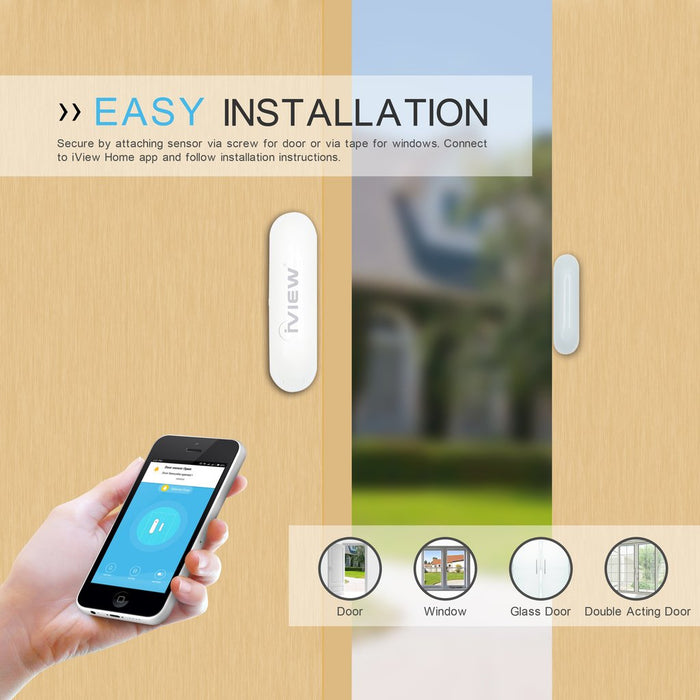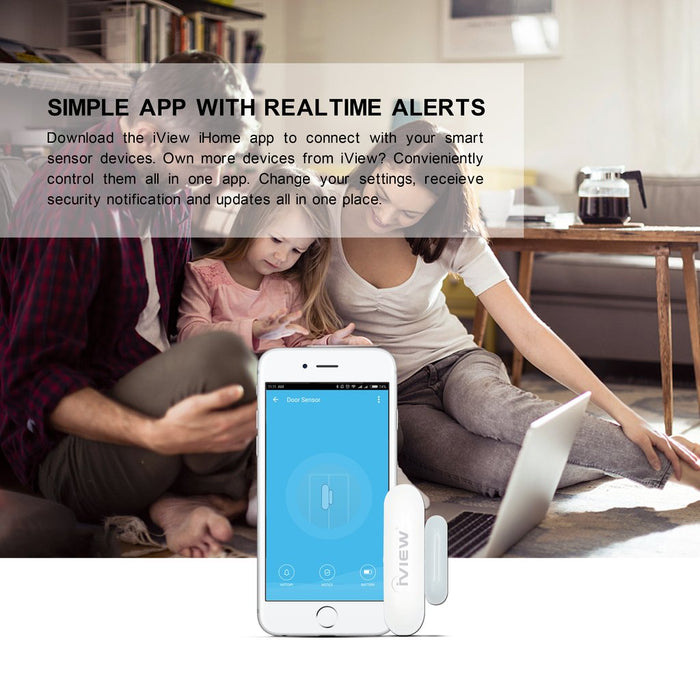 Home Security Bundle (CAM100 Panoramic Smart Camera × 1 and S100 Door Sensor × 4)
Panoramic Smart Camera
Sensor Type: 1/3" CMOS
Pixel: 2 Mega
Min Illuminance: Color 0.01Lux@F1.2 Black and White 0.001Lux@F1.2
Lens: 2.6mm F2.0
Shutter: 1/25 - 1/100,000 per second
IR: High power LED with ICR / IR Distance: 10m
Bit Rate: 32Kbps - 2Mbps
Max Picture Size: 1920x1080
Frame Rate: 1~25 per second
Image Setting: Support HD/SD; Support Mirror
WiFi Standard: IEEE802.11b/g/n
This device only works with 2.4 GHz wireless connection.
WiFi Security: WPA-PSK/WPA2-PSK
Channel Bandwidth: Support 20/40MHz
Adjust Angle: Tilt: -10 degrees - 75 degrees
Pan: 0 - 350 degrees
Door Sensor
Detects the Status of Door and Window (Open or Close)
Range: Up to 50m Outdoor; Up to 30m indoor
Radio Frequency: 868.4MHz EU; 908.4MHz US
Power: Cr2x1
Standby Current: 2uA
Battery Life: 2 years
Install on the Door or Windows
Easily Install with Screws or Sticker
Operation Temperature: 0 -40C
Size: Main Body: 2.8 × 0.83 × 0.87 inches
Deputy Body: 1.57 × 0.43 × 0.43 inches
This device only works with 2.4 GHz wireless connection.
iView Home Security Bundle Highlights
Includes 1 CAM100 Smart Panoramic Camera and 4 S100 Door Sensors
Smart Panoramic Camera
Smart Motion-Sensing Panoramic Camera
Full HD, Crystal Clear 1080p Video
Amazon Echo Show Compatible
Wireless Remote App Control via

Smart Life and Tuya Smart

App
Strengthened security via motion-activated alerts straight to your phone
Angle Tilt: -10° – 75°
Pan: 0 – 350°
Supports Cloud, NVR and Built-in SD Storage (up to 128GB)
Includes CAM100 and user manual
Door Sensor
Magnetic strip that tracks the status of doors and windows (open or close)
Easy Installation with sticker or screws
Simple app with real-time alerts with security notifications

Main Body: 2.8 × 0.83 × 0.87 inches




Deputy Body: 1.57 × 0.43 × 0.43 inches

0.06 lbs
iView Smart Camera Overview
Our Iview smart cameras can be easily installed and used right out of the box. The multi-functional WiFi camera will be up and running in no time at all! Featuring crisp, 1080p HD resolution, smart motion tracking, tilt and pan control w/ digital zooming and a 350-degree coverage, our Iview mini camera has got you covered. You can view and record video footage or take snapshots any time of the day via the Iview app. Stay connected even if you're hundreds of miles away from home.
The Iview camera supports SD or HD image options with a max resolution of up to 1920 x 1080, Mirror Support, plus 2-way audio. Choose from a number of storage options including NVR, Cloud Storage or SD card of up to 128GB. WiFi Frequency is at 2.4 Ghz and 802.11 b/g/n. Enjoy an Adjust Angle Tilt of -75°-75° and Pan of 0-350°. The Iview camera is powered via 1.5A DC 5V current.
Full HD, Crystal Clear 1080p Video Quality
High-quality, professional photos are just a click away with our Iview Smart Camera. Max picture size is adjustable and you can record footage in horizontal or vertical format. Capturing important house events and activities is quick and easy. You can watch in real-time, download and even share captured smart motion alerts during the last 24 hours for free!
Get photographic evidence as long as the Iview Smart Camera is online. You can customize the camera to take snapshots during specific audio and motion events. You'll never miss one moment with our smart camera ever again. Stream upwards of 720p quality to your mobile device anytime, anywhere. All video is displayed in crisp and brilliant clarity. High-tech optical lens and 1080p megapixels ensure that you'll be able to use footage with the highest quality. Iview cameras have motion-activated camera sensors running in real time so you can capture moving objects with ease.


Amazon Echo Show Compatible
Start monitoring your home in crystal-clear high definition and clear audio with your iView CAM100. Our smart panoramic camera supports Amazon Echo Show, making it convenient and even easier to use. Connect your iView CAM100 to your Echo Show to begin monitoring your home with a simple voice command. Working in your home office and curious what your baby is up to? Use your Echo Show and simply tell Alexa, "Alexa, show the baby's room," to see what your little one is up to. Or install a camera in the yard, so while you're busy making dinner, you can be reassured your kids are safely playing in the yard. And if your rambunctious rugrats are up to no good? The iView CAM100 will let you warn your son to stop whacking his brother before his play sword is going to be taken away. Now, monitoring your home is just as simple as a single command.
Motion-Activated Alerts
Always be in the know with Iview Smart Camera's real-time notifications sent to your iPad, iPhone or Android smartphone and tablet. You can customize the alerts to activate when a window breaks, when your children get home from school or when your pet enters a no-access zone. False alarms such as minor movements, wind ruffling through the curtains or small insects are now a thing of the past. What's more, you'll now be able to view clear, brilliant 1080p images and video to manually decide whether there's been a mistake or not.
The advanced technology of Iview allows for push notifications sent directly to your mobile device. You will be the first to know if your master bedroom's door was opened or if the garage door has been activated. Top-notch motion detection captures every possible risk and sends the footage to your smartphone immediately for review.


Panoramic Adjust Angle Tilt
Bolster your home security with the host of added features for superior security coverage. The CAM100 Smart Panoramic Camera supports -10 – 75° tilt and 0 – 350° pan, providing greater coverage and control over the areas you can monitor. Pan or tilt up or down if you sense activity occurring outside your camera's peripheral range. The pan and tilt offers greater control and coverage to monitor your home, introducing greater confidence when it comes to your home's security.


Sleek and Compact Design
iView Smart Sensor's small, sleek and compact design make these smart sensor simple and convenient to install.
Detect Status of Doors and Windows
Detect the status of your doors and windows with iView's Door Sensor. A built-in magnet in both sensor pieces keeps track of your door and/or windows status. When the magnets are separated, the sensor is triggered and sends you a notification on your phone.
Easy Installation
Installing the iView Smart Door Sensor is easy. Simply secure to any door or window by attaching sensor via screws or tape. Alongside your smart door sensor, we include tape for the sensor and 6 binding barrels and screws, for easy installation with either method you choose.
Connect to iView Home app to pair your device with your phone using WiFi. There's no hub required, making the process seamless and saving you the expense of purchasing another device. Once your device is paired with your phone, you'll always know the status of your doors and windows wherever you go!
Simple App with Real-time Alerts
Download the Smart Life and Tuya Smart app to connect with your smart sensor device. Own more than one smart home device from iView? Conveniently control them all in one app. Customize your settings, receive security notification and updates all in one place.
A Secure and Safe Home
Iview's Home Security bundle is the perfect combination of devices you need to keep your family and home safe 24/7.
Set it to send notifications whenever it sees activity. You'll have complete tabs in the room where you put your smart camera and anywhere you have an internet connection.
The presence of an Iview camera prevents intruders and unauthorized personnel from entering your home through the door or the garage and the iView Door Sensors prevent intruders from using any windows or doors to your house.