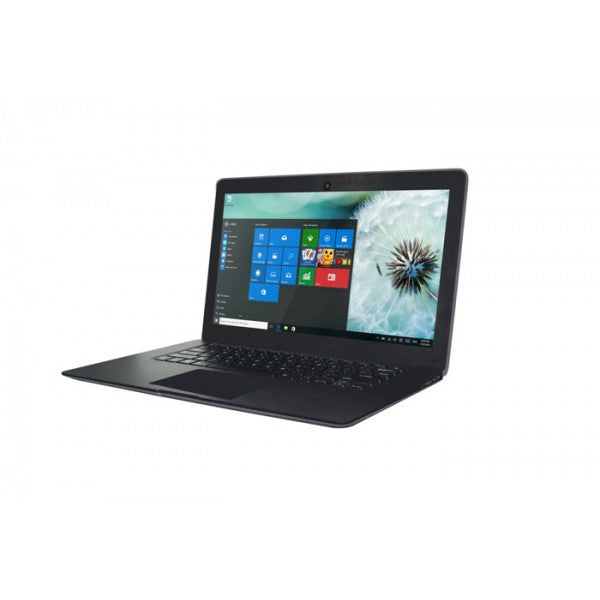 1410NB Ultra-Slim 14.1" Intel Atom Quad Core Z8300 2GB/32GB Windows Laptop
14.1" Screen, 1366*768 High Resolution
Intel Quad Core, Cherry Trail Z8300, 1.6 GHz, up to 1.8 GH
Windows 10
2GB DDR3 32GB
Wifi 802.11b/g/n
Bluetooth 4.0
Support G-Sensor
0.3 MP (Front) Camera
Windows Store, Internet Browser, Calendar, Calculator, E-mail, Picture Viewing, Music/ Video Playback, E-book, Games
iView-1410NB
All New Ultra-Slim 14" Laptop
Powered by 1.6 GHz Intel Quad Core processor and 2GB of RAM, 1410NB delivers a lighting fast performance that handles multi-tasking seamlessly. The stunning 14.1" 1366 x 768 high resolution screen, brings superb clarity, rich colors and perfect viewing angles for a one-of-a-kind entertainment experience. It includes a 32GB hard drive that allows you the freedom to download multiple apps, movies, music, photos and so much more. You can also maximize storage up to 128GB with a Micro SD Card (not included) to save all your important media. 1410NB comes with built-in wireless connection at 802.11b/g/n and includes features such as the Windows Store, Office Work, Internet Browser, Calendar, Calculator, Email, Picture Viewing, Music/Video Playback, Games and so much more!
Package contents include: one adapter and a user manual.
Expansion Opportunities
With multiple USB ports to choose from and a Micro SD card slot, you'll be able to connect USB flash drives, USB media card readers and even an external hard drive to 1410NB for extra storage. Take advantage of up to 128GB of additional storage with a Micro SD card, so you'll be able to download all your important media, without worrying of running out of space.
Multi-Language Feature
The 1410NB Windows 10 Laptop includes multi-language features that make this device convenient and accessible for any user. English, French, and Spanish are just a few of the many languages that are built inside the 1410NB, which you can easily tap into via the Control Panel.