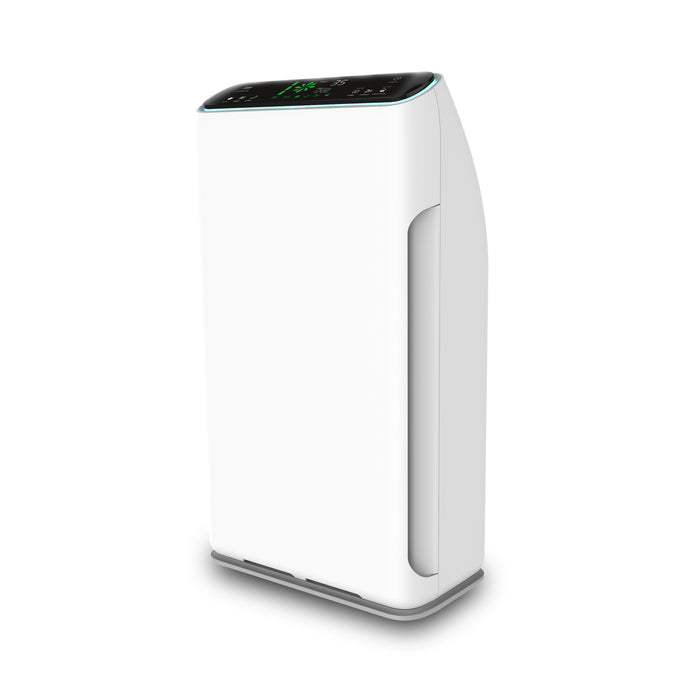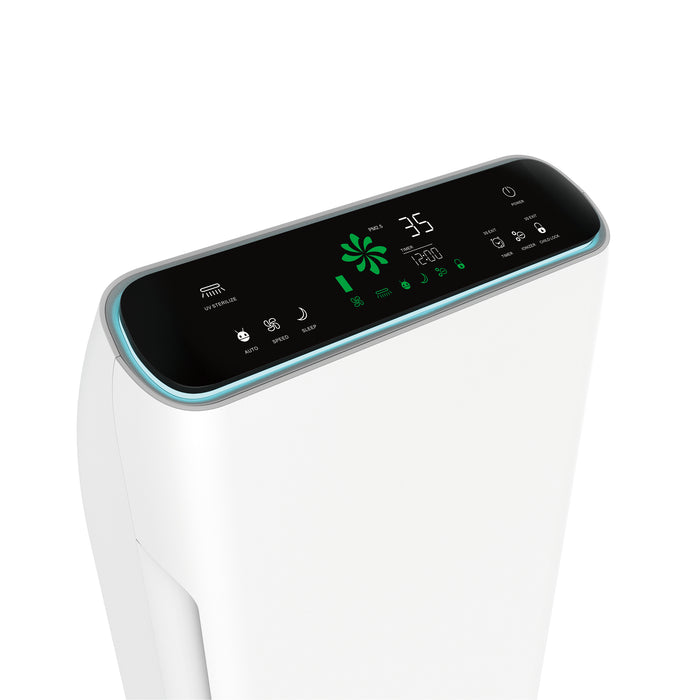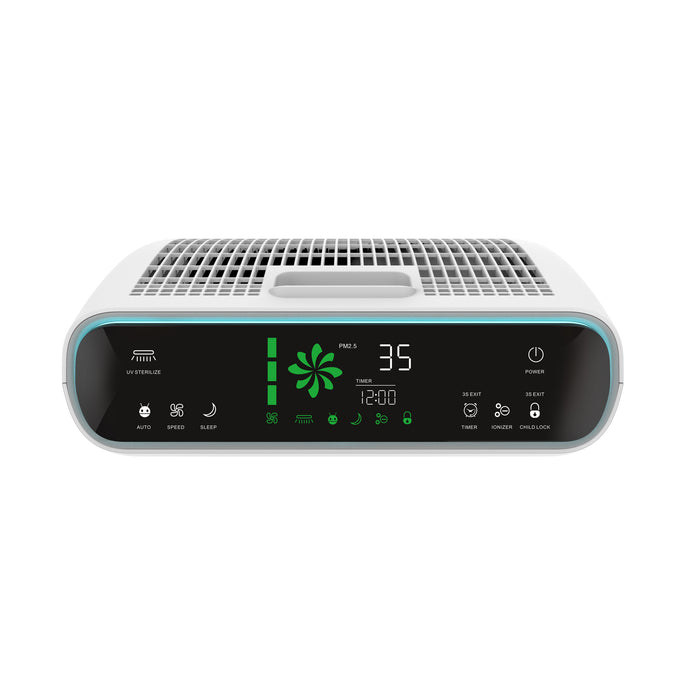 2-in-1 Air Purifier with Top-Rated HEPA Filter, Air Quality Sensor, and 7-Stage Purifying Process
Application Area: 22m2 – 38m2 / 72ft2 – 124ft2
CADR (Clean Air Delivery Rate): 320m3/h
Air Purifier + Ionizer Design (2-in-1)
Quality: Top Rated HEPA Filter Product Clean Air
Efficient: GREE Customized Motor, Quiet, Save Energy
Quiet, 18dB – 55dB, Won't Bother Your Sleep
Air Quality Sensor from SINYEI KAISHA (Japan)
Housing Use 100% new ABS from LG
Filter Replacement Reminder
Children Lock, Clock, PM 2.5 Display, Touch Screen
Power: 85W (220VAC/110VAC)
Dimensions: 37 × 19.5 × 65 cm / 14.5 × 7.6 × 25.5 inches
Remote from Anywhere
Built-in Wi-Fi / No Hub Required
Free Smart Life and Tuya Smart App
Works with Alexa and Google Assistant
Keeping your air clean ensures a happy and healthy home. The iView Air Purifier keeps the air you breathe clean so that you and your family can enjoy a healthy home free from pollutants that pervade our air daily. With a 7 stage purification process with various filters and sterilization method and a built-in ionizer to increase its effectiveness, the iView Air Purifier is a great product for those looking to enjoy breathing cleaner, fresher air.
Built-in WiFi with No Hub Required
Built with 802.11 b/g/n (2.4GHz) Wi-Fi, our air purifier eliminates the need for a hub and all the unnecessary confusion of setting it up. Not only does it skip the complicated steps, but saves you the added cost of purchasing a specialized central hub. The air purifier connects directly to your router. Just pair your device with your phone in the Smart Life and Tuya Smart app, enter the Wi-Fi password of your home network, and you're totally in charge!
Control from Anywhere
Turn on your air purifier before you get home, switch the fan speed, change the mode and more. Once you connect and pair your bulb via the Smart Life and Tuya Smart app, you can control your air purifier from anywhere in the world. Wherever internet access is available, enjoy the beauty of remote control via Wi-Fi.
Voice Control: Alexa and Google Compatible
The iView Air Purifier also supports both Amazon Alexa and Google Home. Enable the iView Smart Life and Tuya Smart skill in your Alexa or Google app to have commands fulfilled via voice command. Simply say, "Alexa, turn air purifier off," to turn off your air purifier. With voice commands, you now have great control over your devices.
Air Outlet Grill Design
The air outlet on the iView Air Purifier is divided into a 280 grille with 28 vertical lines and 10 horizontal lines, ensuring high air output. If you have a house with children, keep them safe by avoiding sharp edges. The purifier's curved edges protect your kids if they accidentally bump into the iView Air Purifier. In case the air purifier should fall, its semi-curved design will minimize any serious injuries your child might sustain.
Touch Screen with PM2.5 Feedback and 3-Color AQI Light
iView's air purifier features an embedded touch screen panel with an intelligent air quality monitoring system. Or if you prefer, you can use the remote control to adjust your settings. Receive real-time PM2.5 feedback with the air purifier's 3-color air quality index, allowing you to you see how polluted the air currently is.
The purifier also has a child lock, preventing unintended changes from being made in the system, and a filter replacement reminder, to help you maintain and keep your filters clean.
Energy-Saving GREE Customized Motor with Quiet Operation
As with any large electronic appliance, they can get quite loud. The iView Air Purifier has a built-in customized GREE motor that wastes less energy, thereby reducing your carbon footprint. And, at 29dB, the iView Air Purifier produces noise that is whisper quiet, allowing the purifier to work its magic without any unwelcome interruptions to your life. Sleep peacefully with your air purifier running with the knowledge that you're breathing clean air as you sleep.
3-Speed Fan with Auto Mode
The iView Air Purifier includes 3 settings allow you to choose from low, medium or high fan speeds. The iView Air Purifier's auto mode also ensures hassle-free functioning, allowing the built-in air quality monitor to control when your purifier turns on or switches to standby. This can help you use less energy without compromising the quality of air in your home.
Set Timers
You can also set up timers for efficiency to conserve more energy resources. You may only want to use your air purifier while you're at home. You can set a timer that allows the air purifier to operate for a set number of hours before automatically switching off once a set time has elapsed. Doing so can help you save on electric bills especially if you forget to turn off your timer manually or you don't want to keep running your purifier on auto.
7 Stage Purifying Process
The iView Air Purifier features a 7 stage purifying process to ensure the best quality air for you and your family. With multiple filters, purification and sterilization methods, rest assured that you're breathing clean air.
Aluminum Filter – purify large particles of dust, hair

Cold Catalyst Filter – Absorption of formaldehyde, benzene, TVOC

Formaldehyde Filter – Removal of formaldehyde

Anti-Bacterial Filter – Remove Fine particles, mites, and microbes

HEPA Filter – Eliminate mold, dust, allergens and other bacteria

UV Sterilization Light – Rapidly kills viruses and bacteria

Anion Release – Improves air quality
Aluminum Pre-Filter
The first stage of the iView Air Purifier's purification process is its aluminum pre-filter used to remove large granule dust, pet dander, pollen, floating compound, and other pollutants. Dust, dander and the like can agitate your allergies, disrupting your typical routine with runny noses and itchy, watery eyes. The aluminum pre-filter built in the iView Air Purifier prevent these particles from disrupting your daily life.
Cold Catalyst Filter
The cold catalyst filter in the air purifier is a low-temperature catalyst that can deal with formaldehyde, ammonia, benzene, TVOC, hydrogen sulfide and other harmful gases released by plywood, furniture, wallpapers, carpets, curtains, and bedspreads.
Formaldehyde Filter
Use in conjunction with the cold catalyst, the formaldehyde removal filter works to quickly absorb and decompose formaldehyde. It is made of top-quality materials for enhanced durability. Test by the Shanghai Academy of Public Measurement (APM), the product can quickly absorb and decompose formaldehyde. In a 30-meter test chamber for 1 hour, the product had a formaldehyde removal rate above 90%.
Anti-Bacterial Filter
The fourth stage in the air purification process is an antibacterial filter. It is a 5-micron filter with antimicrobial agents. In the right environment, filters can supply microbes with a suitable environment to grow. The anti-bacterial filter prevents mold and mildew from growing in your filter that causes odor, mold, and mildew that causes the need for frequent air filter replacement.
HEPA Filter
Our top-rated HEAP filter is an air filter that traps harmful particles found in air. This quality filter has a precision of 0.01 micron. It is able to eliminate particles greater than 0.01 micron with a filtration rate of 99% or more. Dust, bacteria, fungi, viruses, allergens and other small and tiny particle will not be able to get through the HEPA filter.
UV Sterilization Light
For those tiny and tough bacteria, the iView Air Purifier features a UV sterilization light. With the 365nm UV light, a variety of bacteria can be killed. The UV germicidal lamp is used to purify the air and eliminate odor caused by smoke and mold.
Ionizer Purifier
The last stage in the purification process is an anion release. The ionizer releases a large amount of negatively charged ions that reach up to 50 million pcs/cm3. The negative ions bond with airborne pollutants like floating dust bacteria, viruses and smoke containing positively charged ions. When the two come into contact, they form an ionic bond. Ionized air is denser and this weight causes the pollutants to sink to the ground, preventing toxins from entering your lungs when you breathe and providing you with fresh clean air you can enjoy.