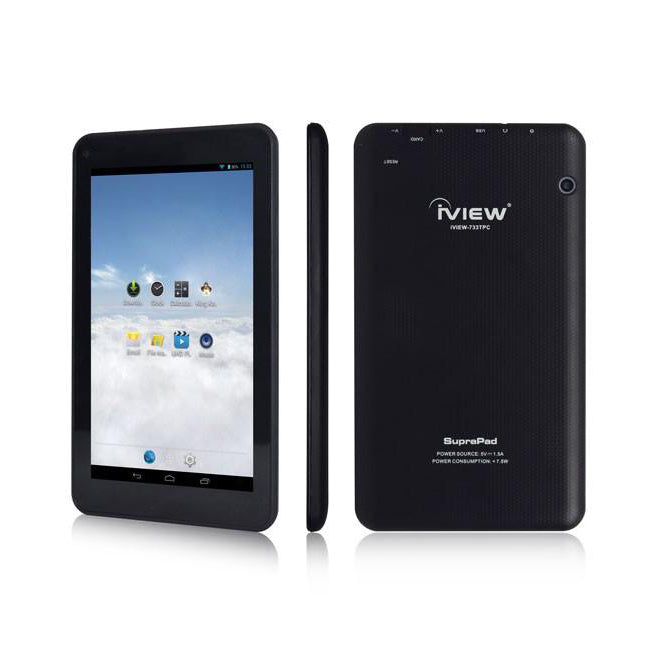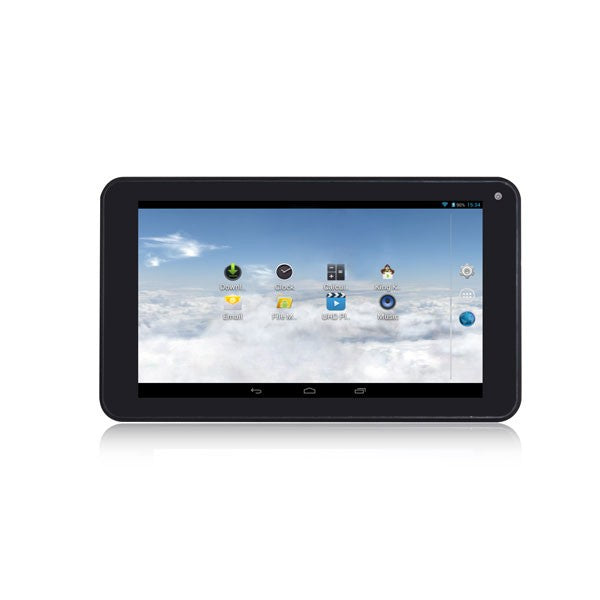 733TPC 7" 1024 × 600 High Resolution Quad Core Cortex A7 1.3GHz, 512MB/8GB Android Tablet
7" Capacitive Touch Screen, 1024 × 600 Resolution
Quad Core Cortex A7, 1.3Ghz
Android OS
512MB DDR3
8GB
Wifi 802.11b/g/n
Support G-SENSOR
Support Dual Camera 0.3MP(Front), 2.0MP(Back)
Support Skype Video Call
Micro USB port / Micro Card Reader ( Max: 32GB)
Support Multi Language
Audio Output: Stereo Speaker(8?1.0w)/ 3.5MM Stereo headphone Jack
King Kong Market, Internet Browser, Calendar, Calculator, E-mail
Picture Viewing, Music/ Video Playback, E book, Games
Built in 2500mAh/3.7V Li-ion, rechargeable
733TPC features Android 4.4
The 733TPC tablet is a fun, practical and portable choice to help you stay up-to-date on your social networks, gaming, reading e-books, movies, music, video chatting and more. It comes with Android 4.4 OS Kit Kat that's loaded with a more sophisticated design, superior performance, and new innovative features. Powered by the Cortex-A7 1.3GHZ Quad Core processor, this all-new tablet runs video games flawlessly, loads web pages quicker and manages apps more efficiently like never before. The Built-in Quad Core processor delivers incredible performance so you can enjoy your tablet experience at its very best with accelerated browsing that makes it easy to view your favorite websites at the same level of quality as if you would on your PC. With a beautiful 7" capacitive touch screen display and crystal-clear 1024x600 resolution, you'll get the best possible viewing experience at any angle, perfect for watching movies, reading e-books, surfing the Web and playing games. This tablet is equipped with an 8GB hard drive, but with the Micro USB port/Micro card reader, you can get up to 32GB of additional storage to save all your important files, favorite photos, E-books, music, apps and movies. The 733TPC comes with built-in wireless connection at 802.11b/g/n and includes features such as the King Kong Market, Internet Browser, Office, Calendar, Calculator, E-mail, picture viewing, music/video playback, games and so much more! Compared with the same configuration tablet, the 733TPC is the best choice for your budget.
Package contents include: one set of earphones, one adapter, an OTG cable, a USB 2.0 cable, and a user manual.
Latest Technology
The Android 4.4 KitKat operating system is user-friendly and extremely interactive with resizable app widgets and exciting features the whole family can enjoy. Automatic upgrades make sure you'll always have the latest version of the Android OS.
Expansion Opportunities
With the handy USB 2.0 port and Micro card slot, you'll be able to connect USB flash drives, USB media card readers and even a portable hard drive to your tablet for extra storage capacity. The expansion opportunities are endless, allowing you more time to be an expert multi-tasker. Plus with the micro-USB port, you can transfer files straight to your PC!
Dual Camera
Use the Front-Facing 0.3-Megapixel Camera for face-to-face chats with Skype video calls that will allow you to connect with loved ones all over the world. You'll also be able to take brilliant pictures with the rear 2.0-Megapixel Camera to share with friends! Social networking never looked so good.
Affordability and Design
The affordable price of the 733TPC is an unbeatable value compared to many tablets. The 733TPC provides an exceptional look and feel, a smart gadget that is as portable as it is practical. The slim, curvier design is made for comfortable handling.