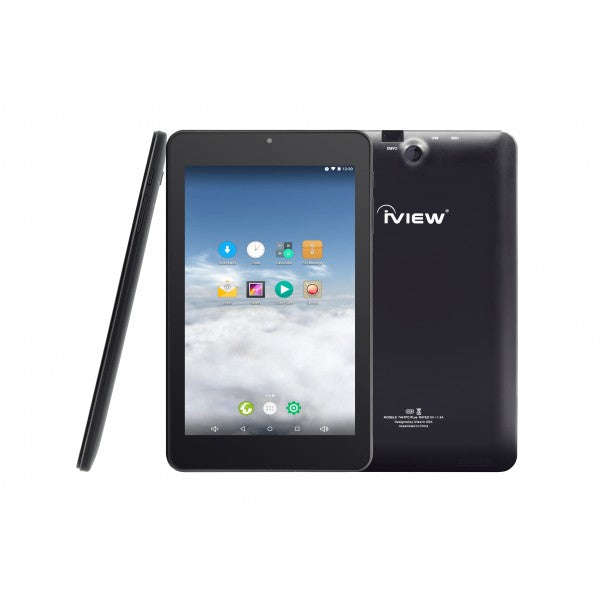 744TPC Plus 7" Cortex A7 Quad Core Processor 1.3GHz 1GB/8GB Android Tablet
Screen: 7 inch IPS 1280 x 800 High Resolution
Processor: Quad Core, Cortex A7, 1.3 GHz
OS: Android 6.0
RAM: 1GB DDR3
Memory: 8GB
Camera: 0.3MP (Front), 2.0MP (Back)
Wireless Connection: WiFi 802.11 b/g/n
Build in Bluetooth 4.0
Support 1080P Output
Micro USB Port / Micro SD Card (Max: 32 GB)
Package Content: One Earphone, One Adapter, OTG Cable, USB 2.0 Cable, User Manual
iView 744TPC Plus 7-inch Android 6.0 Tablet
iView 744TPC Plus is the next-generation Android 6.0 tablet built in a powerful Cortex A7 Quad Core 1.33GHz CPU and 1GB RAM providing the smoothest operating experience. 7-inch IPS 1280 × 800 High Resolution LCD screen provides a very fine and bright display for you to watch movies and pictures and browse the web from any angle of the tablet. Equipped With the storage of 8GB internal memory and an extra Micro SD card reader (supports up to 128GB), you will be able to save plenty of data, videos and files, and download thousands of Apps from the Windows strore. Besides, Dual Cameras (Front: 0.3MP; Back: 2.0MP) and built-in microphone enable you to experience high quality real-time face to face communication and help take high resolution photos. If you are looking for a high quality speed 7-inch tablet, iView 744TPC Plus is the best solution of Android-based tablet you can't miss out!
Advanced Technology
Take advantage of Android's latest and most cutting edge operating system with the 744TPC Plus. Android 6.0 OS (Marshmallow) enables wide compatibility with a variety of applications and games. It also features advanced technology called Material Design, which brings a brilliant and responsive UI design for consistent, intuitive experiences across all your devices. Other advancements of Marshmallow include improved notifications, battery use, security, connectivity, performance, media, and so much more!
Superb Performance
744TPC Plus's ARM Cortex A7 Quad Core processor is extremely power-driven and efficient, capable of easy multi-tasking and handling everyday computing needs. You'll experience the world of entertainment with amazing detail, stream videos, take photos, video chat, listen to music and play today's most popular games without a hitch.
Dual Camera
Video calls with friends and family across the world have never been easier. With the 744TPC Plus's front 0.3-Megapixel camera, you'll enjoy clear video chats using popular apps likes Skype and Tango. Capture memorable photos and videos with the 2.0-Megapixel rear camera and share them through social media apps you can easily download via the Google Play Store.
IPS High Resolution Display
iView 744TPC Plus is equipped with a 1280 × 800 high resolution IPS LCD. This IPS screen features wide-angle view. You will be able to watch movies and photos from any angle. The IPS LCD also provides you with a crisp and brighter display, perfect for your entertainment, or work needs.
"Wide-Angle View, Brighter Display!"