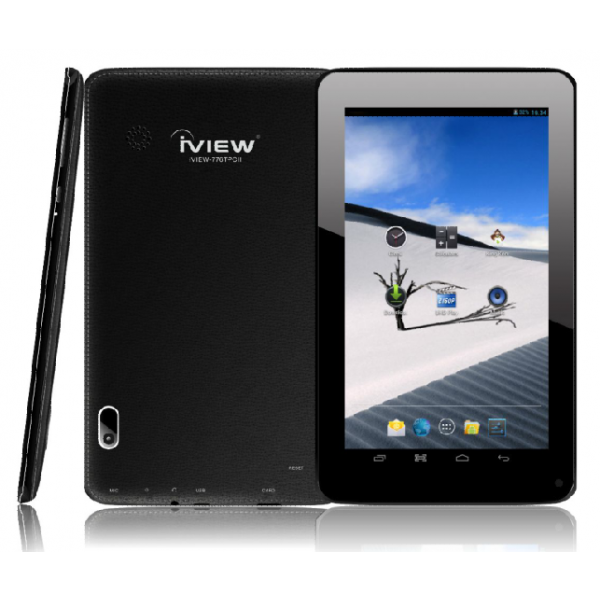 776TPCII 7" 800 × 480 High Resolution Cortex A7 Dual Core 1.5GHz 512MB/4GB Android Tablet
Android 4.2.2
7" Capacitive Touch Screen
800 × 480 High Resolution
Supports Mira Dongle Function
OTA Upgrade
Dual Core, Cortex A7, 1.5Ghz
4GB Memory
RAM 512 DDR3
Micro USB Port/Micro Card Reader
Dual Camera
King Kong Market, Interent Browser, Office, Email
Picture Viewing, Music/Video Playback, Games
iView 776TPCII
The SupraPad is a tablet with Android 4.2.2 that has a clear resolution of 800 × 480 on a 7" Capacitive Touch Screen. It has a Dual Core Processor with a RAM of 512MB so you can browse the internet at a fast speed or use your apps without a problem. Our Android Tablet comes with a 4GB memory, that can go up to 32GB with a Micro SD Card so you can expand your memory and create space for pictures, videos, games, etc. Not only that but take your iView Tablet on the go and you will be prepared to capture special moments in pictures and videos with the dual camera, with a 0.3MP front and 2.0MP back camera you can now Skype with your friends and family memebers all around the world!
Download all your favorite games from the Google Playstore or the King Kong Market. For those who love reading, the clear screen allows you to enjoy E books from all your favorite authors. The unit weght is just 0.75lbs which makes it easy to take with you everywhere you go.
You can now access your social networks with your new iView – FB, LinkedIn, Instagram, etc. Access hundreds of apps from lifestyle, business shopping and entertainment. Once downloaded to your iView 776TPCII, the door is now open to a world of personalized online gaming, communicating, social networking and many more. Download your favorite internet radio and listen to all your favorite musical artists.
OTA Upgrade
Our latest Android Tablets now have OTA, which stands for over-the-air, it is an update of a wireless delivery of new software or data to mobile phones and tablets. To do an upgrade go to "settings" then "About Tablet" and click on "Update." On the inteface of "Pad Update Guide" click "Online Update." Afterwards, click "Download" then "Update." Lastly, after finishing up the update, reset your device: "Settings" - "Backup & Reset" - "Reset Tablet".
Dual Camera
iView 776TPCII has dual camera! A frontal .3 mp camera and a 2mp back camera. Take breath taking pictures of you or others and share photos and video!! Download all messaging applications such as Skype and talk face to face with your friends all over the world!
Size and Screen Resolution
7-inch touch panel with a 800x480 high resolution and a screen size that is comfortable to read from. With this model, staying connected has never been easier. CPU and Memory High Performance mobility is what the iView 776TPCII delivers. Experience the height of technology, powered by Android 4.2 using Dual Core Processor Cortex A7 running at 1.5Ghz. Multi-tasking has never been easier.
Connectivity
This unit has built in WiFi using 802.11 b/g/n. This tablet enables you to surf the internet anytime anywhere Therefore, whether you are at home, or in a public place you should not have any problem connecting in any allowable WiFi range.