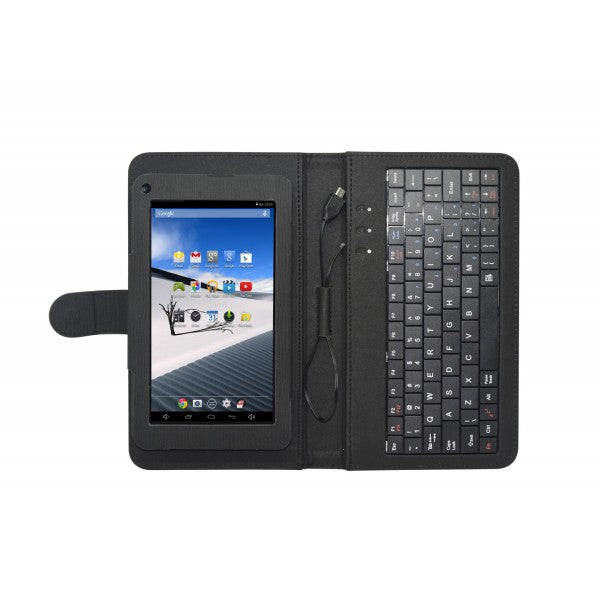 776TPCIII 7" Cortex A7 Dual Core 1.5GHz 512MB/8GB Android Tablet with Keyboard Case
Screen: 7" Capacitive Touch Screen, 800 × 480 Resolution
Processor: Dual Core, Cortex A7, 1.5GHz
OS: Android 4.2
RAM: 512 DDR3
Memory: 8GB (Supports up to 32GB)
Wireless Connection: WiFi 802.11b/g/n
Supports WiFi Display Function
Camera: 0.3MP (Front), 2.0MP (Back)
Micro USB Port / Micro SD Card Reader (Max: 32GB)
Audio Output: Stereo Speaker (8 ? 1.0w) / 3.5MM Stereo Headphone Jack
Google Play Store, Internet Browser, Office, Calendar, Calculator, Email, Picture Viewing, Music / Video Playback, E-book, Games
Supports Mira Dongle Function 
OTA Upgrade
GMS Certified
iView 776TPCIII
Our 7" affordable Android Tablet is now GMS certified. There are plenty of advantages that come along with having a Google certification; the certification is a strict process of tests and guidelines that are set by Google, that way it is insured that your device will function and continue to be updated based on Google's operating system; google releases multiple updates and certification that allows the tablet such as the IV-776TPCIII to work flawlessly. GMS should allow multiple apps such as the Google Play Store to work, Google Music, Gmail, YouTube, Google+, Google Earth, Google Maps, Google Finance, and Google Chrome.
The 776TPCIII has the latest Android system which is the 4.4, it comes with a 8GB memory that can support up to 32GB. The CPU is Dual Core Cortex A7, and it can even support multiple languages that way the tablet can be used anywhere around the world. Not only that but you can watch videos and listen to music while on the go.
Keyboard Case
The Iview-776TPCIII now icludes a black keyboard case. The case is made of nice material that protects your adroid tablet from getting damaged. The external keyboard can be connected to your tablet for those who would perfer to use the keys instead of the touch scree.
Dual Camera with Flash Light
The dual camera allows you to never miss a moment. Take photographs and videos in high quality with a front camera 0.3 MP or the back camera 2.0MP which includes a flash light that way you can capture every and any moment no matter if you are in a light or dark setting. Sharing photographs and videos with friends and family has never been easier or faster. Images can be seen with a high resolution of 800*480 through the picture viewer on the tablet. Save all your photos and videos you capture on a memory that can expand up tp 32GB with an SD Card. Take breath taking pictures of you or others and share photos and video!! Download all messaging applications such as Skype and talk face to face with your friends all over the world!
Size and Screen Resolution
6-inch touch panel with 540x960 high resolution and a screen size that is comfortable to read from. It is lightweight and slim enough to take with you wherever you go so you never miss a moment! With this model, staying connected has never been easier. CPU and Memory High Performance mobility is what the supra-mini M6 delivers. It is a 6" Cell Phone All-in-One!. Experience the height of technology, powered by Android 4.4.2 using Dual Core Processor Cortex A7 running at 1.2Ghz. Multi-tasking has never been easier.
Connectivity
This unit has built in wifi using 802.11 b/g/n. Wi-Fi,2G/ 3G, this phone enables you to surf the internet anytime anywhere Therefore, whether you are at home, or in a public place you should not have any problem connecting in any allowable wifi range. With Internet connection you will also be able to download apps from the King Kong market!