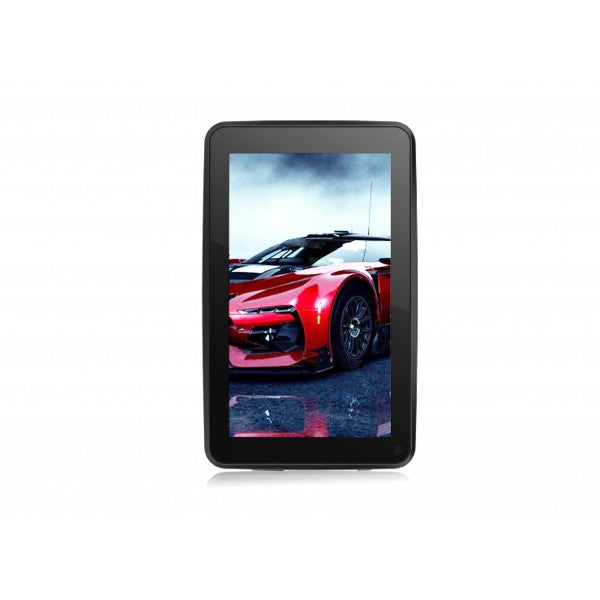 778TPC 7" 1024 × 600 High Resolution Cortex A9 Dual Core 1.2GHz, 1GB DDR3/8GB Android Tablet
Screen: 7" Capacitive Touch Screen, 1024 × 600 High Resolution
Processor: Dual Core, Cortex A9, 1.2GHz
OS: Android 4.2
RAM: 1GB DDR3
Memory: 8GB
Wireless Connection: WiFi 802.11b/g
Camera: 0.3MP (Front), 2.0MP (Back)
Supports HDMI Output
Micro USB Port / Micro SD Card Reader (Max: 32GB)
Audio Output: Stereo Speaker (8 ? 1.0w) / 3.5MM Stereo Headphone Jack
King Kong Market, Internet Browser, Office, Caldendar, Calculator, Email
Picture Viewing, Music / Video Playback, Games
Battery: Built-in 2800mAh / 3.7V
OTA Upgrade
GMS, Google Certified
iView 778TPC
Our latest Android tablet, the 778TPC comes with Android 4.2. It's 7" screen is perfect for viewing multiple things because it has a high resolution of 1024 × 600. Not to mention its Dual Camera that captures breath taking photos! And if you run out of space from the 8GB, you can easily insert a micro SD card in order to expand space up to 32GB so you can continue adding music, photos, videos, apps and whatever else fits your needs. Download all your favorite apps from the Google Play Store or the KingKong Market. Internet Browsing has never been easier or faster with a wireless connection of 802.11b/g/n and a RAM of 1GB. This Dual Core tablet has a Cortex A9 1.2GHz. This new model even supports Skype so that you can talk to your family and friends all around the world. Comfortably use your tablet to view photos or movies. Other features include G-sensor, Multi-Languages, and HDMI output.
OTA Upgrade
Our latest Android Tablets now have OTA, which stands for over-the-air, it is an update of a wireless delivery of new software or data to mobile phones and tablets. To do an upgrade go to "settings" then "About Tablet" and click on "Update." On the interface of "Pad Update Guide" click "Online Update." Afterwards, click "Download" then "Update." Lastly, after finishing up the update, reset your device: "Settings" - "Backup & Reset" - "Reset Tablet".
Storage
With an internal storage of 8GB there is plenty of room to download your favorite apps, games, music, movies, and much more. With the iView 778TPC you do not need to worry about running out of space because unlike other tablets the iView 778TPC offers a micro SD card slot. If additional memory is required simply insert a Micro SD Card up to 32GB for more storage capacity. Download more games, applications, movies and photographs with the expandable storage.
Dual Camera (Front & Rear)
Dual front and back camera allows you to never miss capturing a moment. Take photographs and videos in high quality. Sharing photographs and videos with friends and family has never been easier or faster. One touch sharing allows you upload your favorite to your favorite social networks.The camera is 0.3MP front and 2.0MP Rear.
WiFi
WiFi capability makes it easier than ever to connect to your wireless network. WiFi allows you to stay connected with friends, family, and get the latest news on the go. Access the web with WiFi connectivity anywhere you go with the iView 778TPC.
iView App
Download thousands of free or paid Apps from KingKong Market. Access hundreds of apps from lifestyle, business, shopping, and entertainment. Once downloaded to your iView Tablet PC, the door is now open to a world of personalized online gaming, communicating, social networking and many more.