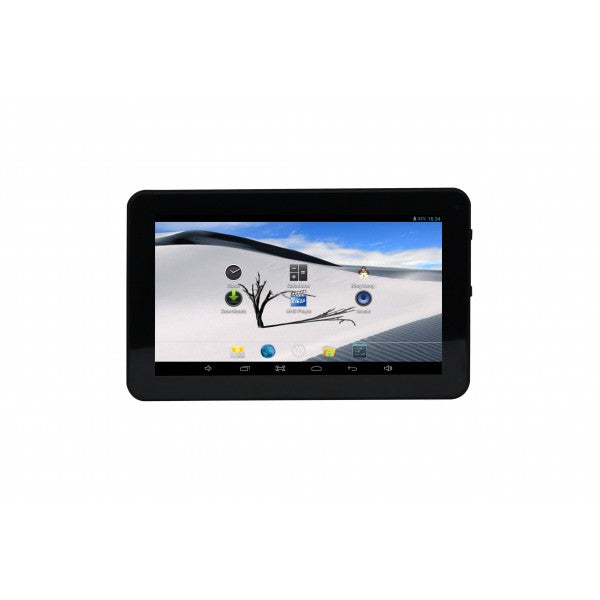 910TPC 9" 800 × 480 High Resolution Cortex A7 Dual Core 1.2GHz 1GB/8GB Android Tablet
Screen: 9" Capacitive Touch Screen, 800 × 480 Resolution
Processor: Dual Core, Cortex A7, 1.2GHz
OS: Android 4.2
RAM: 1GB
Memory: 8GB (Supports up to 32GB)
Wireless Connection: WiFi 802.11b/g/n
Camera: 0.3MP (Front)
Support HDMI Output
Micro USB Port / Micro SD Card (Max: 32GB)
Audio Output: Stereo Speaker (8 ? 1.0w) / 3.5 MM Stereo Headphone Jack
King Kong Market, Internet Browser, Office Calendar, Calculator, E-mail
Picture Viewing, Music / Video Playback, Games
Battery: Built-in 5000mAh / 3.7V
G+Panel
iView 910TPC
This 9" inch tablet PC is everything in one! Wi-Fi, Dual Core, Camera and not to mention HDMI (Android 4.2)! The best part of all is that you get to choose from your favorite color: Pink, Sky Blue, Red, Purple and/or Black. It includes a memory of 8GB but supports up to 32 GB with a micro SD Card. Use the King Kong Market of the Google Playstore to download apps for movies, music,and games. Tools suchs as the calender, calculator, email, picture viewing are included to keep you stay organized.
Color Your Life With Simplicity
The iView 910TPC is now available in a variety of colors! Choose from red, black, sky blue or brighten up your life with pink and purple.
Dual Camera, Share Photos, Videos and More
iView 910TPC has frontal .3 mp camera! Not only take breath taking pictures but also share photos and video! Download all messaging applications on this unit and get on with video calls such as Skype, Tango and many more and talk face to face with your friends all over the world! Do you want to hear more? This unit supports 1080p Video and comes with built-in speakers and microphone.
Unit Interface
Earphone & Microphone – This unit supports 1080p Video and comes with built-in speakers and microphone.
Card Reader – Card reader slot to add more storage with a micro SD card, so you can maximize the usage of your iVie Tablet PC.
HDMI Port – It also supports HDMI output to connect with your TV or Monitor.
USB Port – Charge your tablet or connect it with computer.
Reset Button – Reset your tablet as manufacturer default setting.
Power Button – Turn on/off your tablet or make your tablet stand-by.
WiFi
WIFI capability makes it easier than ever to connect to your wireless network. WIFI allows you to stay connected with friends, family, and get the latest news on the go. Access the web with WIFI connectivity anywhere you go with the IView 910TPC.
Now, Let's Go Shopping
Download thousands of free or paid Apps from KingKong Market. If you have your music collection, you can now transfer that to your iView Tablet PC. Whether it is a photo, video or music library you have…all these can be transferred and loaded to your new IVIEW Tablet PC. Don't forget to purchase a micro SD card for additional storage so you can maximize the usage of your iView Tablet PC. Access hundreds of apps from lifestyle, business shopping and entertainment and expand your collection! Once downloaded to your Tablet PC, the door is now open to a world of personalized online gaming, communicating, social networking and many more.