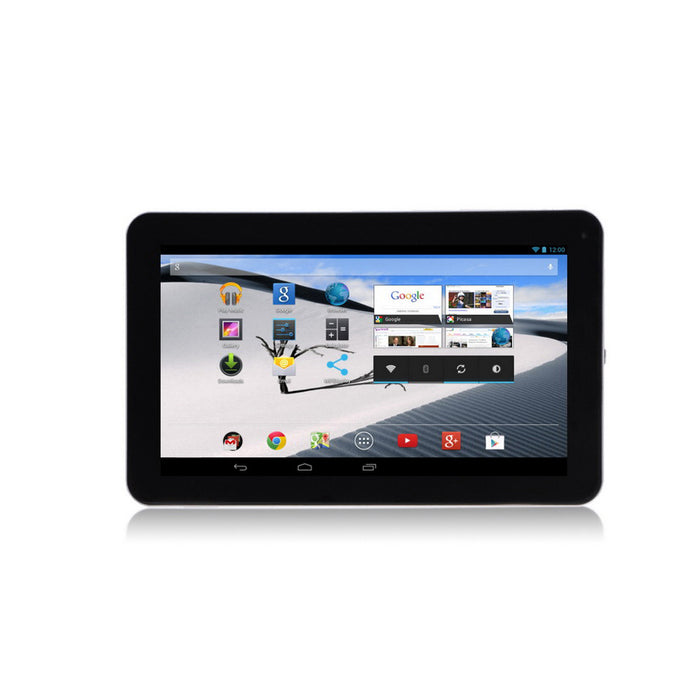 920TPC 9" 1024 × 600 High Resolution Dual Core Cortex A9 1.2GHz 1GB/8GB Android Tablet
Screen: 9" Capacitive Touch Screen, 1024 × 600 High Resolution
Processor Dual Core, Cortex A9, 1.2GHz
OS: Android 4.2
RAM: 1GB
Memory: 8GB (Supports up to 32GB)
Wireless Connection: WiFi 802.11B/G
Camera: 0.3MP (Front), 2.0MP (Back)
Supports HDMI Output
Mini USB Port / Micro SD Card (Max: 32GB)
Audio Output: Stereo Speaker (8 ? 1.0w) / 3.5MM Stereo Headphone Jack
King Kong Market, Internet Browser, Office Calendar, Calculatro, E-mail
Picture Viewing, Music / Video Playback, Games
Battery: Built-in 5000mAh / 3.7V
GMS, Google Certified
Compatible with MiraDongle
iView 920TPC
Dual Core CPU and Memory
iView 920TPC powered by the latest Android 4.2 (Jelly Bean) brings out the best in a Dual Core Tablet PC. Sliding with the 9" capacitive multitouch screen in a resolution of 1024 × 600 with rotation screen function accessibility and combined reliability, this model runs through a dual-core A9 Cortex, 1GB of RAM at a speed of 1.2 GHz. You can connect to Wi-Fi very quickly and easily since this model uses 802.11 b/g. Download applications, save music and video on the device for iView 920TPC comes with 8GB of Flash memory, expandable up to 32GB.
Double Camera
iView 920TPC has double camera! A front camera of 0.3 MP and a rear camera of 2MP. Take awesome photos of yourself or other people and share photos and videos! Download all the messaging applications in this unit and keep going with the video calls, such as Skype, Tango and many more and talk face to face with your friends all over the world! You want to know more? This unit is compatible with 1080p video and comes with built-in speakers and microphone.
Interface Unit
Headphones and Microphone:
This unit is compatible with 1080p video and comes with built-in speakers and microphone.
Card Reader:
Card slot reader to add more storage capacity with a micro SD card, which can maximize the use of your iView Tablet PC.
HDMI Port:
It also supports HDMI output to connect it to your TV or monitor.
USB port:
Upload your tablet or connect to your computer.
Back button:
You can always go back to the previous task by pressing the Back button.
Power button:
Turn on / off the tablet or make your tablet stand-by.
What else can you do?
"Mirror" the large-screen TV tablet via Wi-Fi and iView MiraDongle devices. MiraDongle compatible tablets: iView 778TPC, iView 785TPC, iView 788TPC, iView 920TPC. Use MiraDongle and iView Tablet to watch the video, Netflix, Video Chat, play, surf the internet on your big screen TV.
iView App
Access your social networks with your new iView Tablet PC - FB, LinkedIn, Instagram, etc. Download thousands of free or paid apps from KingKong Market. Access to hundreds of lifestyle, business and shopping and entertainment applications. Once downloaded to your iView Tablet PC, the door is open to a world of online gaming, communication, social networks and many more.