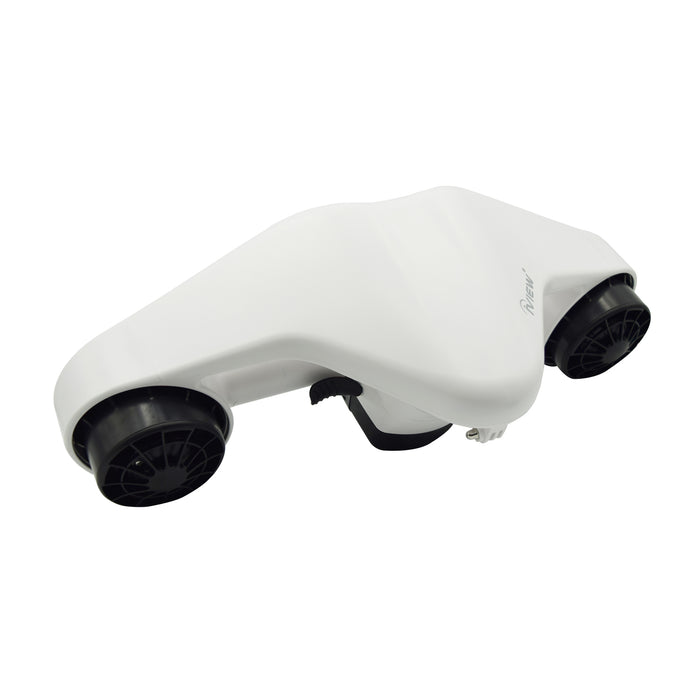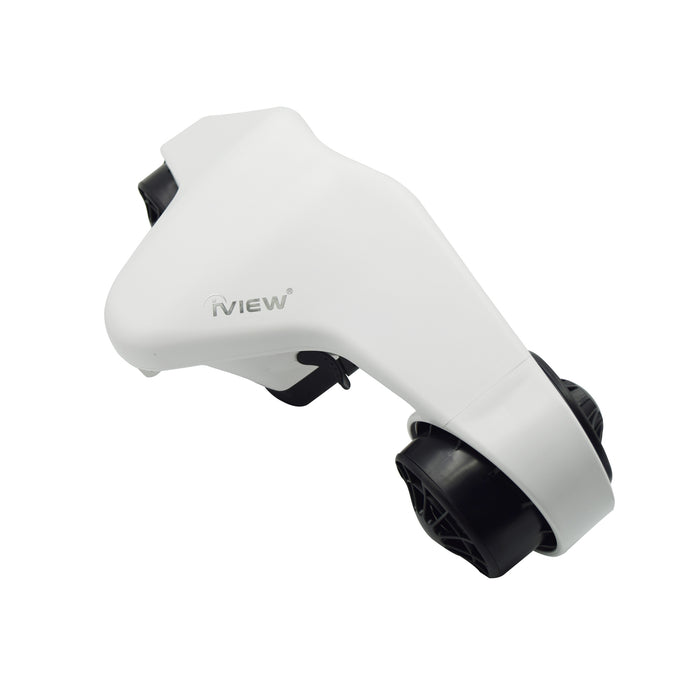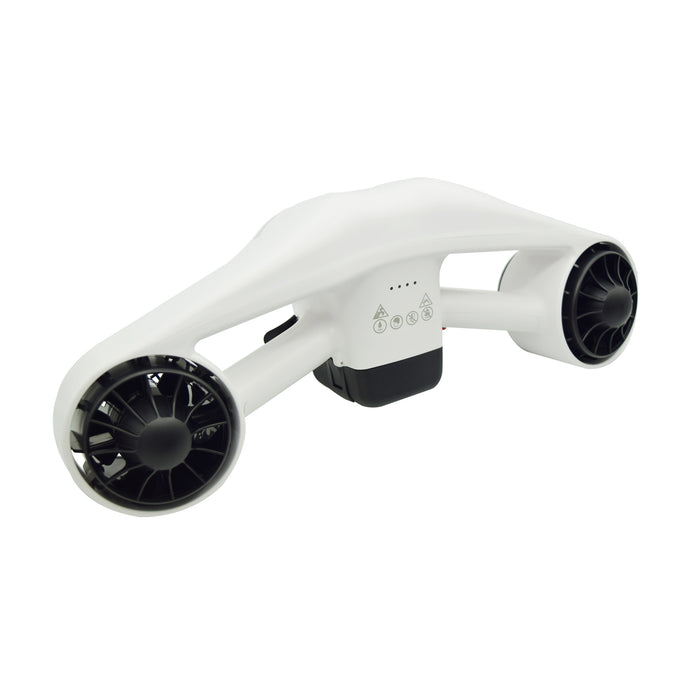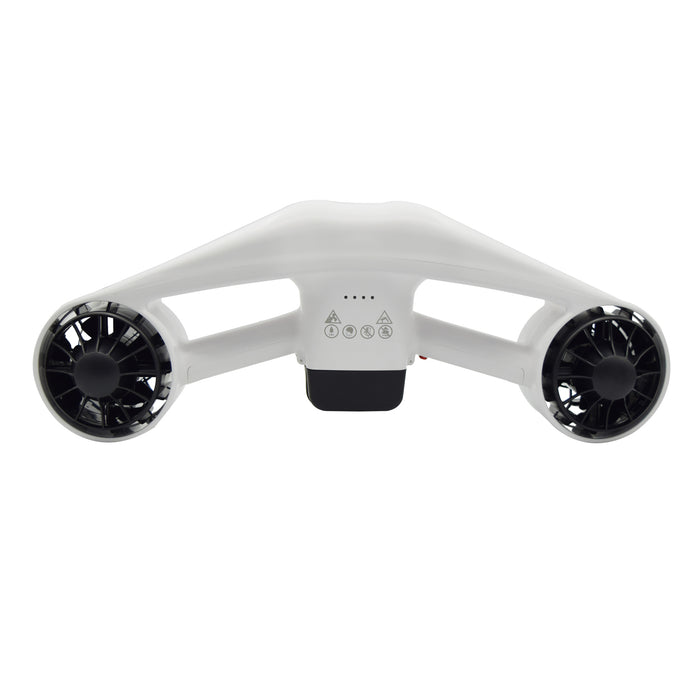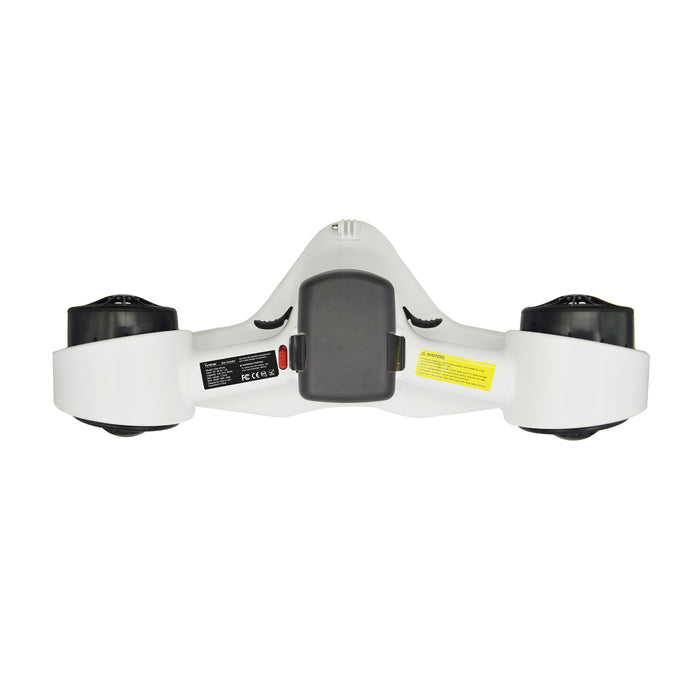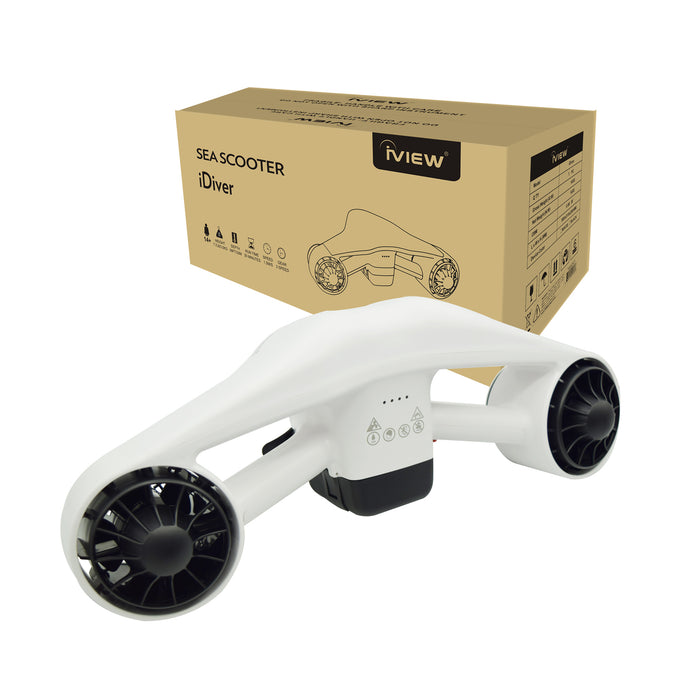 iDiver Underwater Sea Scooter with Positive Buoyancy, 7.72lbs
Motor: 2 × 300W
Max Speed: 1.5 m/s, Gear 3 Speed
Maximum Depth: 99ft/30m
Run Time: 35mins
Input: DC29.4V
Lithium-ion Battery: 5.1Ah 25.2V 128.52Wh
Charging Time: 2 – 3 hours
Suitable Age: People above the age of 14
Environment: -10°C – 40°C
Net Weight: 7.72lbs / 3.5kgs
Size: 20.75 × 8.39 × 6.81 inches / 527 × 213 × 173mm
Dive into the deep end with the iView iDiver. Our sea scooter is the perfect addition to any beach day, offering the perfect balance of working time, speed and stability. The 7-pound dual-speed sea scooter functions as both a recreational diving tool and a surface water scooter. The iDiver's solid yet compact build works enhances its speed and stability in underwater situations, ideal for steering while underwater cruising and observation. Running from 35 minutes on one charge, our water scooter is rated up to 30 meters or 100 feet deep and able to carry up to 90 kilograms or 200lbs. It is the perfect instrument for underwater excursions with people of all ages.
Safety
The iDiver supports a host of safety features, delivering you the reassurance needed for the best carefree underwater diving experience. Like other sea scooters, its external battery can be recharged, allowing you to make the most of your iDiver time and time again. Its waterproof casing is designed to protect your battery from water damage, so you can operate your iView iDiver safely and securely without worrying about damaged battery. The iDiver's waterproof exterior is also constructed to prevent accidental flooding as an additional safety feature to keep the battery from getting wet and keeping you and your loved one's safe when operating the scooter in underwater terrain.
Positive Buoyancy
Positive buoyancy allows divers to dip below the surface and explore their surroundings without having to worry about sinking in water. Achieving positive buoyancy occurs when an object's weight is lighter than fluid that displaces it. The iDiver's positive buoyancy allows you to roam and explore your surroundings safely and freely without worrying about negative buoyant forces dragging you down as you enjoy the underwater scenery.
Camera Mount
Capture your underwater excursions with the iDiver's built-in camera mount. Fix an underwater camera to easily capture photos and document your underwater adventure. The iDiver makes it easy keep up with marine life as you observe them from afar. And allows you to cover further distances to see all the photo opportunities the ocean has to offer.