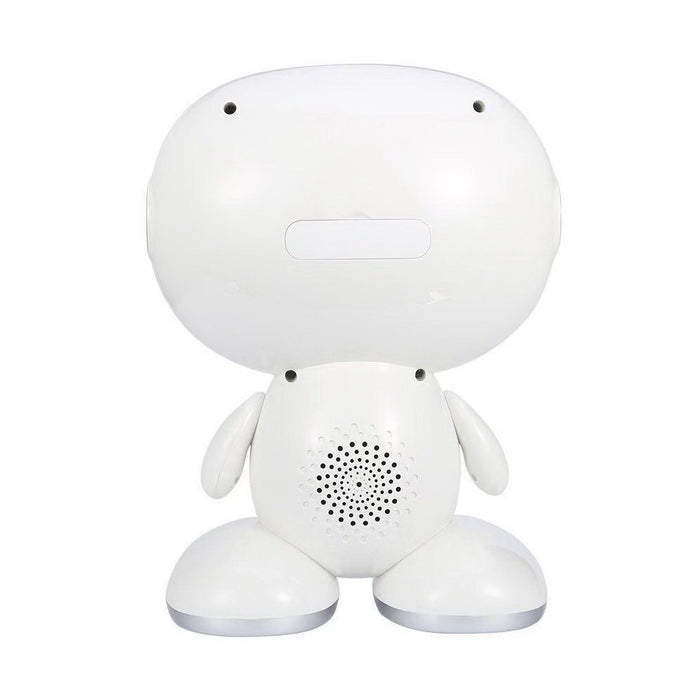 Little Newton - Kids Smart Robot with 7" Learning Tablet
Material: 8.5" Flex LCD Writing Tablet, ABS Plastic Case
Size: 146 × 218 × 8mm / 5.7 × 8.5 × 0.3 inches
Battery: Built-in 120mAh Li Battery
Input Power: 5V 500mAh
Charging Time: Around 3 hours
Standby Time: Greater than 1 year
Using Time: Greater than 1 – 3 months
Speaker: 0.8W
Recording Time: 40 seconds
With voice recording function
Lock button function to avoid wrong erase
Built-in magnet to stick to refrigerator
Introducing the cutest new learning device just for kids, the iView Little Newton is an innovative little kid-friendly robot here to help satisfy your child's curiosity. With built-in AI technology, Little Newton can answer any question your kids have to encourage your child's learning, development, and educational growth.
Electronic toys of today aren't just for playing games. They can be an invaluable educational tool that enhances your kid's ability to learn, promotes hand-to-eye coordination. They can also be a bonding device for spending precious moments between you and your child. With the iView Little Newton, let your kid learn while playing.
Bring music and harmony to your house by when your child uses the microphone that come with the kids robot to karaoke and sing to hundred of built-in songs, pre-installed on the little robot. Your child can ask Little Newton questions about anything and have Little Newton answer back to learn more about the things they are interested. Voice commands also work, directing Little Newton on where to walk, whether its forwards, turning left, right and even going backward. Learning and playing have never been more fun!
Kid-Friendly Design
A fully-functional tablet bundled in a cute little robot, the iView Little Newton's kid-friendly design makes learning fun. The exterior is protected by and imported food-grad ABS casing to prevent from wear-and-tear. With skin as smooth as a baby and just as cute, the Little Newton will be with your child for a long time! The dust-cover design on the back of the Little Newton also protects the inside by preventing dust from entering the body of the Little Newton.
7-inch Capacitive Touch Screen Display
Featuring a 7" capacitive touch screen with high resolution 1024 × 600 IPS screen, the vibrant, rich display makes playing games more fun than ever! With an LED with zero radiation to protect your children's eyes, there is no need to worry about hazardous chemical your child can be exposed to that may be a concern when using other electronics.
Cortex A7 Quad Core Processor 1.33GHz
Underneath the cute kid-friendly exterior of the Little Newton lies a powerful processor that can easily accomplish even the most demanding tasks! The Cortex A7 is a quad-core processor, running four 1.33 GHz cores, making the Little Newton lightning-quick and powerful. Each processing core can be called upon to do run games, open apps, play music or video chat. You'll never lack the CPU to handle even the latest apps and games. If you have an impatient child who constantly taps at the screen to make it load faster, then the Little Newton is made especially for them.
1 GB of RAM
The kids of today want everything faster, including their games. Your child may be frustrated when he or she opens up multiple apps and find that their device is slowing down because of it. The iView Little Newton is the perfect device, provides speedy performance for the most-used apps or games in your kid's robot.
Expandable Storage
The iView Kids Sing Pad offers hours of entertainment for your child even without being connected to the internet. Featuring a spacious 8 GB worth of onboard memory for storing apps, files and games, your child won't ever have to think about uninstalling an app or a game just to free up space. The Little Newton also come with expansion opportunities in the form of an SD card slot that you can use to store precious files and games to hold an extra 128 GB of SD card storage inside this fun little robot.
Walking Robot with Embedded AI Voice Interaction
The iView Little Newton is embedded with AI voice interaction, allowing your kids to learn more by asking Little Newton about anything. Whether you child is passionate about games or science, learning more about the topics that interest them have never been easier.
The Little Newton can also accompany and tutor your child on subjects they are struggling in, whether it's math, reading or more. You child can ask questions and Little Newton with explain the meaning of words they're struggling with math problems they are struggling with or science concepts they're struggling to grasp. You child now can have a personal tutor, all possible with the magic that is AI!
Pulleys at the bottom of the robot also allow the Little Newton to be place on any flat surface and walk freely. Simply give the Little Newton the command to walk; forwards, backwards, turn left, turn right, Little Newton will follow!
Video Surveillance
If you're worried about your child running around or getting into trouble, the Little Newton can serve as a safety measure with its embedded video surveillance system. If you're worried about what your child is up to or just want to quickly check up on them, you can remotely do so with the Smart Life and Tuya Smart app to see what your child is up to in real-time.
Remote Video Call
Equipped with a 2.0MP forward-facing webcam and microphone, the kid's robot allows for crystal clear video and audio when it comes to remote video calls so you can call your child to see what they are up to. This is especially convenient if you're frequently out of town travelling for work, the iView Little Newton makes it easy to call your kids when you can and reassure them to know you're just a call away. Communicating with your child, even when you're working has never been easier.
High Sound Quality with Microphone
Sound is just as important as visuals when your child is learning or playing educational apps. The realtek audio decoder chip embedded in the body of the iView Little Newton plays crisp, clear audio through the 2-inch loudspeakers in the back.
The audio that comes out of the external speaker can be heard clearly and without any noise. Any educational app that teaches ABCs, for example can be heard articulately without having to max out the volume. Every bleep and tone is distinct and replicates well on your child's headphones.
When your child goes to plug in the microphone into the Little Newton, there is no need to worry about feedback that typically comes with it. Your child can hear themselves sing with loud, clear audio from the loudspeakers in the back of the Little Newton. You no longer have to worry about fiddling with the audio and microphone settings because of screechy feedback that ruin your child's entertainment experience. Just plug and play!
Hours on Hours of Entertainment
With a built-in 4,000mAh battery made of safe and secure polymer materials, Little Newton can provide up to 6 hours of continuous playback, powerful to last a day trip in the car with a single charge. Even when your child turns up the volume or plays demanding games, the kids robot can keep on working and accompany your kid until you reach your destination. The battery life of the Little Newton is remarkably long with non-stop entertainment, i.e., playing kid's games, watching streaming video or listening to music.
The iView Little Newton comes embedded with a great selection of pre-installed apps and hundreds more kid games, educational apps, learning tools, and art packages. The kids robot features its own entertainment hub that promotes the growth and development of your child. Your kid will enjoy learning in subjects such as math, reading and science, become more creative and improve their critical thinking and problem solving skills. You can have them play with color and experiment using drawing apps and with different brushes. Further encourage and help your child's learn with the encyclopedia Q&A, to help satisfy your child's curiousity. With the iView Little Newton, your little one is not alone in their desire to learn more about the world around them.
Explore the hundreds of games on the internet with the Android Google Store available on the iView Little Newton. This unlocks plenty of educational and learning opportunities to cultivate learning and improve hand-eye coordination. Learning has never seemed more fun with the help of the iView Little Newton.
Front Display
Camera – The Little Newton comes with a 2.0MP front-facing camera that lets your child capture precious moments.
Volume Controls – Turn up or down the volume to suit every environment.
Microphone – The front-facing microphone on the Little Newton makes capturing clear, crisp audio.
Power Button – Press Little Newton's tummy to power on the cute kid's robot.
Wheel – Use the iView Little Newton's left foot as a mouse while to scroll along pages.
Back Display
2 Microphone input – Plug in the microphone that come with your iView Little Newton or add another for double the fun!
MicroSD Card Slot – Add a MicroSD Card to expand your storage up to 128GB.
Charging Port – Plug and charge for a charging time of 4 hours and for countless hours of entertainment.
Speaker – Play music or games as quietly or loudly as you want.
What's in the Box?
The iView Little Newton included the Little Newton kid's robot, a microphone, OTG and USB cable, an adapter, microphone, and a user manual.