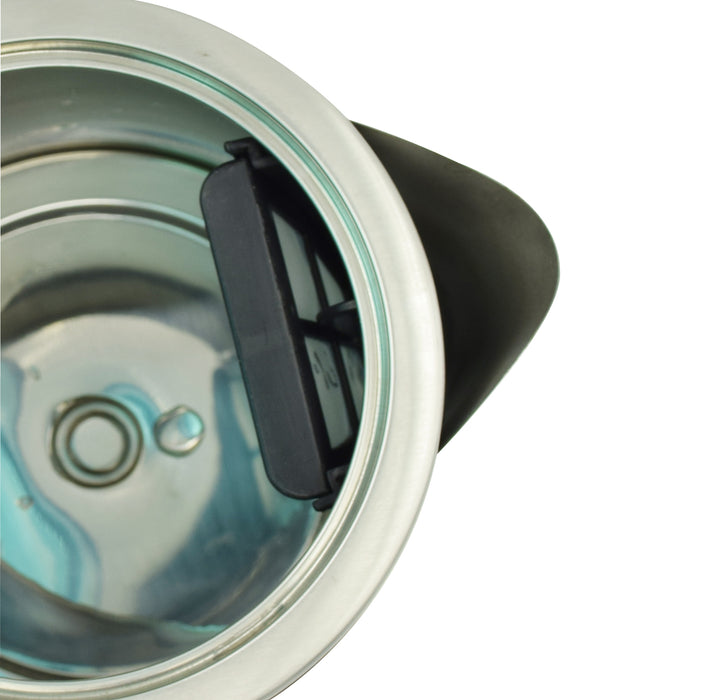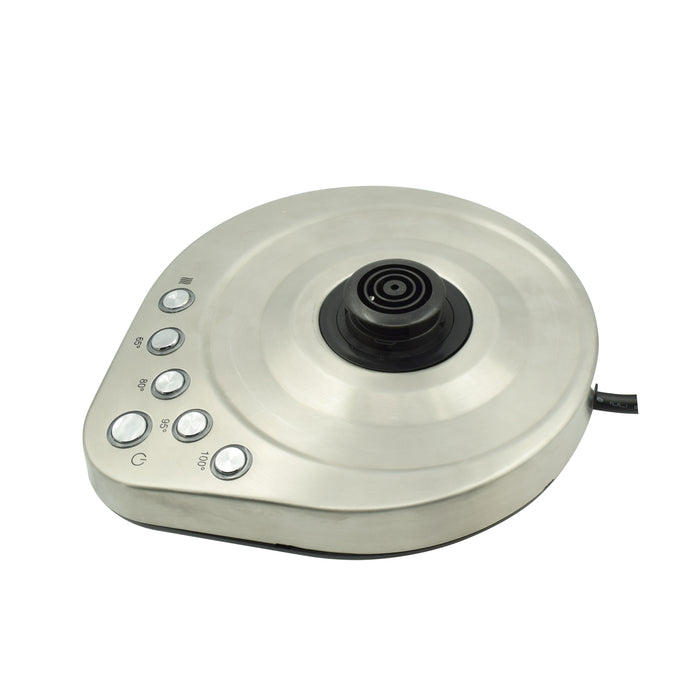 Smart Kettle with MCU, 4-Temperature Points, Boiling Stop, Boil-Dry Protection, and Remote Control
Micro Control Unit (MCU) to control water temperature in 149°F, 176°F, 203°F, 212°F
Fit for cooking milk, green tea, coffee, and black tea
Boil-dry protection and boiling stop by MCU control
Digital temperature settings
Multiple functions for selected 4 points TEMP accurately in ±3°F
Four temperature points with keep warm function
With inner or outer water level gauge
360° rotating connection
Concealed heating assembly
Separate base with core and cord storage
Removable filter; Easy to clean
Flash color LED indicator light in power base
Double safety protect system
LED backlight control panel
Stainless Steel: SUS304
PCBA with waterproof function
Free Smart Life and Tuya Smart App
Works with Alexa and Google Assistant
Enjoy a steaming hot cup of coffee or tea in the morning? Heat your water using the iView Smart Kettle. Useful for heating milk and water for tea and coffee, the iView Smart Kettle works quickly with its built in microcontroller (MCU) to control the temperature of your milk or water. The electric stainless-steel water kettle features a removable filter for easy care and a 360° rotating connector, so you can just pop up your kettle on the base, select a temperature, and begin boiling water.
Adjustable 4-Temperature Points
With 4 adjustable temperature points, you have greater control over how hot or cold you want your water. The Water Kettle allows you to select from 149°F, 176°F, 203°F, or 212°F so you can select the perfect temperature to serve your hot tea or coffee. The kettle also keeps your water warm so you don't have to worry about a lukewarm pot if you you're busy doing other things, so you can still come back to a warm kettle.
You can set your water kettle at 212°F to quickly boil water. Transfer the water into a pot so you don't have to wait long for a boiling pot of water to cook pasta, vegetables, or the base for your soup. Things have never been so convenient with the iView Smart Kettle.
Boiling Stop and Boil-Dry Protection
The water kettle features a boiling stop, allowing you to boiling water as you go about your day. You no longer have vigilantly watch your stove as you heat a pot of water for your morning tea. Just start your iView Smart Kettle, go about your morning routine, and return to a steaming hot pot of water. The boiling stop prevents the iView Smart Kettle from overheating, resulting with the perfect temperature you selected for you hot pot of water.
The boil-dry protection also prevents your water kettle from continuing to boil should your water kettle run out of water. You don't have to worry about the kettle continuing to heat itself once it runs out of water. Once there is no more liquid the kettle, the iView Smart Kettle will automatically shut off, preventing any potential damage that may happen to your kettle or home if it were to remain on.
Water-Level Gauge
Always heating to much or too little water?The iView Smart Kettle has a water-level gauge so you know exactly how much water you need, whether you're heating a cup of water or five. Just pour until you have the desired amount of cups you want and start your kettle.
Hand-Free Control via Voice Command
Power your water kettle without lifting a finger. The iView Smart Kettle is compatible with Amazon Alexa database, allowing you to say a single voice command to start making coffee. Take advantage of their voice control feature by simply enabling the iView iHome skill in the Alexa app. Our smart kettle works with Amazon Alexa, Amazon Echo as well as other widely used voice assistants like Google Home. Just speak up to control your smart kettle! Tell Alexa: "Alexa, boil a pot of water" as you enter the kitchen to get your day started on the right foot. Google Assistant grants the same hands-free convenience of the voice command feature. Just say "Google, it's time to wake up!" to get your water kettle boiling in no time.
Remote Control
Control the iView Smart Kettle from anywhere using any Wi-Fi-enabled device. It doesn't matter if you're just in the next room, out in the garden, at work, or thousands of miles away when traveling for business or on a weekend vacation. Simply launch the free Smart Life and Tuya Smart app on your smartphone or tablet. Log in to access all your iView smart home devices to remotely control your any one of your devices at any time. As long as your water kettle is plugged in and your phone or tablet is connected to the internet, you're able to control it from anywhere!